Restaurant review: City Grill & Hanu' Berarilor, our two regular go-to places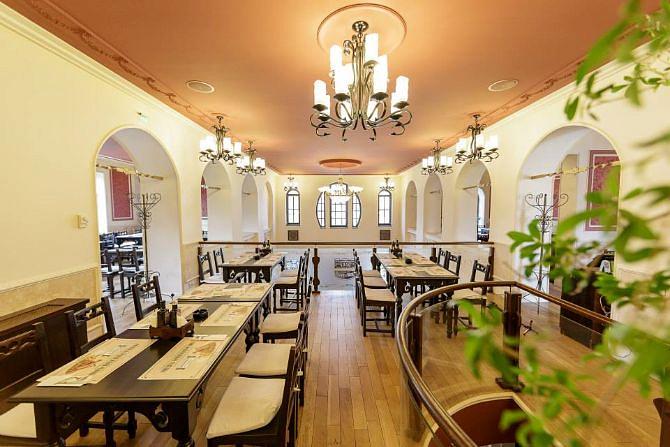 A restaurant in the City Grill chain has recently become one of my main go-to places, so I've had the chance to try out different things, go there with different people, on various days and at different hours. I had been to their restaurants before, but now that our new office is just near the Hanu' Berarilor Casa Elena Lupescu, which is a City Grill restaurant, I'm there more often than before.
So what have I found during my numerous visits? First off, that it is a "sure shot" kind of restaurant. Menus in the City Grill chain vary, depending on the type of restaurant, but in general they serve classical Romanian dishes, many of them with a twist. Except maybe Trattoria Buongiorno, which leans more towards the Italian cuisine (more on that further down).
So whenever I want to get a good ciorba, a large steak with something on the side, some mici, some barbecue, or my new favorite dessert, sticky toffee pudding with caramel sauce and vanilla ice cream, then I go to the Hanu' Berarilor next door.
Full disclosure: I was a City Grill fan before discovering the Hanu' Berarilor. For many years, my favorite place in the Old Town (when the Old Town was not so hip) was the City Grill on Lipscani (even before they renovated it; nicely done, by the way!). I liked the simple, clear menu, the nice offers they put together for lunch and dinner, the food quality, the unpretentious atmosphere and the people.
Now that they've renovated it and added some twists to the menu, I still enjoy going there, but perhaps less often as the Old Town itself is a bit too crowded for my taste. I also tried the other City Grill restaurant in the Old Town and I was not disappointed. Caru' cu Bere, the famous location in the Old Town, is also part of the City Grill chain. It's very popular among tourists, it has a nice location and amazing interior, good food and large portions, nice music, but it is much too crowded and noisy for my taste unfortunately.
But back to the Hanu' Berarilor (which is also housed in a beautifully renovated villa): they seem to be in high demand. From our office terrace, we can see their terrace, and it's always busy. Perhaps the fact that they make mici on the grill, which is tantalizing around lunch time, helps with the crowd. I see all sorts of people there, but mostly families and people who live in the neighborhood, like ourselves.
Their reasonably priced breakfast and lunch menus are often among our choices, and so are the sour soup – the bors, the mici, the pork, the sour tripe soup, and the dry spicy lamb Pleșcoi sausages. For dessert, we cannot resist the toffee pudding! Perhaps a 'well done!' is in order for chef Kevin Hill (not sure however to whom thanks should be directed for this pudding). 
It's the kind of place where both my husband and I know for sure we can find something to our (sometimes) different taste.
One note however: the Trattoria Buongiorno in the Old Town disappointed us the last time we went there, about two months ago: the pasta and the risotto were well below our expectations, they were very far from how pasta and risotto are supposed to be, so we left unhappy. My husband loves pasta and risotto, and has a fine taste for the real Italian thing, so he was the unhappiest one for that visit. A new Trattoria Buongiorno recently opened downtown at Lido, close to the Magheru boulevard, so before giving their whole Italian concept a bad mark on account of one bad visit, we will try that too.
Other than that, the City Grill chain has a good mark overall on my book, and I am sure I will return.
By Corina Chirileasa, [email protected]
Normal