Rachel's recipes: Celeriac ciabatta with "Leurda" (wild garlic) salt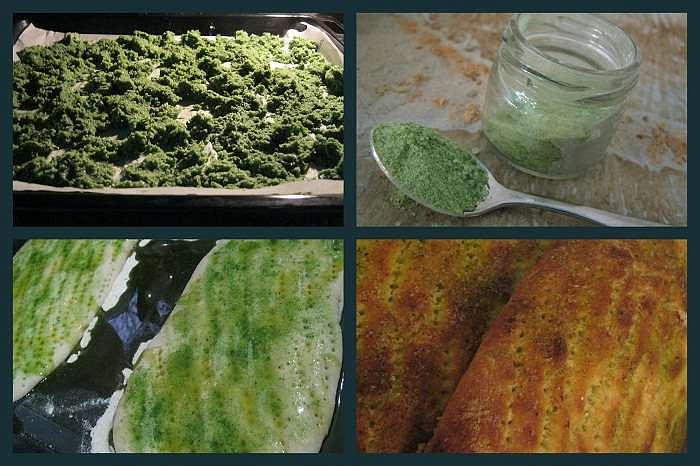 I have been experimenting with different purees in my sourdough ciabatta, potato pretty nice but nothing special..parsnip…added a sweetness… but the celeriac really seems to add a great subtle flavor, keeps the crumb soft and still gives a crisp crust. If you don't have a sourdough starter then make a basic pizza dough recipe – it wont have the gaping holes of a sourdough bread and the sourish taste but will still tick that box of warm home made bread slathered in olive oil and something aromatic! Being a sourdough the dough needs gentle coaxing to rise. I normally let it do a first rise for 6-8 hours and a second rise under damp tea towels of approximately 2 hours, or I let it rise slowly slowly in the fridge overnight.
Now the wild garlic salt! Wild Garlic (Allium Ursinum) otherwise known as "Leurda" in Romania or wood garlic or "bear's garlic" (apparently bears would eat it after their hibernation to clear their digestive systems…I think they were onto something actually) is a wonderful pungent, mildly garlicky herb absolutely packed full of antioxidants and things we need after a winter in our dens. I use it to make pesto, in salads, in quiches and I have recently made a Spanish omelet "fines herbes" with "leurda" as one of the herbs.
The "Leurda salt" was Lone's idea and I was so taken with it I decided to have a go. Following Lone's instructions I pulverized in a blitzer 100g leurda leaves (discarding the stalks as they are a little bit more watery) and 250ml (volume measure) of sea salt. The paste I spread on a baking tray and "baked" at 60C until it was bone dry (took approx. 5 hours but I did have quite a large quantity!) Now I have loads of little jars and almost as many ideas of what to do with it! Here I spread on ciabatta for a bread that goes well with stinky cheeses and red wine, I sprinkled it into an omelet, I have made a vinaigrette with it and I have smeared a little onto a roast chicken…in short wherever you might use salt in a savory recipe…..have a go with the Leurda salt!
Ingredients – makes 2 ciabatta because really one is never enough!
250g sourdough starter
200g celeriac puree the consistency of thick soup
500g flour
2 tbsp salt
Good olive oil and the leurda salt to smear all over them
HOW TO
Combine all ingredients except the "leurda" salt and olive oil and mix until you have a loose elastic dough. If using a Kenwood/ Kitchen Aid use the dough hook and then mix and whack on high for 5- 10 minutes to develop the gluten. You want quite a soft dough here so I sometimes add a little extra water. Leave in the bowl with a damp tea towel over the top until pretty much doubled in volume (6-8 hours).
Divide the dough in half and give it one gentle knead to create a kind of rectangle shape. Roll and flatten and stretch until you have a rectangle approximately 2-3cm think and roughly ciabatta size. Leave to rise some more but don't expect miracles…it generally doesn't rise that much but does rise a little in the oven (unlike yeast breads) but maybe that is just me, my dough and my oven? Anyhow…just before popping in a very hot oven - 250C if you can but 230C would also do it - stab with a fork or slash with a knife so the bread can absorb lots of oil and salt and sprinkle over the "leurda" salt and dribble a generous amount of olive oil over.
Bake for 15-18 minutes until the base is also crunchy and when tapped the loaf sounds hollow. Eat alone hot from the oven, use it as a salty snack for wine tasting or eat with stinky cheese and a good red. Last week a Hungarian Bikaver did the trick and this week I have eaten it with goat's cheese and some of the Bauer Cab Sav barrel sample – divine indeed!
By Rachel Sargent
Normal