More protests planned in Romania against the Government's changes to criminal law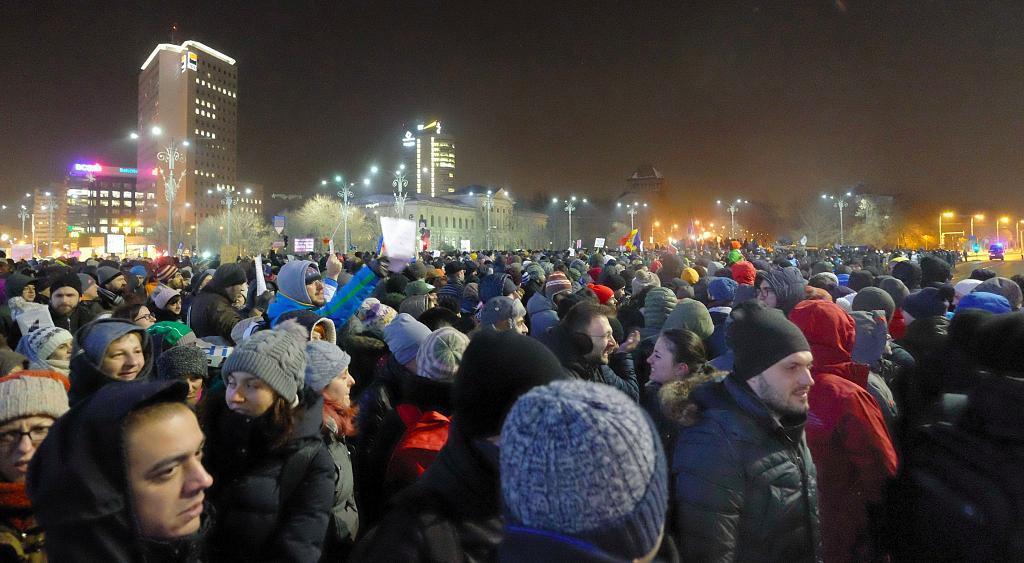 Romanians are planning to take to the streets on Sunday, as they are unhappy with the Government's plans to pardon prisoners and bring changes to the criminal law.
The Bucharesters are expected to gather in Universitatii Square on Sunday evening, according to a Facebook event. Several similar protests are also planned for other big cities across Romania, such as Cluj, Pitesti, Piatra Neamt, Baia Mare, Suceava, Satu-Mare, Brasov, and Iasi.
Moreover, the Romanians living in Denmark are expected to protest in front of the Romanian Embassy in Copenhagen on Sunday, January 22, starting 17:00.
Thousands of Romanians have already protested in Bucharest and other large cities on Wednesday evening, against the Government's plans to grant pardons to prisoners and change some important provisions of the Penal Code.
In Bucharest, around 3,000 people took to the streets, carrying signs and chanting slogans such as "DNA should come and get you," "In a democracy, thieves stay in prison," and "PSD, the red plague." The protesters first gathered in Universitatii Square, and then marched to Victoriei Square where the Government building in located.
The Romanian Ministry of Justice issued two emergency ordinances on Wednesday. One of them introduces pardon for some categories of prisoners, while the second one brings several changes to the Penal Code.
For example, one of the documents provides full pardon for inmates with prison sentences of up to five years, except for people convicted of violent crimes and corruption. The pardoned criminals must, however, pay the financial penalties decided by the court within one year of their release from prison. Moreover, people over 60, pregnant women, mothers with children under five, and people with incurable diseases in terminal stages should benefit from partial pardon. According to justice minister Florin Iordache, some 2,500 prisoners may benefit from this measure.
When it comes to the Penal Code, the emergency ordinance brings several changes, including for abuse of power. For example, public administration officials will be prosecuted for abuse of power only if the damage they cause is over RON 200,000 (EUR 44,000) and only in the damaged side files a complaint within three months from the moment it gets knowledge of the facts.
Former Prime Minister Dacian Ciolos, as well as Romania's General Prosecutor, the president of the High Court of Cassation and Justice, and DNA's chief prosecutor said that there was no justification for adopting such measures.
Last week, people also protested in Bucharest and Cluj-Napoca, asking for the resignation of Romania's Ombudsman, Victor Ciorbea, who challenged at the Constitutional Court a law that didn't allow the Social Democratic Party (PSD) leader Liviu Dragnea to become Prime Minister because of a criminal conviction he got in 2016. Dragnea would also benefit from both emergency ordinances published by the Justice Ministry.
Irina Popescu, irina.popescu@romania-insider.com
(Photo source: Sorin Ionita on Facebook)
Normal