News from Companies
Romanian developer One United Properties posts a consolidated turnover of EUR 235.4 million and a gross profit of EUR 116.2 million in 2022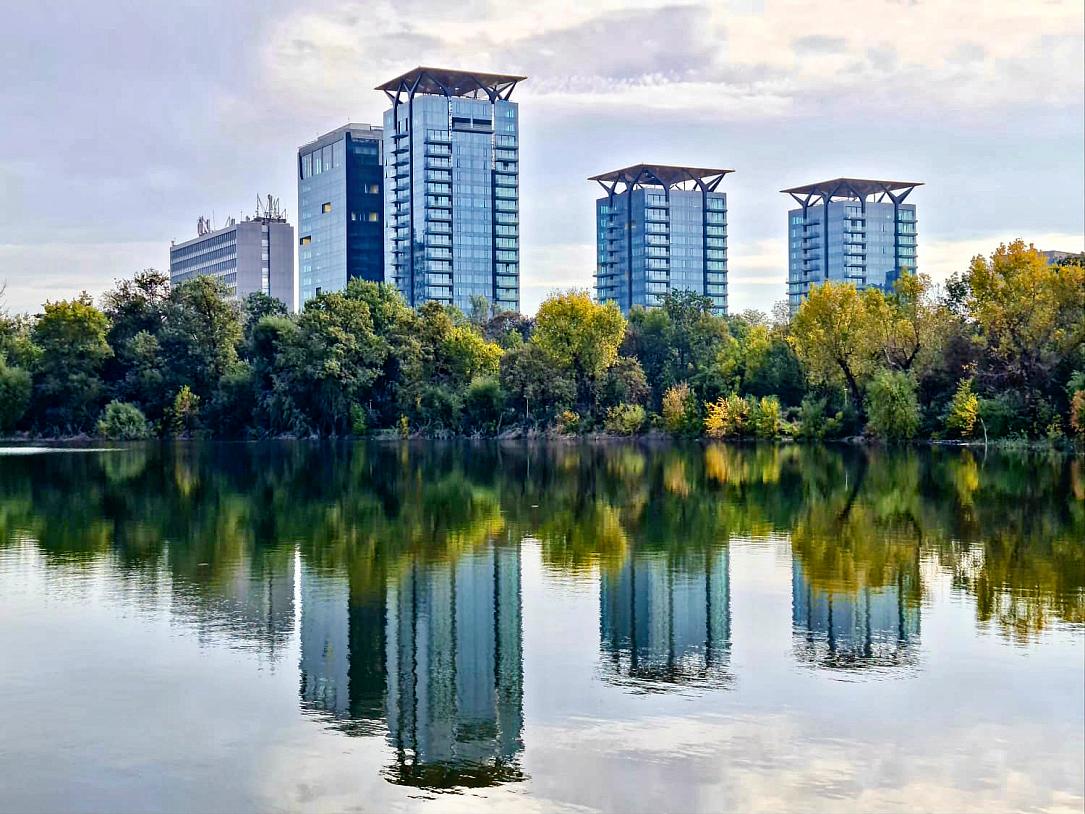 One United Properties (BVB: ONE), the leading Romanian green developer of residential, mixed-use and office real estate, posts a consolidated turnover of EUR 235.4 million in 2022, a 4% increase compared to 2021. The gross profit reached EUR 116.2 million, a 5% year-on-year decline following an intense investment activity, while the bottom line decreased by 1%, amounting to EUR 101.9 million.
The company ended the year with a strong cash position of EUR 114.6 million, higher by 12% compared to the beginning of the year, due to capital increase contribution, which brought EUR 51.5 million in Q3 2022 and despite continuous investments and dividend pay-outs of EUR 15.9 million in 2022. The gross loan-to-value indicator was 28% as of December 31, 2022, while the net of cash loan-to-value was 11%.
"We are proud to close another year with historical results for One United Properties, despite the challenges in the markets, and we look forward to continuing this ascending trend in 2023, and on a long-term basis. We start this year with a rich residential, office and commercial portfolio, ready to cater to the needs of residents and tenants across the medium, upper medium and high-end segments. As of January 1, 2023, 2,285 units at our delivered and under construction developments were already sold, meaning that our sales team had a portfolio of 1,143 residential units available for sale. Moreover, we estimate pre-sales for additional 1,167 units located at the first phases of One Lake District and One Lake Club to start within the first half of 2023, thus securing a steady cash flow for our company," said Victor Capitanu, co-CEO at One United Properties.
"On top of this, we continuously keep looking for opportunities in the market, which will allow us to build a solid pipeline for the years to come, opportunities such as One Cotroceni Towers, our latest announcement, or One Downtown and One Plaza Athénée, both developments which will strengthen our urban regeneration strategy in the historic center of Bucharest. With earnings per share of RON 0,14, our company brought investors a 15% Earnings Yield in 2022. Our plan is to reinvest most of these profits in 2023 while maintaining our biannual dividend pay-out policy," he added.
The increase in turnover was supported by a 9% increase in revenues from residential property sales, which reached EUR 156 million in 2022 versus EUR 142.9 million in 2021. The net income from residential property increased by 29% year-on-year, reaching EUR 64.7 million due to the major developments getting closer to completion; however, it decreased compared to the result for nine months due to the sales kick-off at developments where the construction began in Q4 2022. This generated a 41% net margin for 2022, a six percentage points increase compared to the 2021 result.
In 2022, One United Properties sold and pre-sold 599 apartments with a total surface of 52,724 sqm, 978 parking spaces and other unit types, as well as early-stage apartments for EUR 169.2 million. As of December 31, 2022, 62% of apartments under development were sold out. Excluding the 1,080 residential units at One Floreasca Towers, One High District, and One Mamaia Nord 2 that were only added to the sales team portfolio in Q4 2022, 82% of apartments were already contracted as of the yearend. Amounts to be received under contracts concluded with customers as of December 31, 2022, are EUR 231 million in additional cash by 2025.
"We continue to develop the city responsibly, while respecting and being considerate for Bucharest's urban regeneration needs and with state-of-the-art ESG standards always in mind. We estimate that in the current context, where the safety and sustainability of developments finally grow in importance for the end consumers, the demand for living in the communities we create will continue to accelerate. This is already visible through the results generated in the last three months of 2022, when 28% of the new units added to our sales team portfolio were pre-sold in less than a quarter. Particularly exceptional sales were registered at the large-scale development of 786 units, One High District, where 35% of apartments were sold within the first two months since the launch, or One Herastrau Vista, where within six months since breaking the ground, 64% of units were already sold out, thus showcasing the extraordinary potential that One United Properties has across various customer segments," said Andrei Diaconescu, co-CEO of One United Properties.
Between Q4 2022 and Q1 2023, One United Properties received building permits for One Mamaia Nord 2, One High District, One Floreasca Towers, One Lake Club and One Lake District, where a total of 3,733 apartments will be developed over the next 3-4 years. So far, the pre-sales started at One High District, One Floreasca Towers and One Mamaia Nord 2, while pre-sales at One Lake Club (Phase 1) and One Lake District are expected to begin in the following months.
The rental income, which includes the income generated by the office as well as retail divisions, registered a 9-fold increase, reaching EUR 12.2 million. The effect has been driven by the revenues from tenants at One Tower, which is 100% leased out and One Cotroceni Park Phase 1, which is leased out 87% but still needs to generate full income since some tenants are in the fit-out phase. It also included the revenues of One Victoriei Plaza, which was acquired in Q3 2022 100% leased out, and the impact of the results generated by Bucur Obor, acquired in Q1 2022, and consolidated under the retail division. As of December 31, 2022, the company's office portfolio counts gross leasable area (GLA) of 138,000 sqm of office space. Together with the retail portfolio, including mainly Bucur Obor and One Gallery, the total commercial rental portfolio of One United Properties has a GLA of over 180,000 sqm. The revenues from rental income will continue to grow quarter-on-quarter, bringing even more significant weight in 2023 due to the delivery of One Cotroceni Park Phase 2 and a more extensive overall commercial portfolio, including One Victoriei Plaza and Bucur Obor.
As of December 31, 2022, One United Properties had 61,108 sqm of land plots for further residential development in Bucharest, with total above-ground gross building rights (GBA) of 248,950 sqm. Already within the first two months of 2023, the landbank increased to 105,971 sqm, with above-ground GBA of 434,939 sqm, due to the acquisition of a 4.5-hectares plot of land on Soseaua Progresului 56-80, in Bucharest district 5, where the company intends to build a mixed-use development, One Cotroceni Towers. All these plots of land included in the landbank are currently in the planning phase. The Group estimates the construction of over 2,800 apartments and commercial units within developments such as One City Club, One Herastrau City and One Cotroceni Towers, as well as almost 60,000 sqm of office spaces in Phase III and IV of One Cotroceni Park. Additionally, One United Properties has approximately 40,000 sqm of buildings for restoration and further development, including significant urban regeneration landmarks such as One Plaza Athénée, One Downtown, One Gallery and One Athénée. Furthermore, the pipeline for future land acquisitions is very strong.
In terms of stock market performance, in 2022, ONE was the 9th most traded stock on BVB in terms of absolute liquidity and 11th most traded by liquidity to free float. The average daily traded value for ONE shares in the Year 2022, was approximately EUR 200,000. In a volatile 2022, ONE shares performed in line with the benchmark index BET, registering a decline of -11,9%, versus BET index, which recorded a -10.7% drop, and significantly better performance than the key real estate indices FTSE EPRA Nareit Developed Europe index -36.5%, FTSE EPRA Nareit UK (ELUK) index -31.9%, STOXX Europe 600 Real Estate (SX86P) index -42.1%. As of September 19, 2022, One United Properties shares were upgraded within the FTSE Global Equity Index Series for Emerging Europe, moving from the small-cap to mid-cap category, reflecting the increased market capitalization and the solid liquidity of ONE stock. In February 2023, this position was reconfirmed by FTSE Russell.
This is a press release.
Normal