Documentaries about King Michael I, Queen Marie to be screened across Romania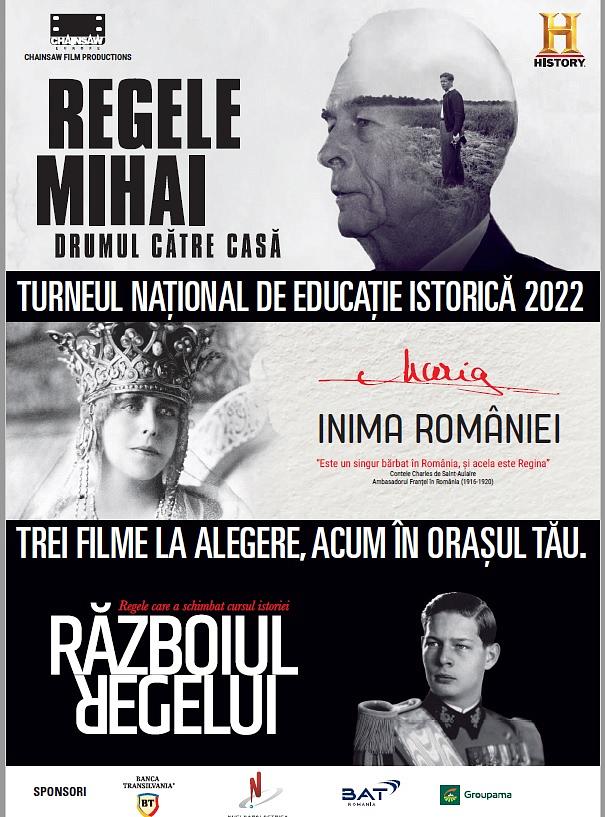 Two documentaries focused on King Michael I, Romania's last monarch, and one on Queen Marie will be screened in cities across Romania as part of an educational tour initiated by producer John Florescu and Chainsaw Film Productions.
The documentaries that will be screened are Războiul Regelui/The King's War (2016), Maria, Inima Romaniei/ Marie, Heart of Romania (2018), and a director's cut version of Regele Mihai: Drumul către casă/ King Michael: The Road Home (2021).
The eight-month tour is scheduled to start in May and will cover 25 cities in the country, including Bucharest, Iași, Brașov, Alba Iulia, Deva, Alexandria, Sinaia, Cluj, Curtea de Argeș, Târgoviște, and more.
The first screenings will be held on May 4 and May 5 in Timișoara, where the participants can also attend workshops on what is involved in historical documentary production. The tour will reach Bucharest on May 6, at the Carol I Central University Library.
All the screenings in the tour have free access, the organizers said.
Regele Mihai: Drumul către casă/ King Michael: The Road Home covers the story of the king's exile up until his return to Romania in the 1990s. In the coming months, the documentary, which premiered last year on History Channel, will be screened in countries in Central and Eastern Europe, Belgium, and the Netherlands, among others. The new version of the documentary will also air on the public television channel TVR 1 on May 10 (21:00) on May 10 and regional TVR stations. The director's cut version includes new materials about the king's youth, details on the time spent in exile in Switzerland, but also the reasons that led him to hesitate about returning to Romania.
Maria, Inima României and Războiul Regelui were previously screened in 15 cities in Romania as part of a national tour in 2019. They were also shown in Madrid, London, Ankara, Chicago and Munchen. Războiul Regelui was also screened at various film festivals including Cinepolitica, the Pessac International Film Festival in Bordeaux, Astra Film Festival Sibiu, FIRR Râșnov and Bucharest International Film Festival.
"I'm glad to showcase to the public in Romania the three films made together with my team: Războiul Regelui, Maria, Inima României and Regele Mihai: Drumul către casă. The documentaries present an important part of Romania's history from 1860 to the present, and I hope the Romanian public learns more about their heroes by watching them," John M. Florescu said.
(Photo courtesy of the organizers)
simona@romania-insider.com
Normal