Interview
A young Romanian's journey from drawing comics to the Forbes list of tech entrepreneurs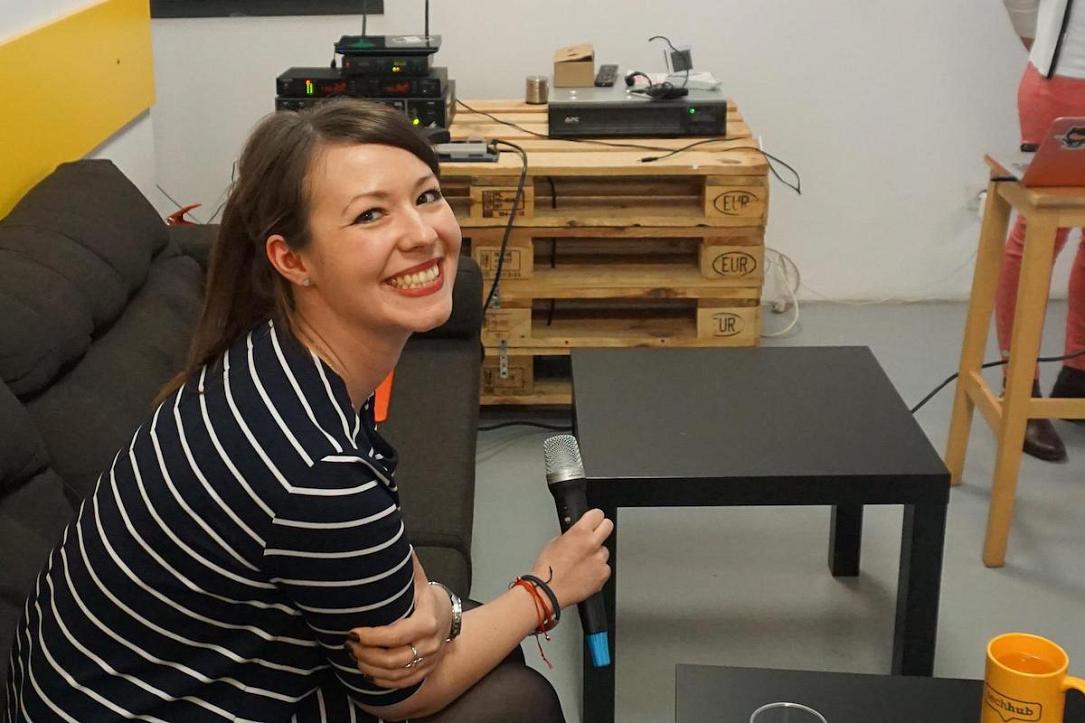 An energetic and positive person, Diana Miron is yet another good example of a young Romanian working hard to grow and achieve the highest goals.
"A front-end development guru hailing from Bucharest." That's how Forbes described Diana Miron when including her in its 30 Under 30 – Europe - Technology 2019 list.
Diana, 27, was born and raised in Piatra Neamt, a city in Romania's Moldova region and has always dreamed of managing her own business. She started with drawing comics and illustrations but when she built her first website to promote her drawings, she discovered her passion for IT. She is now the CEO and co-founder of JSLeague, an intensive JavaScript school in Romania.
But this is only the most recent of her projects. She also co-founded AP.3 - a branding and development studio for start-ups and small businesses, JSGirls - a Javascript community of girls interested in programming and front-end development, and co-organized the first Javascript based hackathon in Romania. In the future, she also plans to launch web development courses for children, high school students and women in programming in the future, and even expand into providing free IT education and IT infrastructure education in the rural area.
Diana Miron talked to Romania-insider.com about what JSLeague does, how she got the news that Forbes added her on their list, how she got to do so many things, and her future plans.
Please tell us briefly what is JSLeague and what it does. What's its story (how did you come up with this idea, when did you lunch it)?
JSLeague started with the focus on higher education for developers and taking them from good to great, inspiring them to be leaders within their teams and unite them into developing solutions for real problems.
We started within the BucharestJS community of developers as a small team that organized the first JavaScript based hackathon in Romania. As our community grew over the last 4 years, so did our ideas and we wanted to further help developers. Therefore all our efforts and energy is put into giving developers free access to the best tech trainers throughout our JavaScript workshops, our articles, events, and podcast. We also help enterprise teams to better deliver code and use new JS technologies.
How many workshops have you organized so far within the JSLeague program and how do you cover the costs? What other services do you offer?
So far we have organized 7 workshops, from Intro to Advanced in Angular, React and Vue frameworks. We usually have logistic partners such as our friends Dovelopers and TechHub Bucharest that help us with the location.
Our services include custom JavaScript trainings for companies' dev teams and technical consultancy and this is the main revenue stream that helps us support our community workshops. We are actively looking for companies that want to be involved and have an impact on our community workshops and meetups as partners as well as podcast sponsors.
What are your plans for JSLeague?
Our future plans involve tackling other countries from the CEE region as well as connecting with other JavaScript international communities to foster as much experience exchange as possible and to work on joint projects. I think it is important for our community members to have access to as many resources, opportunities mentors, trainers, experiences, accelerators, and know-how as possible from other countries.
We want to help as many programmers learn new and cool JavaScript technologies, grow our BucharestJS community, help dev teams to build better software products and finally to share expertise across other tech communities. At the moment we are the first entity in the CEE region to have built such an ecosystem around JavaScript technologies and we are focusing on growing and giving back to the community as much as we can.
How did you get the news that Forbes added your name on its 30 Under 30 list?
Honestly, it was a surprise, I didn't expect it, it is an honor and I am very grateful. I think this is a recognition for both the JSLeague team of amazing developers and the BucharestJS community.
I want to thank Ciprian Borodescu, Andrei Antal, Bogdan Luca, Sabin Marcu, Alexandru Albu, Mihail Serafim and Eduard Budacu for their dedication, energy, and efforts they've put into our amazing JS workshops and into the JS community. This is the first step in our journey of putting JSLeague on the European map of educational startups.
Please tell us a bit about your background and about your other projects – AP.3 and JSgirls. Is it difficult to be involved in several projects at the same time?
I am 27 years old, born and raised in Piatra-Neamt and currently living in Bucharest. I've finished the Bucharest University of Economic Studies (ASE Bucuresti) and Mastered in Informatics at CSIE Faculty.
From high school, I knew I wanted to have my own business. I started drawing comics and illustrations, bought my first domain and then in the first year of college I studied how to make my own website to sell my illustrations online.
This is how I got into contact with web development, then applied for a job as a front-end developer for a few months and started studying and learning a lot of new things about front-end, design, UI, and UX. Then I thought I would like to know how to make mobile applications, I resigned and I headed to iOS development.
At the same time, I started with AP.3 together with 2 friends (the name comes from being 3 co-founders and we worked from my apartment), a branding and development studio for start-ups and small businesses. We wanted to help young entrepreneurs with limited resources to have a consistent brand identity, a design, a website, and coherent communication to express their story. We wanted to educate the market on the idea we often heard "I have a friend who makes my logo", "I have another friend who makes my website" but, in the end, there is no link at the level of brand or start-up story. With AP.3 I first had contact with real business, cost, market, customers, beyond courses and articles read about entrepreneurship. Over time I took a lot of different projects that I did not know how to develop but which forced me to learn and discover very quickly new things related to programming and front-end.
Meanwhile, I had the opportunity to co-organize BucharestJS meetups, discovered the community of JavaScript developers and started to be more and more involved. Projects like JSgirls, JSHacks and JSLeague started to develop from there.
I like to think of myself as having a lot of energy and being involved in a lot of projects gives me the opportunity to learn and discover new things, different people, build really cool projects and have an impact overall. It is a lifestyle that suits me best as I often have a feeling of restlessness. I would say it could be sometimes challenging but I try my best to focus and be organized.
What are your plans for the future? Do you have other projects in mind?
I would like that through JSLeague to further develop web development courses for children, high school students and women in programming in the future. I would love to expand our community and help as many people learn JavaScript and JSLeague to be able to provide free IT education and IT infrastructure education in the rural area and thus to grow the community at all levels.
Personally, it's a little difficult to design a picture of myself in the future as I think I have a lot of things to learn, a long journey ahead and I'm open to any opportunities that will come up. I want to deep dive into learning new cool front-end stuff such as CSS and SVG animations. As for other projects I have a few ideas in mind that I want to develop, one of them would be a series of programming illustrated books for kids.  
Was it difficult to make your way on this niche? Do you plan to stay in Romania or move abroad?
I wouldn't say it was difficult as it was challenging. I had to rapidly learn, adapt and discover both technical and business wise things every day. I always had great people and mentors around me that helped me learn and to whom I am grateful. I wanted to be an entrepreneur since high school and doing front-end is what I like and do best thus it's a journey that I really enjoy even though there are obstacles or difficulties along the way.
As for future plans, for the moment I plan to stay a bit longer in Romania. I think I can have an impact here and help a lot of people learn programming and develop better software products. I want to contribute to the educational system as there are still many opportunities in Romania and the tech environment is growing. I am a firm believer that we should try and build in-house software and products and contribute to making our country better.
If you were to start all over again, what would you change?
To be honest I think I wouldn't change anything because the sum of my choices, both good and bad, the people I've met, the lessons I've learned and overall all my experiences were the ones that got me here.
Would you say Romania is a friendly country for entrepreneurs?
I think it depends on the industry. The tech industry has its benefits. The mindset, education, international policies, and the startup culture is definitely growing and this is a big plus for Romania. There are a lot of new initiatives, tech accelerators and also new programming schools that are entering and investing in our country, thus a positive trend. We have more than 1,000 active startups, around 40 startup conferences per year, community meetups and more and more co-working spaces and hubs.
Even though there are several programmes for startups/entrepreneurs, I think that there are many things that should be done here and space for improvement. Another minus from my point of view is that Romania could benefit from more investment opportunities for non-tech startups or small businesses in different domains such as the food and beverage industry or arts and crafts.
Irina Marica, irina.marica@romania-insider.com
(Photo source: courtesy of Diana Miron)
Normal