Romanian gymnastics world champion reveals dark side of performance in autobiography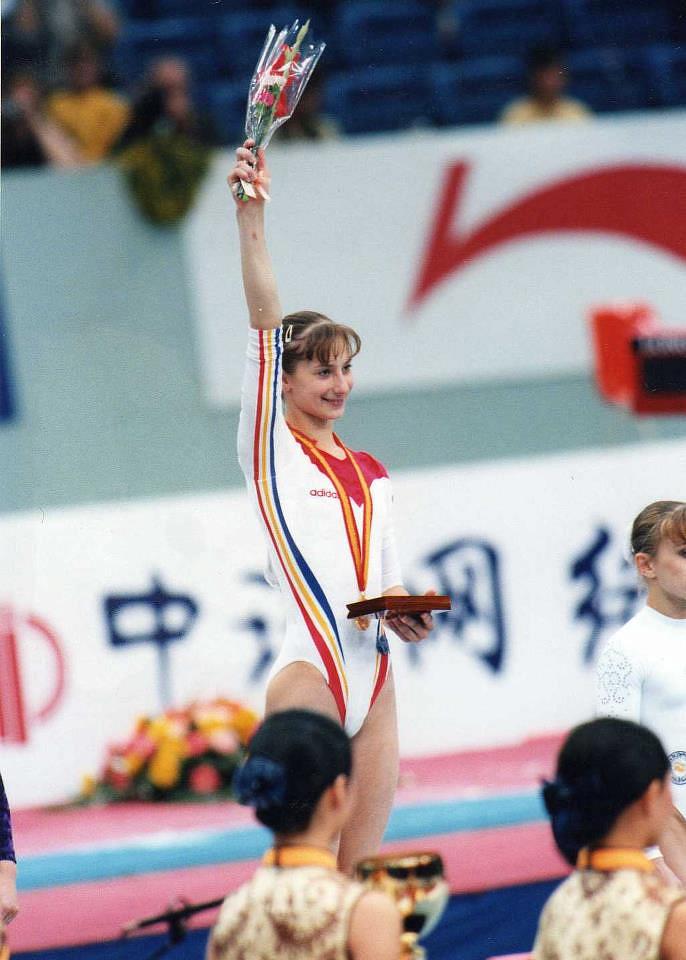 Romanian gymnasts' great performances at the Olympic Games and world and European championships have a dark side. The young Romanian gymnasts were beaten by their coaches and pushed to train even if they were in pain, former world champion Maria Olaru writes in her autobiographic book called The Price of Gold. Uncomfortable Sincerity (Pretul Aurului. Sinceritate Incomoda).
"I had a very bad day. At the morning practice things went badly. I got out of bed with a bad back ache. I couldn't do almost anything in training. When Mr. Carpinisan saw that I was performing badly, he started beating me. He slapped me three times to the beam. At the beam, I stood up to him and he slapped me again, then I went to the parallel bars and performed badly because the back was aching even more badly. When I finished, he beat me again. He slapped me in the face and threw me on the floor, and while I was lying down there he started trampling me. I was crying really loud. My eyes and face swallowed," Maria Olaru recounts in her book, according to an excerpt from the book published by local sports newspaper Gazeta Sporturilor.
Her book includes other similar episodes in which she describes how she or her teammates were beaten and humiliated by their coaches and even by their parents. Olaru remembers how one of her colleagues was savagely beaten by her father in front of the other team members because the coaches wanted to expel her from the national gymnastics training program. Nobody intervened to stop him. Olaru, who was 17 at that time, writes that she cried after watching the episode.
"What's wrong with you? Do you think that anyone would cry for you," she remembers coach Octavian Bellu telling her. "And then he gave me a few slaps as a lesson. And, boy, does he have a heavy hand," Olaru writes, according to journalist Catalin Tolontan, who wrote the preface to her book.
"Never before has the veil of secrets and prejudice in Romanian sports been torn with so much sincerity in a book. The volume is necessary and unbearable," Tolontan wrote in the preface.
Tolontan added that Maria Olaru's book tells the story of many children in Romania who have grown up in communist and post-communist Romania, who have been disciplined and educated with the stick. "A child tells on our behalf how we were beaten at home, in school, at the workshops, at our relatives, and in boarding schools," the journalist writes.
Maria Olaru, 34, won an all around world champion title in 1999 at Tianjin and world and Olympic gold medals with Romania's gymnastics team. She retired after the 2000 Olympics.
Marian Bellu, the legendary coach of the Romanian gymnastics team, who has led the Romanian gymnasts to many Olympic, world, and European gold medals, says he doesn't remember the episodes described in Olaru's book, according to Stirileprotv.ro.
The book, which will be officially launched at the Bookfest book fair on June 4, has already raised many reactions in Romania, from outrage to disapproval. While some condemn the ways of the gymnastics coaches others accuse Maria Olaru of having a hidden agenda to discredit the people who have helped her reach her great performances.
Most people in Romania still believe that beating is an effective way of disciplining children.
Romania's gymnastics teams fail to qualify for the 2016 Rio Olympics
editor@romania-insider.com
Normal