Bosch experts teach Cluj-Napoca students about autonomous driving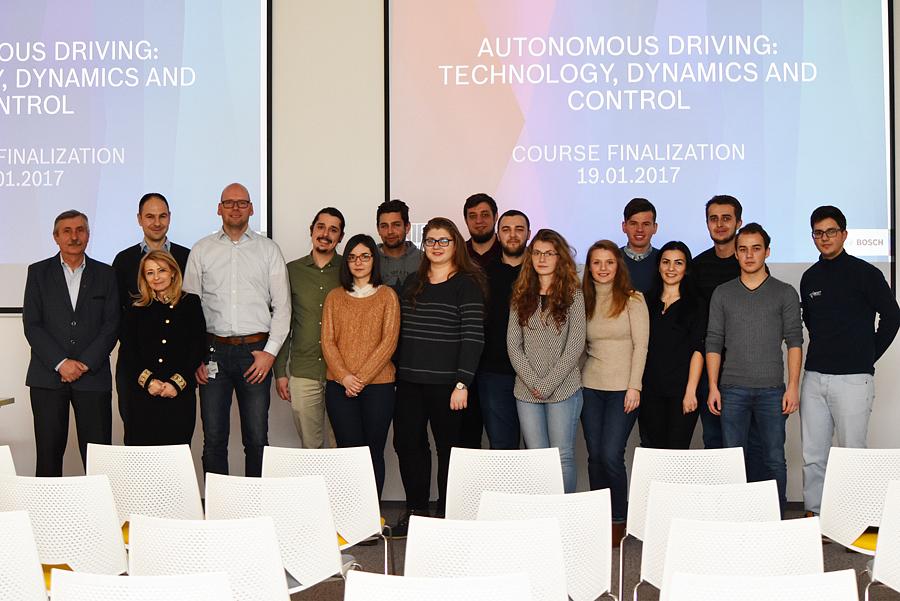 Students in Cluj-Napoca, one of the biggest cities in Romania's Transylvania region, have learned about autonomous driving during the first edition of a dedicated course initiated by German company Bosch, in collaboration with the Technical University of Cluj-Napoca.
The first edition of the course, named Autonomous driving: Technology, Dynamics and Control, was launched at the beginning of the 2017-2018 university year and ended in late-January. It focused on autonomous driving, and gave Romanian students the opportunity to learn about this new technology under the guidance of Bosch experts.
During a total of 13 courses and 13 laboratories, the Romanian students had the chance to work with state-of-the-art technology in the field of autonomous driving, and understand the basic principles of these technologies. Thus, fourth-year students enrolled in the program expanded their knowledge to areas such as sensor fusion, connectivity, or steering systems.
"The collaboration with the Technical University is a priority for Bosch. The practical experience of the students, the future technology experts, is very important because the theoretical knowledge alone does not give them a complete picture of the latest technologies," said Dennis Raabe, manager of the Bosch Engineering Center in Cluj-Napoca.
Bosch Group has been present in Romania for more than 20 years, currently having more than 5,000 employees in the country. In 2016, Bosch recorded a sales volume of EUR 332 million on the Romanian market.
In addition to the R&D center in Cluj and its production units for Mobility Solutions in Cluj and Blaj, Bosch also operates a linear production unit in Blaj and a Business Process Outsourcing (BPO) Service Center in Timisoara. In Bucharest, the company operates a sales office for the Mobility Solutions, Consumer Goods and Construction and Energy Technology divisions. In addition, a subsidiary of BSH Hausgeräte GmbH, active in the home appliance market, is also based in the capital.
Bosch opens training center for students near Cluj
Irina Marica, irina.marica@romania-insider.com
Normal