Fox' Bar and Restaurant Review: White Horse, 4A George Calinescu St.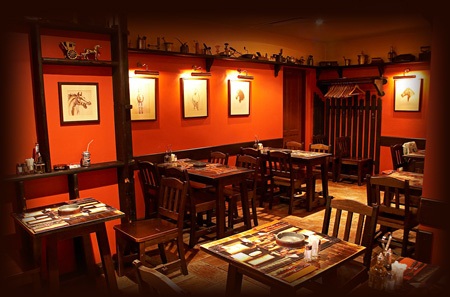 The White Horse is a very traditional style British pub in Dorobanti which started in 1997, one of the originals on the night life scene in Bucharest. As you walk in off the street past the red telephone box you enter the ground floor bar area which has a very solid dark wooden, island bar design in the middle of the floor.
This is surrounded by bar stools, so suits those, perhaps especially Brits, who like to do their drinking and chatting at the bar, and with a dart board in the corner this pub is arguably the closest thing you will find to a British pub in town.
They have a large pull down projector scene in the back area behind the bar which is used to show sports, mainly football. On the first floor there is an 80 seats-restaurant split into 2 separate sections for smokers and non smokers. The menu offers a wide selection of grilled meats, seafood and salads, no pizza/pasta, a refreshing change!
The prawns were excellent. Another floor above the restaurant on the top of the building is a terrace, which at the moment is closed but which should reopen soon.The part of the White Horse I like best though has to be the ground floor bar, it feels very familiar, they offer Guinness, Leffe, Carlsberg, Tuborg, Becks and Stella on draught. You would say to yourself nothing exceptional in that, and you would be right, but you have to meet Nicolete Tanasie.
Normal