Arnaud Potiron, Michelin: To me, Romania is a country of contrasts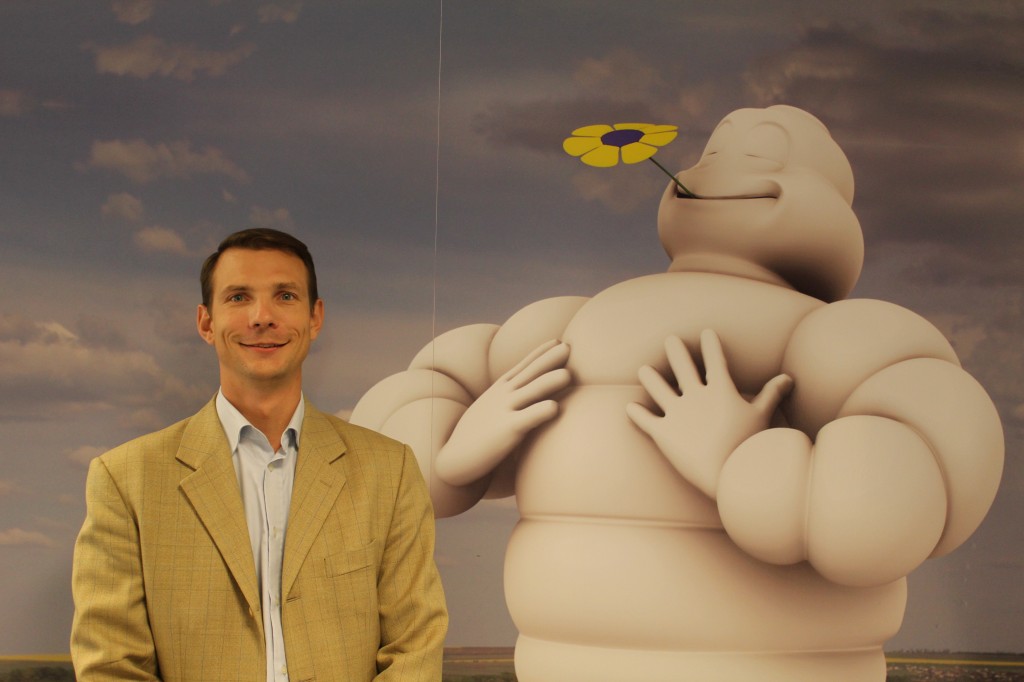 French Arnaud Potiron first came to Romania in September last year, when he was appointed Commercial Director for Truck Tires, Industrial and Agro with Michelin Romania, Bulgaria, Croatia, and Serbia. It was his first time working abroad. In an interview for Romania-Insider.com, Potiron talks about his time so far in Romania and about the impact of his coming here.
By Irina Popescu
Potiron always had his office in France, but he felt he was ready to take a new step, so he asked to be sent abroad. Romania is his first such assignment. "I really wanted to have this experience abroad for me, personally, and for the job also", he says, in an interview for Romania-Insider.com.
Soon after his arrival in Romania, Arnaud Potiron realized it is a country of contrasts. "In Bucharest there is this contrast- beautiful and nice places while others are still under construction, or are not in such a good state. I'll give you two examples: I have a very high speed internet connection, with optical fiber, but at the same time, there are so many wires on just one pillar. Or, you go to a pizzeria and you see Maseratis, Ferraris, and a lot of people really want to show off with what they own, and just few meters away you can see poor people asking you to give them some money. This is the kind of contrast I was talking about. This is a big difference for me," Potiron confesses.
He likes traveling, so he did trips around the world, from Asia to Europe and USA. Traveling and discovering people are some of the most important things for him, besides family.
He has also tried to visit as many places as possible in Romania, and during these visits he realized his favorite place was the Peles Castle in Sinaia. He goes as far as to say that this is the most beautiful castle he has ever seen. "It is a specific modern castle, beautiful, very well done, all the details are very pretty, and it has all the modern comfort, such as the heating system, and the retractable roof ", he points out. Another place in Romania he recommends to those interested in discovering the country is in Buzau county - the Muddy Volcanoes.
For Arnaud Potiron, Romania is a country that many should discover, even though he agrees that people who travel here need to have a lot of patience to discover the country, mainly because of its bad roads."I would change the roads and infrastructure. One day, things in this area should change. You have here a very beautiful country, but you have to be courageous to go and discover it. For example, if you want to go to the North of the country, it will you take some time to get there," he says.
People are however the key element for Romania, where he found kindness. It's with kindness that he tries to answer back, also when talking about how he manages his colleagues who work for Michelin. As a leader, he knows that helping people to grow in the team, showing them respect, and helping them to do their job, are some of the most important things. "Very often, we all have the temptation to start with the idea we have or we may have, or to listen to some rumors. One of the values of the group, so one of my values too, is to start from facts. That is why, when I arrived here, the first thing I really tried to do was to understand. That is why I'm spending time on the field, on the road, to see our customers, to see our people, to make sure that we really understand the facts and the reality of the business. I think that this is really important to have as a starting point", he says.
Arnaud Potiron joined Michelin in 2003, after having worked for Henkel and Colgate – Palmolive. He holds an MBA from HEC and has graduated L'Ecole Superieure de Commerce in Rouen. His hobbies include Squash and Judo. Check his CV online here.
Irina Popescu, [email protected]
Normal