12 years of Romania Insider: Can independent media in Romania become sustainable?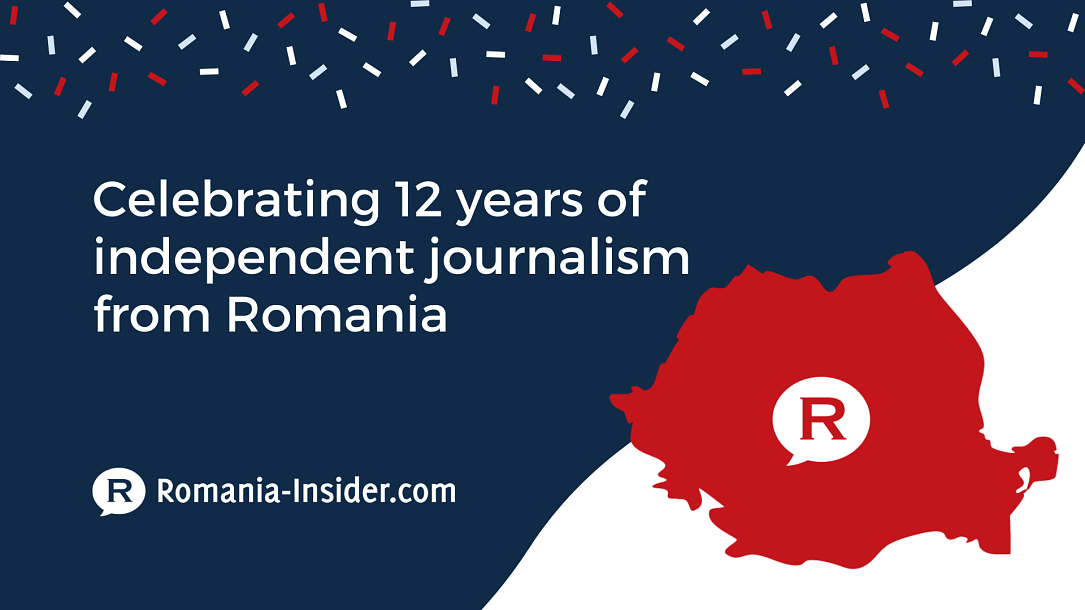 We have built an independent media company to give the world an insider's view of Romania. Now, we need your help to make it sustainable and grow. Unbiased reporting is rare nowadays, but it comes at a cost.
12 years have passed since we launched Romania Insider and we are proud and grateful that we have managed to turn an idea born from necessity into Romania's voice to the world - the most read source of independent news in English about Romania.
So far, we have published close to 60,000 articles, including almost 30,000 business articles, some 12,000 articles on local politics and social issues, 3,000 articles about Romanian culture and tourist destinations, and about 1,000 profiles and interviews with Romanians and expats.
With limited resources, we have been keeping foreign investors and decision-makers up to date with the latest news and developments in Romania, promoting the country as a destination for tourists, guiding expats to discover more of Romania and adapt to the intercultural challenges, and helping Romanians abroad stay connected with their home country.
In the last 12 years, over 20 million readers from around the world, from the US to Australia and Japan, and from the UK and Canada to South Africa and Argentina, have read our stories about Romania.
What has driven us further every year in a tough market which is media in general, and niche media in particular, was the belief in our vision and mission: that we should provide an open door to Romania for everyone in the world, through our quality, carefully selected and well-written articles, and always abiding by our ethical principles, the most important of which is editorial independence.
Nobody tells us what to write, we're not politically influenced, our advertisers don't influence the content, we don't publish paid articles disguised as editorial, and we separate facts from comments. We believe this is incredibly important in the world we live in and the cornerstone of a democratic society.
In the last two years, our mission has been shaken by unpredictable economics. First COVID, now the war in Ukraine and rampant inflation across the globe have determined companies to reduce advertising budgets while tech giants such as Google and Facebook have been taking increasingly larger slices of the pie, which they redistribute to publishers based more on quantity than quality.
As we can't compete (yet) with local publishers' volumes and we are unwilling to publish clickbait titles just to increase traffic artificially, our revenues from traditional advertising have diminished. At the same time, we categorically refuse to sell advertising disguised as content, something that other publishers have been doing in recent years to save their business, which has made this the norm rather than the exception in the local media market.
We believe that quality journalism is not dead and we have many international examples of top-tier publications that have managed to reinvent their business model with the support of their readers.
We hope to replicate that model in Romania and become the first local newsroom fully financed by our readers. This is why we invested in changing our membership management system and implemented a tested solution from a top international supplier.
We believe that only with the support of our readers we can continue sustainably to offer quality independent reporting about Romania to the world and create more premium content.
We are confident that you will respond positively to our call, so much that we have already hired two new full-time journalists to cover more stories and we plan to bring more talent to the team.
There are so many interesting initiatives and inspiring people is what we call "positive Romania" and it pains us to not be able to write about all of them. And with your help, we could bring their stories to the world.
All the money from memberships will go into financing the newsroom and developing the Romania Insider content to bring you more of the articles you love about Romania.
1,000 new members with yearly subscriptions would help us fully finance our current editorial team.

2,000 new members would give us the confidence to further expand our team and publish a lot more exclusive content about Romania.

3,000 new members would allow us to invest in technology and diversify our formats to bring you video and audio content on a constant basis.

4,000 new members would support adding regional correspondents to our team, to bring you more stories from Cluj-Napoca, Timisoara, Iasi, Brasov, Sibiu, and other big cities.

5,000 new members would give us the means to reach Romanian communities abroad and create more tailored content about them and for them.
To mark our 12-year anniversary, we have a special introductory offer for you: a 12-month all-inclusive membership (PREMIUM) for just EUR 66. That's just EUR 5.5 per month. REDEEM OFFER HERE.
In exchange for your contribution, as a member, you get to:
Experience the Romania Insider website without ads (when logged in);
Read exclusive, subscriber-only stories and interviews in our RI+ section.
Receive seven premium newsletters in your inbox on Agriculture, Capital Markets; Mergers & Acquisitions, Politics, including a daily and weekly overview of the most important business & politics news in Romania even before they are published on the RI website, as well as a Monthly Overview newsletter so you don't miss anything important;
Get priority access to future Romania Insider events;
Be part of a community of like-minded people who share their love for #PositiveRomania with the world.
We are committed to continuing what we have been doing for the last 12 years and, with your support, we believe our message will grow stronger, reach more and more people, and fuel the positive change this country needs. In readers we trust!
Yours sincerely,
Andrei Chirileasa
Head of Content,
Romania-Insider.com
On behalf of the whole Romania Insider team
Normal