Sustainable workshop remesh sets up "From Building to Shoulder" exhibition promoting work of disabled people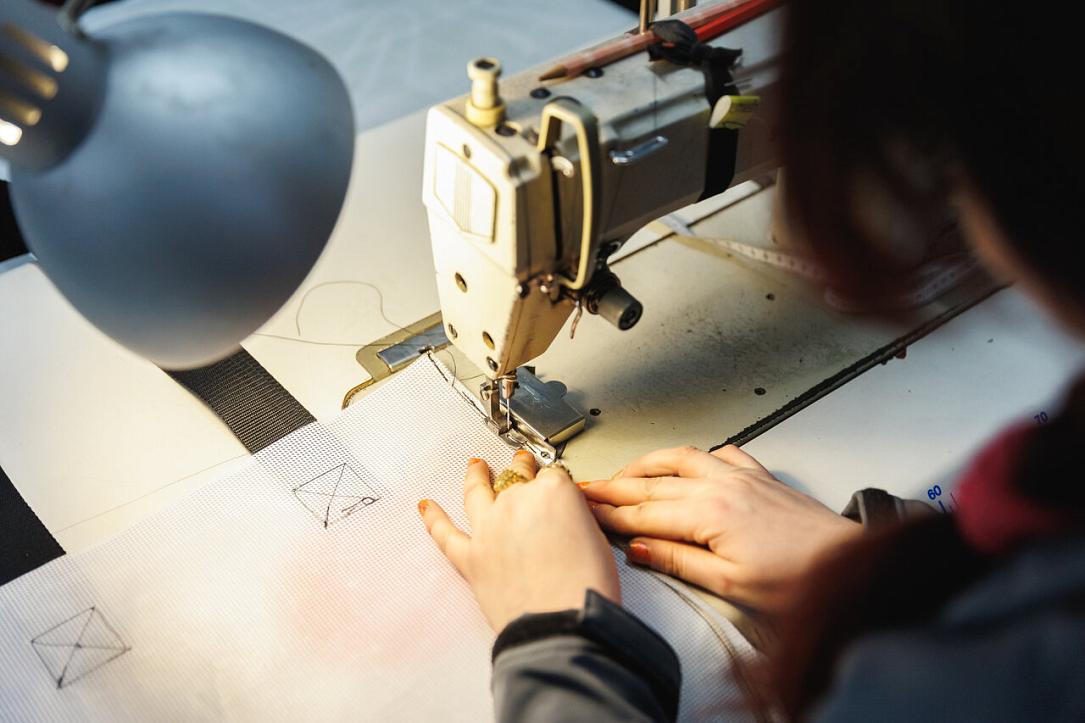 Bags, backpacks, purses, and other home accessories could be seen at the opening of 'From Building to Shoulder,' the first exhibition through which the remesh workshop, a protected unit for people with disabilities set up by the Ateliere Fără Frontiere (AFF) Association, promotes both products with reduced environmental impact and the work of people with disabilities from disadvantaged backgrounds.
According to AFF, the exhibition can be visited until May 28 at the Coffee Store on Calea Victoriei in Bucharest.
Damien Thiery, CEO of AFF, explained the benefits of authentic sustainable fashion on the environment and how it encourages conscious and responsible consumption: "The principles of sustainable fashion include, among others, the use of materials and processes that are less harmful to the environment, recycling and reusing materials, reducing carbon emissions, and supporting local production. Through the actions of remesh, we take responsibility for the environment, promoting a more sustainable future."
Employees of the remesh workshop, who belong to disadvantaged groups with multiple social, educational, and health challenges (victims of domestic violence or human trafficking, homeless individuals, deprived of liberty, disabilities), give new life to banners and advertising meshes, which otherwise would make up tons of plastic with no alternative for recycling.
"Advertising banners contain chemicals that infiltrate the soil over time. The number of these advertising materials is very high, and their lifespan is very short. In the remesh workshop, we recover banners and transform them into sustainable and ethical products, giving the banner materials a chance at a new life. We have customers who, for example, for over four years, instead of buying disposable bags daily, use the remesh revive, which is spacious and durable," Damien Thiery stated.
Depending on the bag model, the employees of the remesh workshop produce between 30 and 75 bags from one outdoor street panel.
Ateliere Fără Frontiere is among the few organizations in Romania that have a socio-professional support program for hard-to-employ individuals, placing the latter in the labor market. Specifically, the association offers adults a job where they acquire essential skills, learn a new trade, become accustomed to teamwork and the daily work schedule. Additionally, they receive guidance for the future, advice and assistance in solving personal and administrative problems, and encouragement to gain confidence in their abilities.
The employees in the remesh tailoring workshop are hard-to-employ adults recommended by other social organizations. They learn to prepare advertising materials for sewing, cut according to patterns, and also sew new products. Since the emphasis is on utilizing materials in sustainable products, the production process aims to use as few purchased accessories as possible, without straps or buckles. In over 15 years of operation, remesh has collected over 36 tons of advertising waste and has tailored over 72,000 products.
In everything they do, the people at the remesh workshop adhere to the principles of sustainable development, social and solidarity economy, circular economy, and fair trade. Each remesh product is unique, crafted by hand, and has a long lifespan.
Ateliere Fără Frontiere (AFF) is a non-profit organization established in 2008 for the labor market integration of vulnerable individuals. To fulfill its mission, AFF has created three social enterprises through economic activity - educlick, remesh, and bio&co farm - where they offer personalized social support services, integration counseling, psychotherapy, and pedagogical support for skills development for individuals facing multiple employment difficulties (long-term unemployment, addiction, disabilities, school dropout, domestic violence, human trafficking, probation, incarceration, homelessness, etc.).
(Photo source: Ateliere Fara Frontiere)
Normal