Shajjad Rizvi, the big guy behind the Little People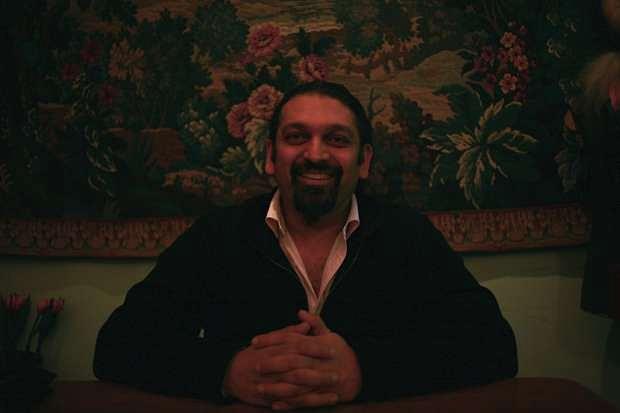 The story of Shajjad Rizvi, the British guy who founded Little People, an organization that helps children with cancer in Romania.
In April 1990, as soon as spring came, a 19-year old boy, "still in nappies, basically", very young, very idealistic, of Pakistani-Indian heritage, born in the UK in the '70s, together with a group of friends, set out on a road trip which was going to change his destiny.
Had Shajjad Rizvi decided not to come with a humanitarian van to a torn-apart Romania, after he had watched on TV the images of the Romanian orphanages and care institutions, his life would have probably been different.
But he came. More than twenty years later he lives in a city in North-Western Romania, Cluj Napoca, has three kids and had founded an NGO called Little People which is active in nine children's oncology wards all over the country.
On my way to the cafe in Bucharest where I am about to meet Shajjad, I receive this message "Diana look for an old fat Indian bloke with long hair- u'll spot me. Shajjad." There is this big, Indian-looking guy in front of a computer, with long hair, smiling, definitely not old, but it must be him.
After the initial road trip to Romania, Shajjad went back to England for a week and got all his money together. "My family said I was bonkers, but I knew I had to go back and do something."
He returned to Bucharest, worked for a Swiss NGO for about a year, doing desktop publishing "on a very old, silly computer". But then the war in Bosnia started. "I come from a Muslim background, but I made the conscious effort to convert to Christianity when I was in high school. However the mess in Bosnia, with people getting killed over religious reasons made me think about me being a Muslim. I couldn't sit doing nothing. So I felt compelled to work in Bosnia for an organization and for about two years my world was overseeing humanitarian deliveries, logistics."
Confronted with the reality of the refugees, he understood that coming with a truck with humanitarian aid is not enough. "I don't know how much contact you've had to refugees. They are families who had a normal life, a normal job and all of a sudden they are kicked out in the street and they are crammed in refugees centers with hundreds of other people. It was the most depressing situation to go to."
"The children had nothing, no school to go to, there was nothing going on. I felt the imperative to create something that focused on them, so they wouldn't fall into the same depressive routines their parents were in." Shajjad created the Little People's Theatre, a theatre company with clowns, entertainers, puppeteers, the majority of them volunteers from the UK, students who would come to Bosnia for a period of time, two weeks, two months. Together with Katie, a Hungarian woman he met there, specialized in working with kids with special needs, they toured refugees centers. He married Katie later on.
"My son was born in 1994. I was in Bosnia, Katie was living in Budapest. I got to the point when I realized I can't be doing this and be separated from my family, but at that time Bosnia was not the place for a family." The first idea was to go back to England, but then it became clear that the orphanages in Romania would benefit more from the educational services they provided.
"My wife made one visit to a hospital. And when she entered the cancer section she saw that there were a lot of kids, no treatments available, doctors with tied hands. The kids had no psychic social support, no psychologists. This is something that we can change, we told ourselves, so we focused on the oncologist section of Cluj."
Katie has always been a part of Shajjad's narrative. "When you're married to someone you want to live your dreams together and it was her dream as much as mine. When I stopped because I had to, she took it on and just flew with it."
"What Katie did, bless her heart, was start a volunteering program. Back in 1997, 1998, 1999, volunteering wasn't a very common practice in Romania. NGOs were promoting volunteering, but not sustainable volunteering, which implied learning a skill through volunteering that you could later benefit on."
She trained young people to work with her in a hospital and help children who had cancer. "Kids don't know why they are going to hospital other that they're sick. He'll fix me by giving me medicine, they think. But when it comes to cancer the medicine you take makes you feel worse. As a 7-year-old, 8-year old kid you don't understand that. When you're 15 or 16 and you're a beautiful young lady and all your hair falls and your face becomes pale is devastating. So what Katie would do is create games and activities that would help the child understand what is happening to his or her body."
Cancer is a serious illness but it's an illness that doesn't have to kill you if it's caught on time, Shajjad says. He talks with serenity and strong confidence, vital traits when one deals with cancer.
"So how do you find the motivation?" I ask him. "Just naivety, stupidity, I guess. We've seen a lot of bullshit. I think we're still naive to it. People always tell me we're too nice, too trusting. We have been screwed so many times, financially cheated, robbed, everything, but it doesn't stop us. Someone who really believes in what they are doing, they are not doing it for any other reason than to serve. Whatever happens to them is irrelevant. It's the same as with your children. You don't really care about yourself."
He thinks a bit more and adds: "There's no profound answer to your question about motivation, I'm sorry. I talk to my wife and she's stressed at the end of the day because that and that happened. But the next day is another day. There are a lot of thing to juggle, but you just learn to juggle with them. Sometimes you just drop a ball. Nobody is perfect. But you just go on with it."
The way Shajjad tells his story makes it clear that it's not about himself, but about his organization. He won't go into many details about his life, but will always switch to Little People's story. He talks with the perseverance and tenacity of somebody who is very determined to make his goal come true.
As there were requests from other children oncology wards over the country, they started to expand. "In 2007 we couldn't pay for the expansion so we had to raise money. We started a fundraising campaign, from corporates, so in each oncology section we now have a paid coordinator that activates very much like Katie, who oversees the activities. Then we have a team of 15-30 volunteers per section and we rotate them. We have over 120 oncology volunteers nationwide."
Due to their success as an organization they have also helped other organizations raise money. Little People helped organizing in Cluj the largest tournament in the country for disabled people.
"My daughter was 16 at the time. She was unhappy with the way the disabled people were viewed in this country. She made a series of videos filming disabled athletes and the videos were sent to corporate sponsors, potential sponsors, saying 'you're sponsoring the Olympic team but you're not sponsoring the Paralympic team.' Romania has some fantastic Paralympians' but they get no fundraising."
"Don't you think it was too compelling for your kids to have witnessed so many sad stories?" I ask him. "My daughter has been volunteering since she was 3, going with Katie and joining the activities with the other kids. My son is at university now in Budapest, he does all the interviews for our magazine Temerarii and is a movie critic for the magazine. My youngest daughter, she's involved in all the activities, she's 13. It's part of their fabric and I believe it's a good thing. They are socially aware and active."
"My daughter is 18 now. I love when we have arguments. It's fantastic, it shapes the personality. I mean real debates on politics. She has a completely different opinion on anything. I argue with her a lot. She's the most challenging for me. She'll look at me and say: dad, stupid. Thank God for the kids, cause they keep you humble. Same with your wife/husband, any person that can keep you grounded. When one says he's such a great human being, the wife says you should see his dirty socks. Or hear him snore. That's why I believe in relationships."
By Diana Mesesan, features writer, [email protected]
(photo by Diana Mesesan)
Normal