Romania's chief anticorruption prosecutor gets "knighted" by French Ambassador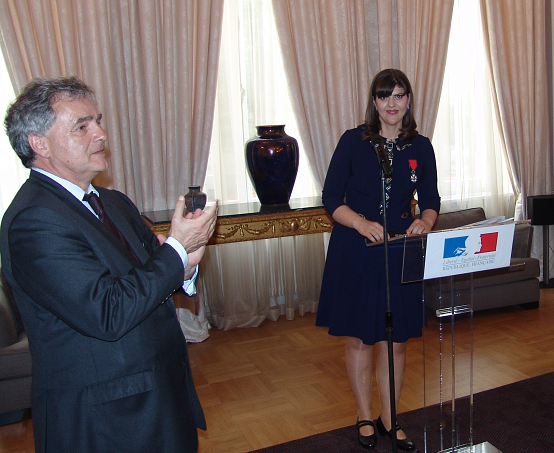 Romania's chief anticorruption prosecutor Laura Codruta Kovesi received the Legion of Honor National Order's Knight distinction from France's Ambassador to Romania Francois Saint-Paul, as a recognition for her devotion in fighting corruption. The award ceremony took place on Tuesday, June 7, just two days after the local elections in Romania, in which several big city mayors investigated or even convicted for corruption, have been reelected.
Ambassador Francois Saint-Paul said that the National Anticorruption Directorate – DNA's results were truly impressive and placed this prosecution institution among the top five anticorruption bodies in Europe. He also praised Laura Codruta Kovesi, DNA's chief prosecutor, for her professionalism and integrity, presenting her professional achievements.
"As a young talented athlete, you have been selected in Romania's junior national basketball team with which you won the European vice-champion title in 1989. This intensive sports activity didn't deter you from your studies," Saint-Paul said, according to Agerpres. "You were only 33 when Romania's President Traian Basescu appointed you General Prosecutor, in 2006. You were the first woman to hold the General Prosecutor position, and the youngest one," he went on.
"Today we can acknowledge the long road covered and the deep and durable transformation of a system that owes you a lot, because due to you and your devoted colleagues DNA enjoys a high popularity. In fact, its fame has gone beyond the country's borders, becoming a model to follow in Europe," the French Ambassador added.
Kovesi thanked France for awarding her this distinction and for the support in consolidating DNA. She dedicated this award to her family and colleagues, who supported her in her activity.
"I hope that together we can continue on this path and to fulfill the expectations of thousands of people who hope that DNA will manage to change mentalities in this country and make it cleaner for all of us," Kovesi said.
She added that the fight against corruption was part of defending the rule of law and that DNA would continue on its path as long as its institutional stability and investigation competences would be kept.
Former Prime Ministers Calin Popescu Tariceanu and Victor Ponta have announced they would initiate a bill to enforce human rights and the benefit of a doubt during criminal investigations.
Despite DNA's campaign against corruption and the numerous arrests made in recent years, and its growing popularity among Romanians, many of those investigated and even convicted for corruption continue to hold official positions. In the recent local elections on Sunday, June 5, a significant number of mayors investigated for corruption were reelected.
Laura Codruta Kovesi also received the French Republic's Order of Merit, in 2011. In April 2014, she was also awarded the "International Women of Courage" award by the US Embassy to Bucharest.
The Legion of Honor is France's highest military and civil distinction, established in 1802 by Napoleon Bonaparte. In Romania, the distinction has been awarded to members of the Royal Family, as well as state and administration officials. Former Bucharest mayor Sorin Oprescu, charged with bribery in 2015, had also received the Legion of Honor award in March 2015, a few months before DNA arrested him.
Romania's chief anticorruption prosecutor gets new mandate amid espionage scandal
Romania's chief anticorruption prosecutor gets the Reader's Digest European of the Year 2016 award
Who is the Romanian included in a list of 28 people "shaping, shaking and stirring Europe"?
editor@romania-insider.com
(Photo source: pna.ro)
Normal