Romanian lender introduces contactless watch that works as banking card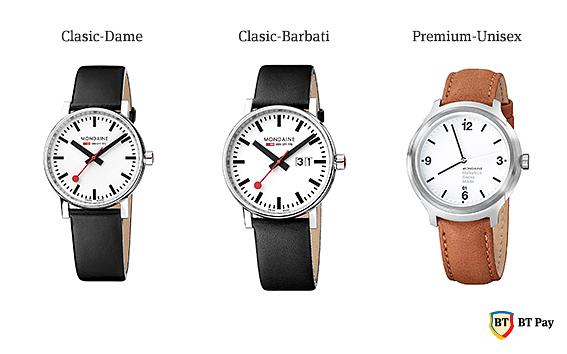 Banca Transilvania, the second largest bank in Romania by assets, has launched a contactless watch working as a payment instrument that can replace the debit card in Romania or abroad.
The BT contactless watch is the result of a collaboration with Swiss watch maker Mondaine, digital security & identification technology company Oberthur Technologies, and financial services provider MasterCard.
The watch is available in three versions: Clasic-Ladies, Clasic-Men and Premium-Unisex. It comes with a contactless SIM inserted in a pocket in its strap.
The contactless BT watch works as a banking card and gives owners access to their RON banking account at Banca Transilvania, with no commission charged for contactless payments. For payments of less than RON 100 or the equivalent, clients don't have to type their PIN code.
The watch, which costs approximately EUR 300 (RON 1,090 - 1,690, depending on the model) can be purchased by any Banca Transilvania client who has a RON debit card, or anyone not yet a Banca Transilvania client, provided they open an account with the bank.
The contactless watch is not the first tech premiere introduced by Banca Transilvania. In 2016 it launched a contactless wristband, and this year it added the robot "Livia" to communicate with customers on Facebook Messenger and Skype.
The watch will go on display for the first time at Techsylvania, a tech event taking place between June 17 and June 20 in Cluj-Napoca.
The event, one of the largest outside of Bucharest dedicated to the tech community, features a conference with international speakers, a 24-hour hackathon, and a competition for start-ups, called Startup Avalanche. Among this year's international speakers are Martin Wezowski, Chief Designer at SAP, Mobilium Global CEO Ralph Simon, regarded as one of the founders of the modern mobile entertainment & content industry, and Tomasz Stachlewski, a Solutions Architect with Amazon Web Services.
The agenda of the event can be checked here.
Romanian Banca Transilvania group sees 15% profit increase in first quarter
Normal