Romanian is Israel's three millionth tourist this year, gets tour from PM Netanyahu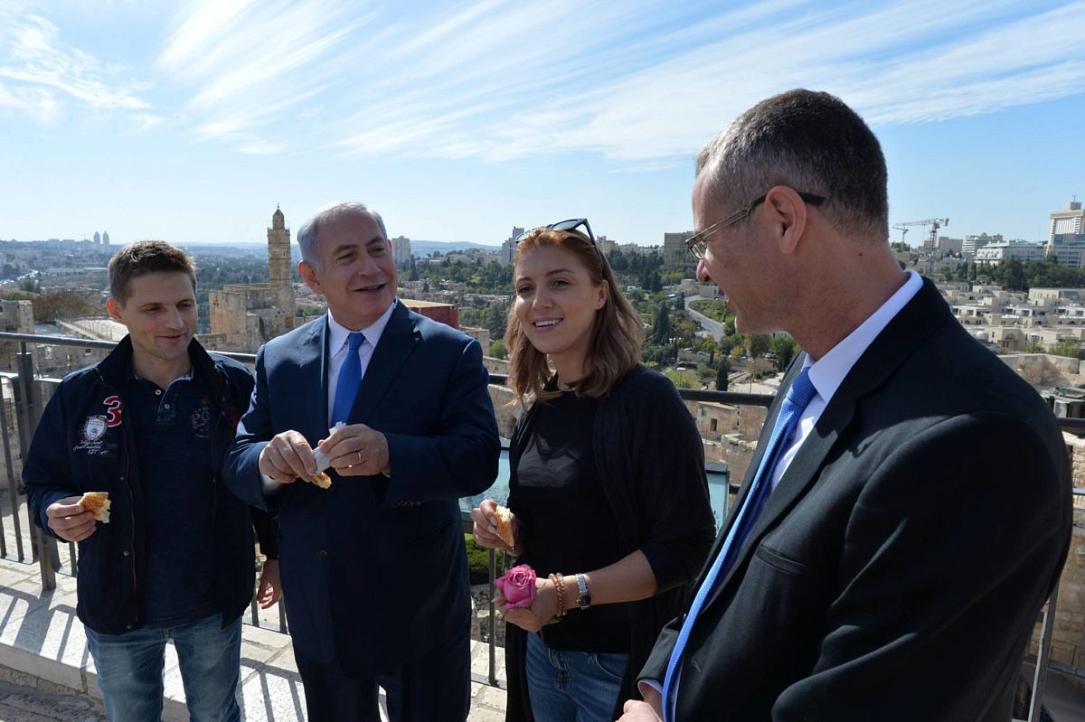 Romanian Ioana Isac is Israel's three millionth tourist in 2017. Her partner, Mihai Georgescu, is the tourist number 3,000,001, in a record high for incoming tourists to the country.
The Romanian woman and her partner arrived in Israel on Tuesday, November 7, and enjoyed a red carpet reception from the country's tourism minister Yariv Levin. She and her partner will be taken in a holiday prepared by the tourism ministry, which includes a tour of Tel Aviv, a visit to the Dead Sea, limousine and helicopter rides, and a dinner prepared by chef Nir Tzuk.
Yariv Levin accompanied the two Romanians to the Tower of David museum in Jerusalem, where they learned that Prime Minister Benyamin Netanyahu will be their guide.
The Prime Minister commented on the moment on Twitter. "I surprised the three millionth tourist to visit Israel this year. Israel has never had more tourists in a single year. This is a record!" He also posted on his feed a video of his encounter with the Romanian tourists.
הפתעתי היום את התיירת ה-3 מיליון שמבקרת השנה בישראל והדרכתי אותה ואת בן זוגה בסיור במגדל דוד. התיירות לישראל שוברת שיאים של כל הזמנים! pic.twitter.com/7JeFH8tDo7

— Benjamin Netanyahu (@netanyahu) November 7, 2017
Between January and October of this year, 63,000 tourists coming from Romania visited Israel, up from 40,100 tourists in the similar period of 2016.
A Romanian tourist spends on average seven nights in Israel, according to data from the tourism ministry. At peak season, there are 64 weekly flights connecting the two countries. Most of them run on the Bucharest – Tel Aviv route. An additional 15 weekly flights connect Timişoara, Oradea, Craiova, Iaşi and Cluj to the Ben Gurion airport in Tel Aviv. Starting this month, a new route links Bucharest to Ovdah, News.ro reported.
(Photo source: The Prime Minister of Israel Facebook Page. Photo by Kobi Gideon/GPO)
editor@romania-insider.com
Normal