Restaurant review: For lazy Sundays – the new a la carte brunch @ Athenee Palace Hilton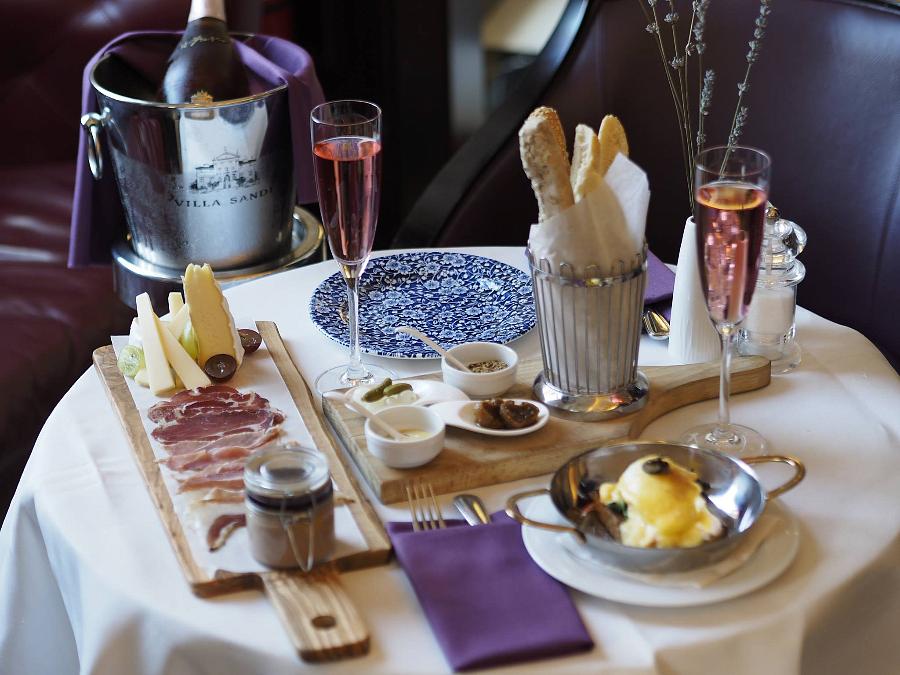 Sundays are always better with a brunch! I've recently discovered one that deserves being tried at least once: not only does it have tasty food, but it also offers a different experience. It's the new brunch in Cafe Athenee at Athenee Palace Hilton in Bucharest.
Most brunches in Bucharest come in the 'all you can eat' buffet version.  This one, however, is an a la carte brunch; it is called the Lazy Brunch. And indeed we had a relaxed, lazy Sunday morning, with a great view of downtown Bucharest.
You can either try one of the three fixed menus for couples, priced very fair, or choose from the several other options and create your own menu. The cheapest fixed menu is RON 95 per couple. We chose the RON 220 menu per couple. I was at first a bit worried the food would not be enough for both of us, but to my pleasant surprise, there was the exact amount of food needed for two.
First, we got to choose how we wanted our eggs from a wide selection of options, and the eggs Florentine we chose were a tasty start to our journey. Then came, in nicely arranged plates and platters, the herb crusted lamb cutlets,  the Black Angus entrecote, the Tandoori sausages, the oven roasted sturgeon, the French cold cuts, salmon, shrimps, tempura sushi rolls and salad. Yes, all these :)
We took our time enjoying these, and still, somehow, managed to find some room for the dessert – we chose it from the selection on display. We topped everything with coffee, as well watered it a beverage package, which can include water and wine.
The Athenee Palace Hilton also have an all you can eat buffet at the Roberto's restaurant once a month – We Speak Brunch, RON 200 per person. We've tried that in the past too and were also impressed with the number of tasty food options. But a different experience alltogether!
The Lazy Sunday Brunch is available every Sunday at Cafe Athenee, at the ground floor of the hotel.
Corina Chirileasa, [email protected]  
Normal