Ho, ho, ho! Beautiful Christmas fairs in Romania for all the Santa Clauses out there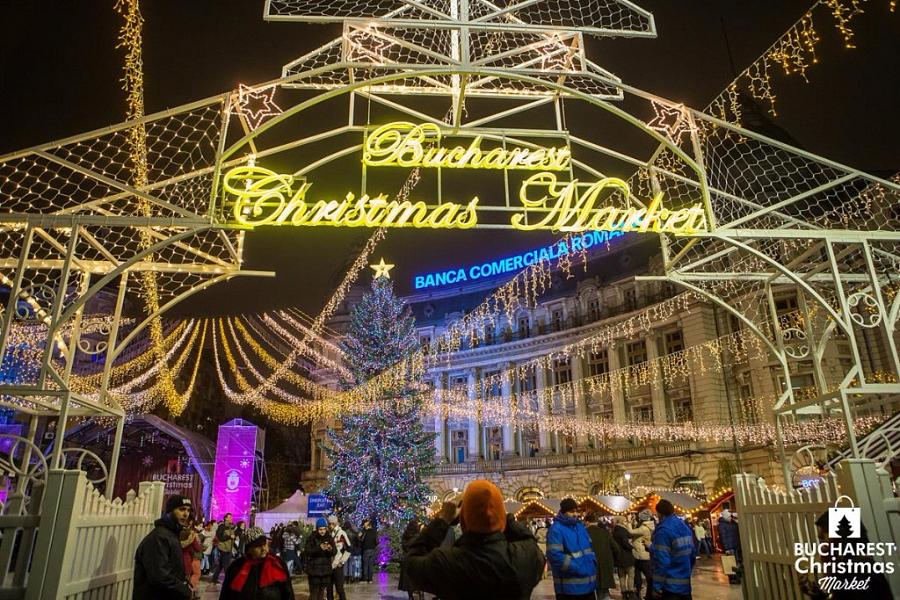 Romanians love all the holidays, but Christmas is one of their favorites. They love giving and receiving gifts, celebrating the joy with their loved ones, and having as much fun as possible. This is why most of the Romanian cities organize Christmas fairs and other such events in this period.
Here's a list of Christmas Fairs in Romania that can turn ordinary people into Santa Claus.
Bucharest Christmas Market is currently open in Universitatii Square in Romania's capital. Until December 27, visitors will have the chance to find various gifts for their loved ones, from painted pottery, icons, masks and traditional wooden toys, to musical instruments, jewelry, decorations and ornaments, traditional food, jams, honey, and sweets. Santa Claus also has his own special house within the fair. The event's program also includes concerts and shows. Find out more about the event here.
Another Christmas Fair was also opened at the Romexpo exhibition center in Bucharest on December 4 and will stay open until December 13. There are sweets and traditional products, as well as clothing items, accessories, cosmetics, decorative art objects, specific holidays decorations, antiques, and Christmas trees.
Until December 23, Arcub Gabroveni (located on Lipscani street in the Old Town) also hosts a special Christmas fair named Alt.Craciun. The event, organized by Arcub – the Cultural Center of Bucharest and the Bucharest City Hall, is open daily between 12:00 and 22:00, and the entry is free. Find more information here.
Casa Universitarilor in Bucharest also hosts Marche de Noel – The Designers Gifts Fair on December 12 and December 13. The fair, which sells jewelry, design, beauty and art objects, will stay open between 11:00 and 20:00, and the entry costs RON 10.
The Christmas events at Casa Universitarilor will continue in the following weekend (December 19-20) with Bounty Fair – the Christmas edition. The entry will cost RON 5, but those aged under 14 can enter for free.
There are also special Christmas fairs at the large shopping centers in Bucharest, such as Sun Plaza, Mega Mall, Promenada, Baneasa Shopping City, Bucuresti Mall, Plaza Mall, and Unirea Shopping Center.
Sibiu hosts one of the most beautiful Christmas markets in Romania. Located in the city's main square – Piata Mare, the fair is open until December 26, between 10:00 and 22:00. Some 70 exhibitors from all over the country gather at Sibiu in this period, to offer their special products to the visitors. Besides Christmas gifts, hot snacks, and drinks, the event's program also includes workshops and music concerts. See live images from the fair here.
The beautiful city of Cluj-Napoca also opened its Christmas Fair on December 1. For 26 days, the visitors can buy special gifts, enjoy the music and dance shows, and do some ice skating on the special rink arranged in Unirii Square. The event's program per days can be found here.
Timisoara
For the ninth consecutive year, Victoriei Square in Timisoara is the city's main attraction this December. The Christmas Fair, which will be open until December 19, awaits the visitors with Christmas lights, carols, traditional products and various gifts. Find the event's entire program here.
The center of Brasov, one of the most well-known mountain resorts in Romania, is also ready for Christmas. Besides buying gifts and enjoying some traditional products at the Christmas Fair in Sfatului Square, the visitors can also take their children on a ride with the special electric train, or the carousel. A New Year's Eve party will also be organized in Sfatului Square this year.
Oradea also hosts a beautiful Christmas Fair this year. Organized in the city's citadel, the fair features traditional products, home-made chocolate, gingerbread, Christmas decorations and gifts, cards and souvenirs, and hot drinks. The event's program also includes concerts, shows, and workshops. The fair will stay open until December 31 between 12:00 and 21:00 from Monday to Friday, and between 10:00 and 21:00 during weekends.
The Alba Carolina citadel in Alba Iulia is a must see tourist objective in any period of the year, but it becomes even more beautiful during the winter holidays. The citadel is now decorated with Christmas lights, stands with traditional food, and an ice skating rink.
Other large cities host special Christmas events and fairs in this period, such as Iasi, Suceava, Craiova, and Arad.
If you know any other beautiful Christmas Fairs in Romania, please drop a line in the comment box below.
Irina Popescu, [email protected]
Normal