Europa League Trophy arrives in Romania, on public display until May final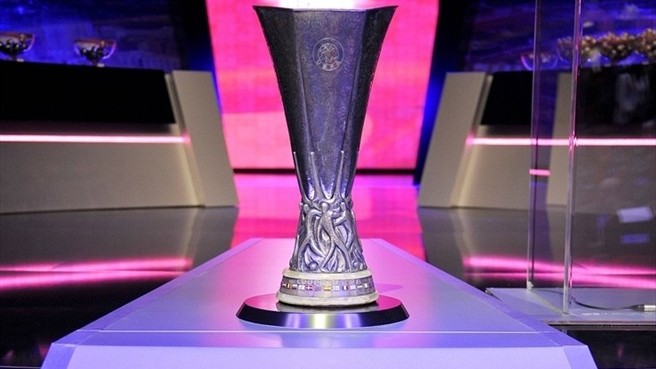 The Europa League trophy was brought to Bucharest on Wednesday morning (April 11 ), less than a month before the soccer final at the National Arena, on May 9. The trophy arrived from last year's winner FC Porto.
French football legend Michel Platini, now president of UEFA, will hand over the trophy to Bucharest Mayor Sorin Oprescu in a ceremony scheduled for today at 17,00, local time.
The 15-kilo trophy will be exhibited in the George Enescu square, near the Romanian Athenaeum, then moved to other locations in Bucharest, where fans can take pictures.
The UEFA Europa League Trophy is the heaviest of all the UEFA silverware. At 15 kg, it is 65cm high, 33 cm wide and 23 cm deep, the trophy, a silver cup on a yellow marble plinth, was designed and crafted by the Bertoni workshop in Milan.
The other locations of the trophy below:
April 11-12 – George Enescu square

April 13-16 – Baneasa Shopping City

April 17-19- Universitate Square

April 20-22 – Old Town (Lipscani)

April 23-26 – Student Dormitory in Regie

April 27-29 – VIP area National Arena

April 30 – May 1- Bucharest City Hall

May 2-3 – SEAT headquarters

May 4-6 – Unirii Park

May 7 – The Romanian Olympic and Sports committee
Romanian capital Bucharest can expect as many as 30,000 foreign tourists in the city for the Europa League final on May 9 at the National Arena, according to local officials. The number of supporters will depend on which teams play in the final, as two matches are left: Athletic Bilbao against Sporting Lisboa on April 19 and Atlético de Madrid against Valencia, on April 26.
Bucharest City Hall has invested EUR 200 million in the National Arena, a 55,000-seating stadium that was opened in September last year. After a much debated start, the arena, which had its turf replaced soon after the inaugural game between Romania and France, will have a second change of turf – costing some EUR 1 million – in the wake of the Europa League final.
(photo source: UEFA website)
Normal