11 animals dead as circus building catches fire in Bucharest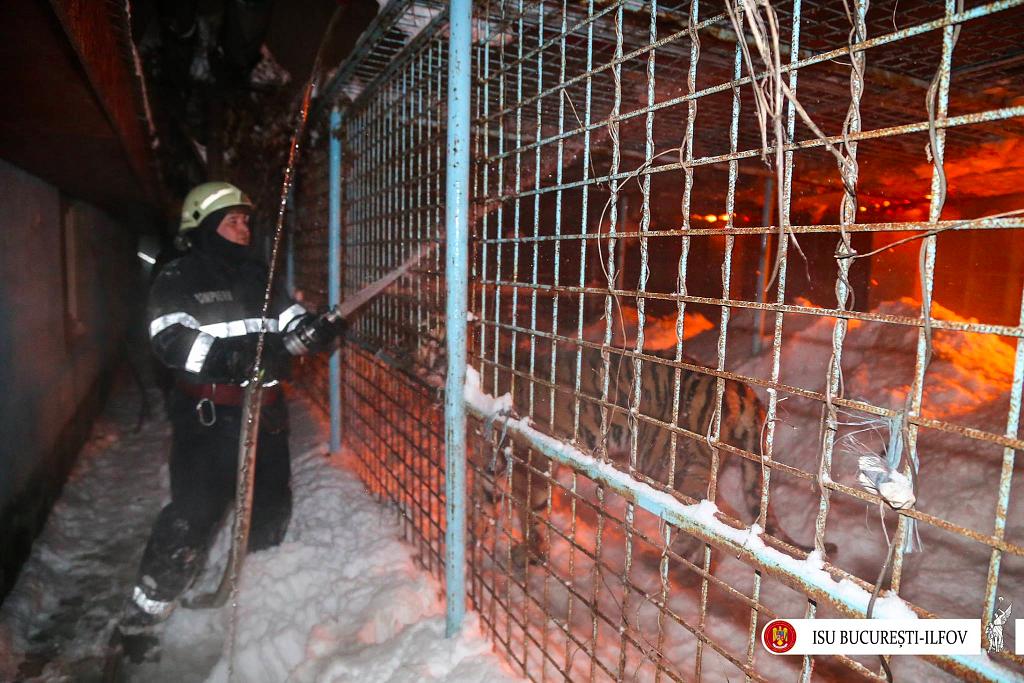 A building housing animals of the Globus Circus in Bucharest caught fire on Thursday morning, leaving 11 animals dead.
The fire started at around 05:00 at the circus' stables on Petricani Road, and spread to an administrative building. Several teams from the fire and medical departments arrived at the scene, trying to put out the fire. The firefighters also requested the intervention of veterinarians, getting in touch with both representatives of the Globus Circus and the Zoo, so that the animals would be tranquilized and moved from the stable. Watch a short video of the intervention here.
According to information from the Bucharest-Ilfov Inspectorate for Emergency Situations, 21 animals were saved during the firefighters' intervention, but 11 died, namely two tigers, four cats, two Vietnamese pigs, and three dogs.
Victor Coman, the manager of Globus Circus, told local News.ro that the institution's stables on Petricani Road housed some of the circus' retired animals. According to him, some of the animals belonged to a trainer from Ukraine.
"Fortunately, no employee is injured. No food was stored there. There were fire extinguishers and the people initially tried to put out the fire themselves. They saw the flame was high and called the firefighters immediately," Coman said.
However, the cause of the fire hasn't been determined yet.
This incident has brought again into question the use of wild animals in circuses. Kuki Barbuceanu, program director of Vier Pfoten Foundation for animal protection, told local News.ro that, following this incident, the organization would keep focusing on the campaign for banning the use of wild animals in circuses.
"I hope we have the understanding of Mr. Coman, the Globus Circus' manager. A few months ago, when I spoke to him, he agreed with that. He also found it wrong. The idea is not to buy any other animals," Barbuceanu said.
He added that Romania should align with the civilized countries that no longer use wild animals in circuses.
An online petition in this sense, initiated this morning, has already gathered more than 5,600 signatures.
Irina Popescu, irina.popescu@romania-insider.com
(Photo source: ISU Bucuresti-Ilfov on Facebook)
Normal