Botanical exhibition "The Ecologies of Care and Caring" to take place in Bucharest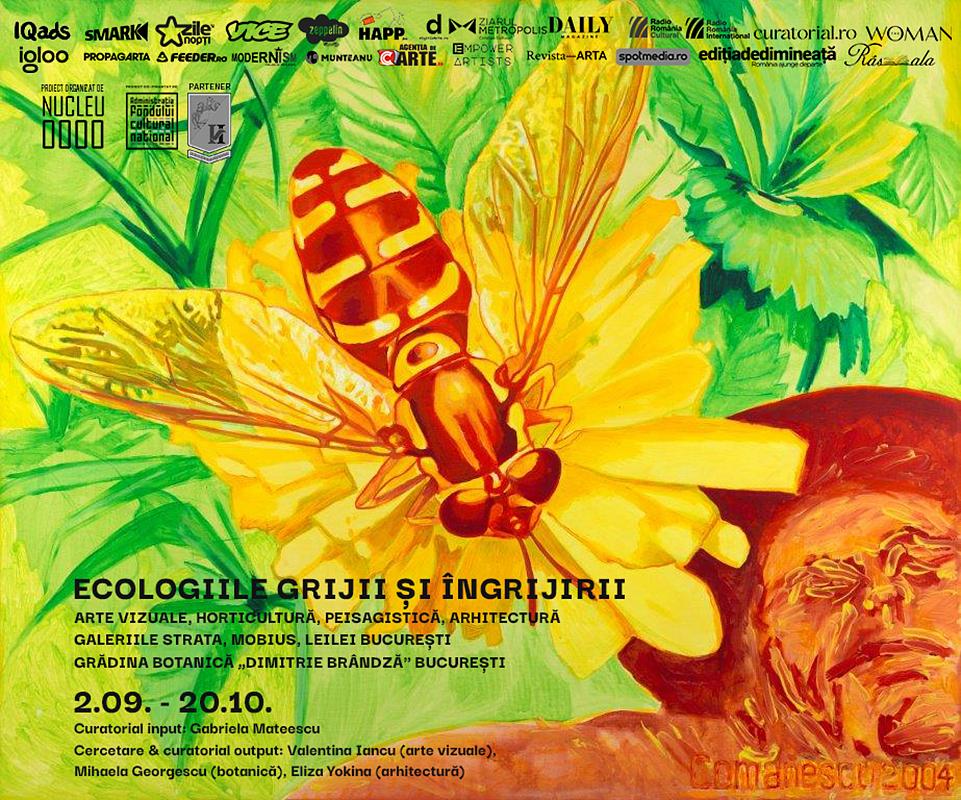 "The Ecologies of Care and Caring," a large-scale event with a botanical theme based on interdisciplinary research in contemporary art, architecture, landscaping, and horticulture, is set to take place in Bucharest in the upcoming period.
The event is a wide collaboration between artists, horticulturists, and architects, divided among three galleries in Bucharest. Nicolae Comănescu, Hortensia Mi Kafchin, Andreea Medar, Ana Maria Micu, and Roman Tolici are among the 32 artists who will exhibit their works in September at Strata, Mobius, and Leilei galleries. 
The exhibition includes:
Useful Plants (Strata Gallery), open September 2-20
Poisonous, Toxic, Harmful Plants (Mobius Gallery), open September 7-30
Aphrodisiac, Ritualistic Plants (Leilei Gallery), open September 16-30
The program includes two interventions in the Dimitrie Brândză Botanical Garden in Bucharest, along with conferences, workshops, and curated walks by Gabriela Mateescu, together with researchers Valentina Iancu (visual arts), Eliza Yokina (architecture), and Prof. Dr. Mihaela Georgescu (botany). 
"Plant blindness is the new mantra on the fringes of the Anthropocene, a time when the closest connection with nature is mainly mediated by the fruit and vegetable section of the nearest supermarket. In post-human paradigms, technology deceives the nostalgic with false meeting points, lush universes constructed through digitization and VR solutions, evoking traces of raw green from the inventory of remnants of passing time," said the organizers in the official press release.
"Plants, these modest living beings, ennobled, however, with countless virtues on which all life on Earth depends, constitute the bond in this endeavor established between those dedicated to their direct knowledge – botanists, phytosociologists, and more – and the artistic environment, sensitive and comprehensive to humanity's ongoing quest. For some, plants represent the subject of study, translated into direct field research," said prof. Dr. Mihaela Georgescu, Botanical Research Coordinator.
"The Ecologies of Care and Caring" aims to establish relationships between diverse social and environmental ecosystems, highlighting the importance of their interdependence and developing a network capable of supporting the mutual interests of the entities it includes. It proposes an acceptance of systemic approaches that view the planet as a collection of symbiotic ecosystems, inhabited by various beings that rely on each other for life. 
The event brings contemporary art together with architectural projects and botanical research, offering a visual, poetic, and practical exploration of the complexity of human relationships with flora. The exhibition is divided into four sections, inspired by pop culture, folk culture, and common understanding: useful plants, poisonous plants, aphrodisiac plants, and ritualistic plants. 
Each section of the exhibition includes live plants and architectural models of structures used for their growth and care, as well as a series of contemporary artworks that speak polyphonically and subjectively nuance botanical and architectural research.
Throughout September, a workshop on medicinal plants will be held at Strata Gallery, coordinated by Assoc. Prof. Dr. Luchian Vasilica. The organizers also invite the public to a walk of the plants near Mobius Gallery together with Prof. Dr. Mihaela Georgescu and to two conferences on topics of architecture, ecology, and nature, led by Eliza Yokina and Daniel Tellman. 
(Photo source: the organizers)
Normal