Untold organizers expect 100,000 participants every day of the festival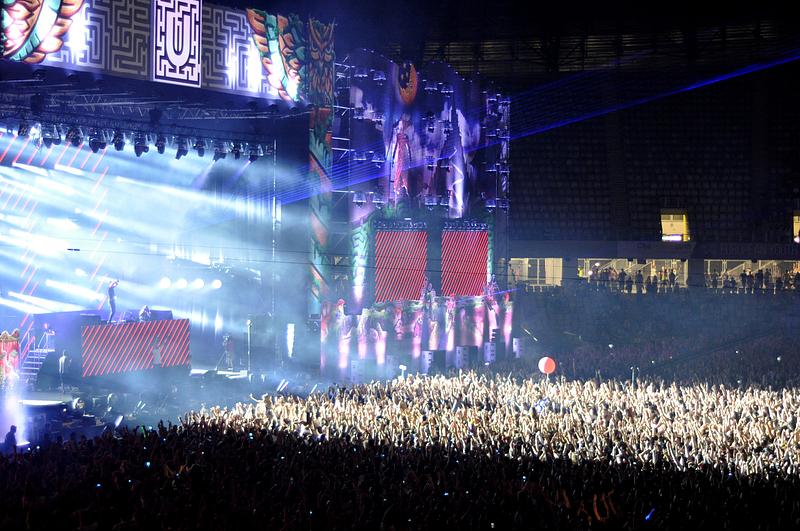 The Romanian city of Cluj-Napoca will host the 8th edition of the Untold festival between August 3 and 6. The festival brings together over 250 national and international top artists, along with their teams and tens of thousands of fans from Romania and all around the world. 
This year, the festival covers an area of 235,000 square meters and expects hundreds of thousands of participants in the four days and four nights of magic it promises. The main stage will have over 900 square meters of LED screens, 32 meters in height, 110 meters in width, and 30 meters in depth. The stage's weight exceeds 500 tons, and its roof has a 24-meter opening. Over 1250 lighting fixtures will color the Cluj-Arena stadium throughout the festival days and nights. All the energy used at the main stage comes from renewable sources. 
"This will be the most beautiful edition so far, with the highest number of participants. We expect an average of over 100,000 participants every day of the festival. We are delighted to offer many experiences designed for everyone, starting with the little ones, who will have, for the first time, a dedicated space where parents can leave them to enjoy the festival. Then, there are numerous activities we have planned, from the largest street food festival in Romania, part of Untold, to shopping areas featuring the most interesting creations of fashion designers, and not to forget the artistic side. This year, we are thrilled to have Imagine Dragons performing for the first time in Romania with an exceptional show. We will also have David Guetta and the return of Armin Van Buuren, who is coming back to Untold, his favorite festival, as he has mentioned many times, and he has prepared a special moment for this year," said Edy Chereji, Untold's communication director, cited by Agerpes.
The theme of Untold 2023 is "The Light Phoenix," which will be reflected in the stadium's decorations and the main stage. There will be impressive stages and special music spots, over 50 food and drink vendors, a fashion corner named Designers' Nest, dozens of partner activations, magical characters, animators, and dancers parading through the festival, as well as many surprises. 
Thousands of employees from the Ministry of Administration and Internal Affairs, including the General Directorate of Operational Management M.A.I., the Romanian Gendarmerie, the Romanian Police, the General Inspectorate for Emergency Situations, the National Anti-Drug Agency, and the Organized Crime Fighting Brigade, as well as the Local Police, will be present throughout the four-day festival to ensure that safety measures are adhered to by all UNTOLD participants. 
Additionally, around 800 private security agents will contribute to maintaining order and peace within the event perimeter. Two mobile hospitals and three first-aid stations will be set up in the festival area. The K9 unit will also lead patrols with specially trained canine teams. 
All safety measures were presented during a press conference. Organizers remind attendees that the following items are prohibited at the festival: drugs, alcohol, bottles (including perfume or deodorant bottles), baby bottles, umbrellas, flammable cosmetics, backpacks or bags larger than 29 cm X 21 cm X 12 cm, cans, fireworks, lasers, sprays, knives, weapons, blunt objects, banners supported by sticks, chairs, chains, pyrotechnic articles, food or drinks, animals, professional photo or video equipment, including any type of DSLR camera or detachable lenses, and any objects that could cause harm. Access with medications accompanied by a medical prescription, insulin, medical drops, inhaler spray for asthma is permitted, only if the possessors present a medical letter or any other substituting document, and in the maximum recommended daily quantity.
(Photo source: Salajean | Dreamstime.com)
Normal