PR crisis: Romanian Police Facebook page reaches one-star rating after license plates scandal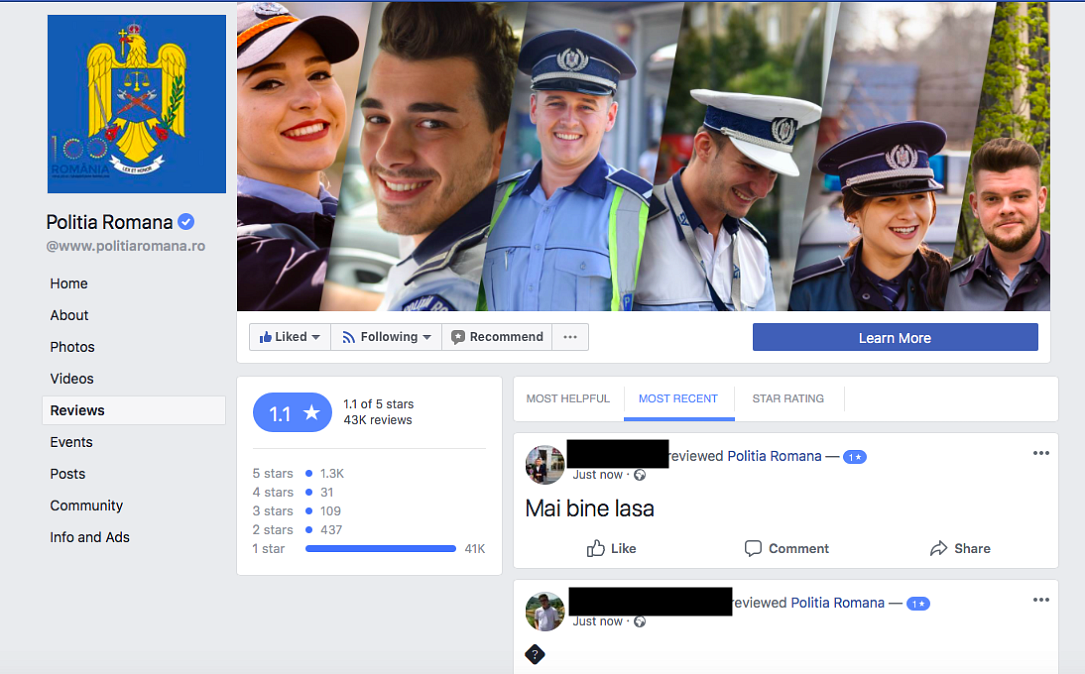 The Romanian Police is facing its biggest image problem in recent years after its involvement in the anti-government license plates scandal.
The Police's decision to take the license plates off a car registered in Sweden, which contained an obscene message against the ruling party in Romania ("MUIEPSD") and to suspend the driver's license, determined a wave of negative reactions in social media. Many accused the law enforcement institution of responding to a political order in this case, especially as its representatives haven't been able to come up with a clear explanation of what laws the man had broken.
The Romanian Police's official Facebook page has been assaulted by negative comments and reviews in the last two days and over 40,000 Facebook users gave it one-star ratings.
Thus, the page's overall rating went down to 1.1 stars out of 5. This has prompted desperate reactions from the Police's PR department. Apparently, a message was shared on a policemen's WhatsApp group urging them to give 5-star ratings to the Facebook page to counterbalance the negative reviews, according to famous Romanian police officer Traian Berbeceanu.
The spokesman of the Traffic Police division, Ovidiu Munteanu, went even further and left a message on the Romanian Police's Facebook page to all those who gave one-star ratings: "For all those who insult and hate the Romanian Police, the next time you are in trouble, please go to someone else, not the police. When someone steals your goods, assaults you in the street or in case of a car accident, please go to your neighbors, priests, relatives, not the police."
His message triggered even more negative responses. Marian Godina, the most popular Romanian policeman on Facebook, rebuked him saying that he would like his colleague who posted this "aberration" to get a message the next time he goes to the ATM to take out his salary: "There's no money here, go to an aunt, a priest, a wealthy relative or whoever you want, Romanians don't pay takes for menials anymore."
According to Godina, the Police heads in Bucharest have handled this whole scandal very badly from the start and have managed to turn the defiant driver into a national hero while tarnishing the whole institution's image in the process.
Comment: When offensive license plate message could turn into call to action against the system
Romanian Police posts small weed dealer's nine rules for clients
Normal