Interview
Romanian film review & interview – It's a Woman's World: House of Dolls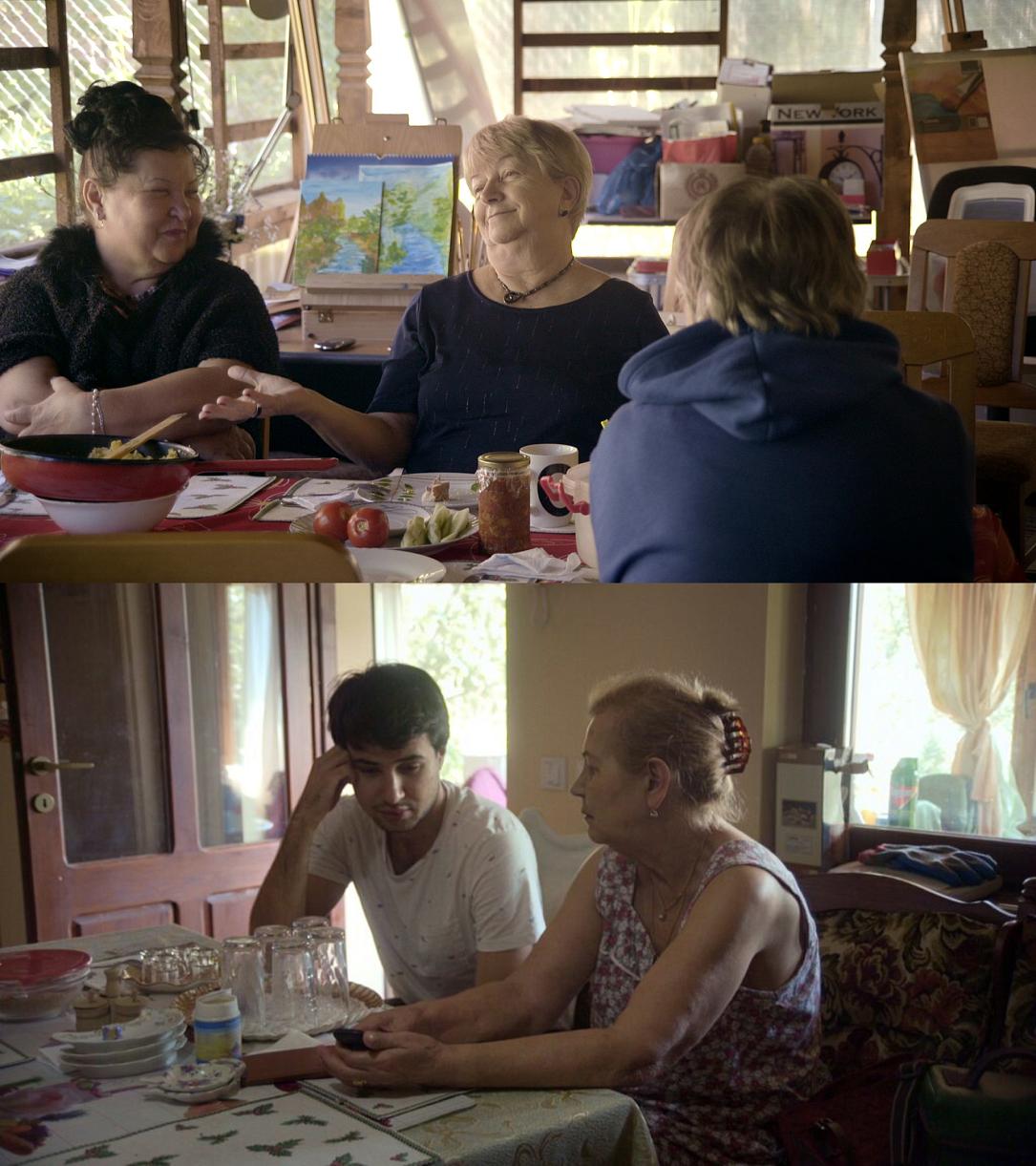 So many good documentaries premiered this summer at Transilvania International Film Festival (TIFF) and one of them is Tudor Platon's Casa cu păpuși/House of Dolls, without a doubt the ultimate crowd-pleaser of the bunch. The film has been touring open-air festivals, and will hopefully be available to a larger audience as soon as the times allow for it. I talked to the director shortly after the film's premiere in Cluj, and you can read our conversation after the film review below.
Having worked as a director of photography, Platon features himself in his first directing effort as he joins his grandmother, Cica, and her group of long-time friends, on their annual vacation. The ladies talk, have a barbecue, relax in the sauna, and chat some more while Platon's camera unobtrusively records their days together. They discuss anything from fashion (jeans are ageless) to relationships (Cica's hilarious account of her sister-in-law finding love at 70), old acquaintances (the obligatory gossip about who has aged well or not), and carving one's place in a man's world (Pupi's triumphant story of confronting her former harassing boss). Sometimes the young man joins in the conversation, and these are some of the most emotional parts of the film, when the women talk about marriage, aging, or lost loved ones.
Most of the time though, House of Dolls is a very funny ride, these are vivacious ladies with a great, cheeky sense of humour (you might find yourself blushing at some of Cica's jokes). How they reached this serenity and the ability to cherish life in all its complexity is another story though, as the film gradually reveals some of their lives' tragedies. What all these very different women share is their independence and space they carved for themselves, to think, travel, or create art.
There is a wonderful lightness in Platon's life-affirming film, and it is remarkable how much it manages to convey (seemingly without effort) about being a woman now and in the very different past decades. Platon's presence in such a tightly knit female group is a delightful 'disruption', with both sides genuinely interested in each other and how the world is perceived by the other side.
But most of all, House of Dolls is a touching plea for more dialogue between generations, more curiosity for the other's perspective, an ode to family and friendship across time and vastly different life experiences.
You can read my chat with Tudor about filmmaking and his relationship with his protagonists below.
Your film is such a lovely, moving gift, especially in this bleak year! How did it come about that you joined your grandmother and her friends on their traditional summer holiday? Did you have a plan to film them, or was it more of a spontaneous decision?
It was something spontaneous, but this quick decision was fueled by a need for closeness, for intimacy. The grandmother who had raised me had died a few years ago, and I started, unawarely, to get closer to Cica, my maternal grandmother. One day, she said "I'm going to summer camp with the girls", because that's how they call it, 'camp'. And so I asked her if I could join and if I did, I might also film them. After a month, they called to ask me whether I wanted to come. It's a great thing, to be friends with someone for 50 years, like they are. How do you keep such a friendship – this thought is still with me.
I noticed that when I start the camera, I become more curious, but it's an honest curiosity about everything that surrounds me. And this helps me cross a certain barrier I would otherwise not get close to, probably out of some sort of comfort. And this barrier is the border between the things I think I know and the ones I know nothing about. But it's hard to let myself get carried away like this because I suddenly become vulnerable. When that happens, though, the others also open up and show their vulnerability, and everything becomes intimate. When I turn on the camera, I am in that state, and everything becomes more personal.
The wonderful thing about your film is that this curiosity is mutual, the ladies are also very curious about you. Everything is so very open.
Yes, that's why I talked about this intimacy threshold when everybody talks and opens up. This is how you also learn things about yourself.
The women's discussions about life are very intimate and I assume having known them for a while helped you, because some things are said easier, or are simply known if you are close to someone. But this also takes a certain degree of responsibility on the part of the director. How easy or difficult was it to decide what to include in the film and what was too personal?
When you say too personal I understand that it is something taboo or something that would not interest anyone except the people that are very close to you. I think what matters is the intention from the moment you decide to show such things to the audience. I guess it is about how honest you are from the time you start working on the film to the time you finish it. I admit I was sometimes drawn to such scenes that were too personal and I was trying to find a way to fit them in the movie. But these ladies swept me off my feet from the start, so my intention was, from the very beginning, to keep this closeness I felt, this way of looking at them. I wanted to fall in love with them again when watching the film later. And then there was also the film's editor, Natalia Deliu, who did not let herself carried away easily. She kept reminding me of my initial thoughts for the film whenever it was necessary.
There are five friends on this trip, and your film focuses mostly on three of them, Cica, Nana, and Pupi. Your interaction with Nana, in particular, is very moving. How did you choose these moments that made it in the final movie?
It wasn't a decision I made when editing, it was the way I spent time with them. Cica is my grandmother, and with her I was trying to regain the time that I missed as a kid, and Nana is my godmother, and I hadn't spent much time with her until then. I guess I got close to them intuitively and emotionally.
Your documentary is about and with women, and I was delighted to see such a feminine film, such close friendship and solidarity between very different women, with such different lives. Their stories are often happy, sometimes sad, but what they all have in common is cheerfulness, resilience, and a certain degree of independence (as Nana says, the most important thing is to have the right to intimacy and a space of one's own), which makes this film also a feminist one. How did it feel to be part of this interaction between them, and did it affect you?
When I went on this trip, I brought along all the thoughts and anguish about my personal life, which is not different from any other young man's life. And so it was inevitable that I started talking about relationships, about compatibilities and separations, and I was asking myself, and not for the film. But when they answered me, they were actually talking about themselves, about how life was and how they would have wanted it to be. At they same time, they were also curious and wondering why a young man chose to spend his holiday with them, whether he wouldn't be bored, or (on a more abstract level), what the world looked like from the height of my age. It was a mutual discovery, I discovered them and they discovered me. It was a week that did affect me. But this is wonderful, how people are brought closer by this kind of experience, how their relations with each other change.
The documentary is also about these women's collective experience, about the role of women at a certain time and place in history, it's a radiography of a period, of gender relationships, of family structures. How did it feel to be there as a man?
Well, they were certainly not relating to me as a man, but as a child. And it was nice to enter this closed universe this way. It would have probably not been possible any other way, or maybe, but then it would not have been closed anymore. They isolate together once a year in this place, and it's only women, and this makes this entire week a ritual and a feast, a celebration of their friendship and sisterhood.
Did they come to the festival in Cluj this year for the premiere? How was the projection?
Yes, Cica and Aura made it, and it was nice. After the projection, Cica charmed the audience with jokes and wise words. The only thing missing was sharing baking recipes. People came up to me to tell me they liked the film, other said they called their mother or grandfather after that, and this is a beautiful thing. I was happy to be there, and see the movie make other people happy. But mostly I was happy for these women. It's a great thing, to be 70 and experience this, people recognising you on the street, it is so extraordinary. It's a gift.
Your film screened at a festival held in very straining times, outdoor, and with physical distancing. The fact that it took place despite all the problems seems a small miracle. As a director and a cinematographer, what are your thoughts, hopes, and fears on the current pandemic and its challenges for cinema? I've read interviews with filmmakers who also see some chances for change in this crisis, but there is no doubt that this is a difficult time for the arts.
Financially, this is not the best of times. As a cinematographer, the projects I was supposed to work on have been postponed. The fact that I am not alone makes things bearable from a mental point of view, but not easier. What I do now is look at older material on the computer and play with it. I have no idea if something will come out of it, photo series, video edits, or movies, but this is what I've been doing. It's also a process of discovering things, this time things I haven't paid much attention so far. I don't know how cinema will change during or after the pandemic, this question is too big. What is certain is that it changes every year, even without Covid.
House of Dolls is your first film as a director, would you be tempted to direct again in the future?
These are things that help me discover new people, and universes, they are an enrichment. For example, with this material, after I finished it, I went to a friend who is a director and asked him if he wanted to make this film if the material was good. It didn't work back then, he didn't have the time, so I thought I'd have a look and see what I could do. I didn't start with the idea of directing, but with the wish to discover something. The film has a life of its own now, it is its own being. So I don't know how I will approach other curiosities in the future. The medium will come by itself, or so I hope.
What I liked in particular about this year's TIFF programme, and was pleasantly surprised by, were the many documentaries selected.
Yes, the market for documentaries has gotten better. There are more and more documentaries, but most importantly, now there they have more of an audience.
By Ioana Moldovan, columnist, ioana.moldovan@romania-insider.com
(Photo: film stills featuring the protagonists and Tudor Platon; source: microFILM / Rollercoaster PR)
Normal