Romanian Film Review: Day of the Tiger, Freedom, Another Lottery Ticket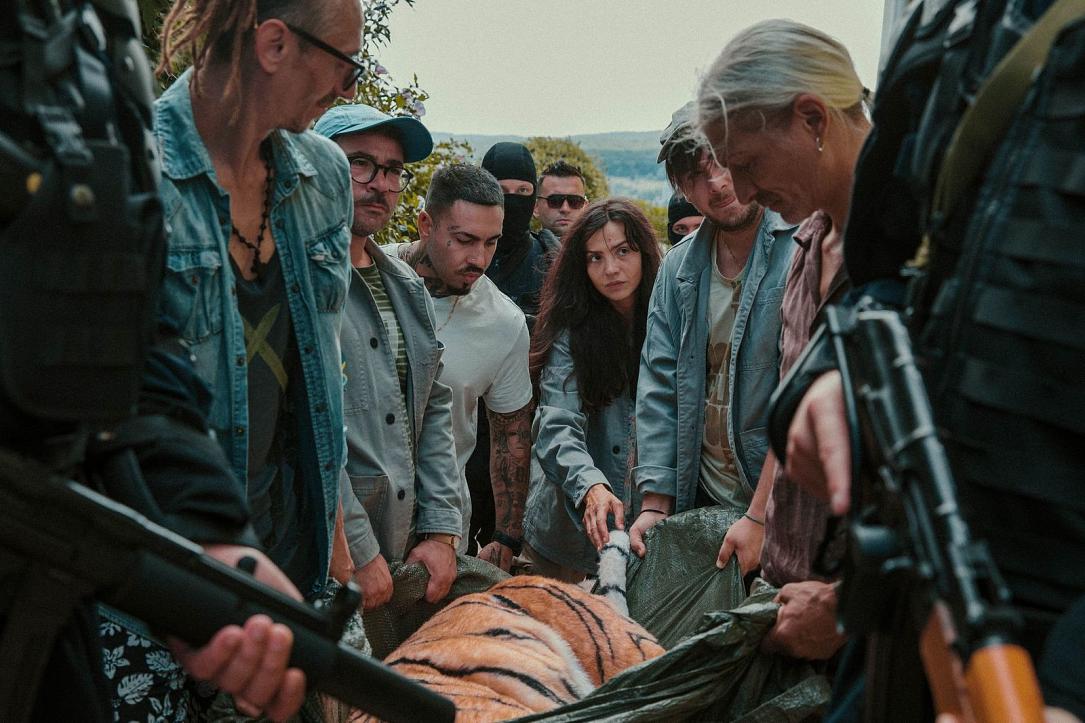 This autumn of releases and festivals is so dense that I would need much more space for it all, but a quick glance at the cinema programme made for an easy choice this time.
Andrei Tănase's drama Tigru/ Day of the Tiger is still showing in cinemas, and please run to catch it because it is one of the best recent debuts and probably not around much longer – theatrical distribution of Romanian films is short and unpredictable, it's best to catch titles as soon as they are out.
It is based on a real event and follows a collective race to catch an escaped tiger from the Sibiu zoo. In one of the film's many fun gags, the tiger is called Rihanna and the vet in charge of her is (not coincidentally) a woman, overworked and spiky Vera. Played with nuance and restrain by Cătălina Moga, she deals with much, much more than the concern for the animal's well-being.
The frantic search for the tiger includes Vera's dopey husband, the local hunter, the police, and a hilariously riotous local gang who initially kept Rihanna as a pet, but it is Vera's search at the heart of the movie, both for her tiger and herself. Some turns in the character's struggle seem a bit scripted, but Moga makes for a compelling heroine, fierce, ironic, and sympathetic. Most of all, and most impressively, Day of the Tiger is genuinely funny in its comic relief scenes, and comedy is very hard to get right.
I wouldn't use the same compliment as generously for Another Lottery Ticket/ Încă două lozuri, Paul Negoescu's follow-up to his 2016 comedy Two Lottery Tickets/ Două lozuri. The sequel follows the same hapless trio trying to get rich fast and easy. After they chased a lost lottery ticket in the original comedy, this time the three buddies stumble upon crypto currency and then lose the USB stick. I did find the original more amusing, but now I wonder whether it's just my kind memory. Either way, Another Lottery Ticket will make you giggle throughout but also forget most of it by the time you leave the cinema.
And finally, a tense drama, Tudor Giurgiu's Freedom/ Libertate is also  based on true events and shines a light on a (still) little known episode of the frantic days of the 1989 Revolution, when hundreds were detained in an empty swimming pool of a military base in Sibiu, accused of terrorism.
Giurgiu is working here with a big ensemble cast (striking newcomer Alex Calangiu plays the pained individual at its centre) and he is better for it. This movie is more focused than his last films, admirable in its detailed recreation of the historical setting, albeit just as accessible and aimed at a large audience. But then again, Freedom is an utterly non-surprising reminder that recent history delivers some of the most passionate topics.
By Ioana Moldovan, film columnist: ioana.moldovan@romania-insider.com
Picture info & credit: still from Day of the Tiger (Domestic Film & Follow Art Distribution)
 
Normal