Romanian Film Review - Summer Stories: Carbon & Afire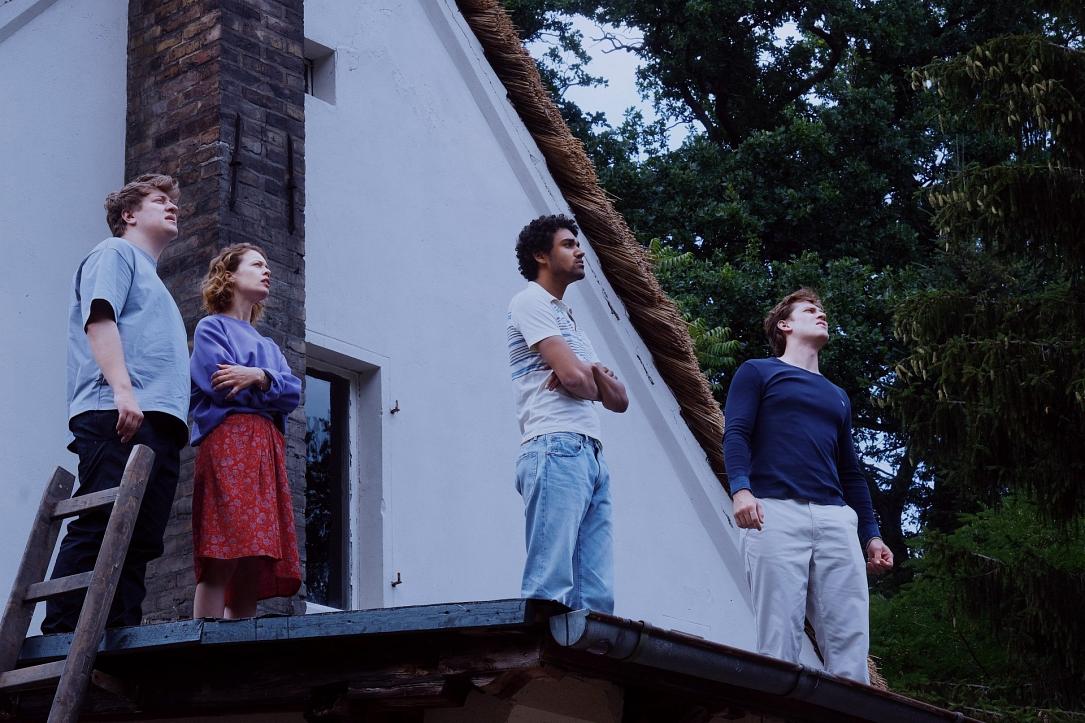 The audience choice at the recent Transilvania International Film Festival TIFF, Carbon has just premiered nationally and I expect an equally good run theatrically.
Ion Borș' feature debut, a period road movie, is set in Moldova in 1992. There is a war on the border with the Dnieper river, the "Transnistrian War", also known as the "drunk war". When young naïve Dima wants to go join the troops on the front so he can get a free apartment in the capital (if he survives, that is), he asks an Afghan war veteran to take him there. On their way they find a carbonised body and their wish to give him a proper burial leads to an odyssey, dangerous, hilarious and thoroughly absurd.
The recreation of the era is meticulously and lovingly done, the whole movie looks like a warm-coloured nostalgia trip. A bit tricky considering its topic, but making fun of tragedy is the film's thing, as is its characters' approach. The dialogue is less assured, so is the humour, and there could be more bite and deepness to the plot and the figures, but again, this is not the film's purpose (I guess). Carbon is light, silly fare, but its heart and the fact alone that the film is Moldova-set and -made make it a noteworthy local release.
Christian Petzold's Roter Himmel/ Afire has also just hit the screens. I am cheating a bit here, because this is not a Romanian film, but it is too remarkable not to recommend, so here we are. The German director has been making canny, gripping gerne-bending films for decades; even his less assured ones are miles ahead of most.
Afire begins as a wonderfully amusing comedy of manners. A duo of friends, easy-going aspiring photographer Felix and grumpy, self-absorbed writer Leon go to the former's country house on the Baltic Sea to work on their portfolio and manuscript, respectively. When they find themselves with a surprise roommate, mysterious, warm Nadja, the group dynamic gains intensity. Add hunky lifeguard Devid, and it gets hot. Finally, when Leon's straight-talking editor comes for a day, it literally catches fire. Just like the distant forests surrounding the area.
There is so much to love here: the razor-sharp humour, a mature understanding of human nature and desire, the elegance of the images, Petzold's overall brilliance and confidence in structuring a narrative. The acting is also flawless, especially Thomas Schubert as the smug, self-absorbed Leon, who never slips into caricature. There is enough hint of heart and passion behind the spiky exterior to make for a wonderfully unconventional lead character, endearing despite being a nuisance.
Most of all, though, Afire is kind, generous, and wise. It just might be Petzold's most accessible film, and most entertaining, but be prepared to have all rugs swept from under your feet in its second half. What Petzold does here, with a massive twist in tone, is attempted by many and achieved by few. It might come to sudden for some viewers, or be too on the nose, and these are both understandable arguments. And yet, go with it and there is great reward in an overwhelmingly, heart-breakingly beautiful, tender finale. Afire is truly the perfect clever summer movie: funny, moving, timely, daring. One that lingers.
By Ioana Moldovan, film columnist: ioana.moldovan@romania-insider.com
(Picture info & credit: still from Afire © Christian Schulz / Schramm Film)
 
Normal