Romanian Film Review: Arsenie. An Amazing Afterlife, the Long Night of Romanian Film, and cinema Victoria's anniversary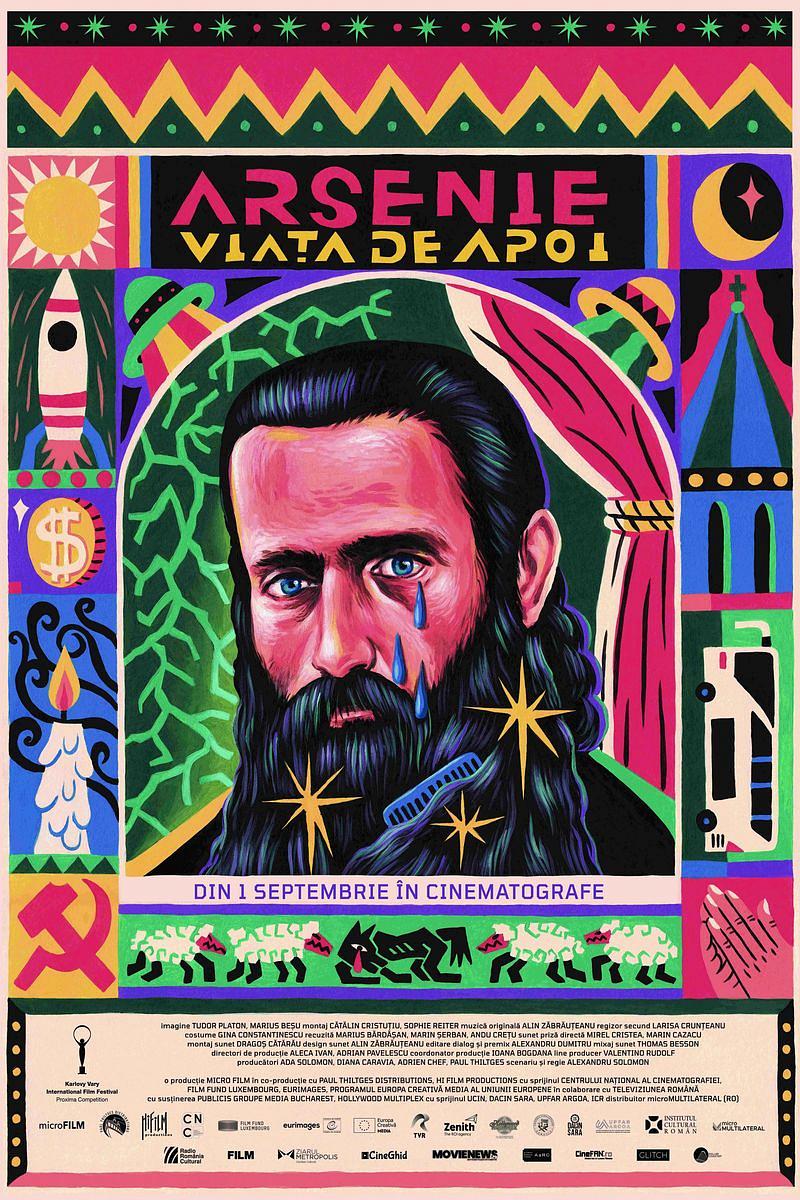 The summer-y abundance of events is still happening, and this weekend alone you can see one of the year's most talked-about docs (rightfully so), spend the night in various cities watching some of this year's pics, and celebrating cinema Victoria in Timișoara.
Alexandru Solomon's Arsenie. Viața de apoi/ Arsenie. An Amazing Afterlife is one film you should catch while you still can as the theatrical distribution of Romanian productions, especially documentaries, is short-lived. Solomon has been making topical pics for decades, and this might be his most incendiary yet. The performative documentary looks at the public adoration (or obsession, depending on your perspective) surrounding Arsenie Boca, a monk and theologian, very popular and thus persecuted by the communist regime, who died in the autumn of 1989. He has gained a huge cult in recent years, with masses or people going on pilgrimage to his grave believing in all sorts of miracles, and – with terrifically efficient pop marketing – being ubiquitous, his face on everything from candles to mugs. The Church itself safeguards the image of the priest and has been considering his proposed canonization. If you are unfamiliar with him, Google will help with a background on the phenomenon, but beware, you might fall into a rabbit hole of historical facts mixed with religious fervour.
Worried about the (alternately obvious and covert) influence of the Orthodox Church in (what is supposed to be) a secular state, Solomon goes on a pilgrimage of his own to try to understand the fascination with Boca's figure. He lays out the procedures openly, casting a mixed group of people as pilgrims, some of them having worked as extras on film if I remember correctly, in any case used to the camera. Episodes of them talking about themselves and their connection to Boca but also in discussion with Solomon alternate with staged episodes from Boca's life. The man and the myth are less the focus here, but the reactions around him, as is the question of an open, honest dialogue between people with such contrasting views on life, the state of affairs, and religion. This is done, as always in Solomon's films, with intelligence, reflection, and wit. So many feelings came up watching Arsenie, from admiration for Solomon's gentle curiosity for people with such different convictions to the feeling of watching a slightly exploitative film. The protagonists range from mystically inclined to downright delusional, and I could not escape the feeling that they are easy targets to mock, at least by an audience critical of the Boca sensation. But then again there they might also be easy to identify with for many; audiences are more mixed than in one's (perceived) bubble, if I were to be fair. I saw the film at its premiere at TIFF and the protagonists seemed thrilled to be on stage at the Q&A and not bothered at all by the laughter in the audience, a laughter often at their expense, and not with them. This seems to have happened at other screenings as well, and if so, then it is a relief to see them not being produced for public amusement, at least not intentionally. It is obvious that Solomon has been adamant to include them fairly, both in his film and the discussion around it. Whether he has succeeded is up to your assessment, and emotions. I suspect the film encourages the ambiguity here, it is strangely tentative and careful, which can be both laudable and frustrating. Being left to one's own devices and conclusions as a viewer has it purpose and challenges, but Arsenie would benefit from a more defined structure, more context, and a sharper direction. Solomon's criticism of the institution of the Orthodox Church is not new. In 2017, in an admirably uncompromising (and shocking) act of performance, he protested the visit of Russia's Patriarch Kirill of Moscow in Bucharest. The act was staged as a remembrance for the victims of the fascist and communist repression in both countries and in protest of Kirill's relation to Putin (you can find it on YouTube). It is hard not to think of that visceral moment when watching Arsenie and wishing it had more bite. Still, this is a film that does say a lot about this country's present, as fractured as it is, and Solomon's willingness to (considerately) tackle a topic this thorny is brave and necessary. These are cliché words but most fitting here. The reactions have been pouring indeed, from positive to negative (to put it mildly). I have to confess I had expected more of the latter. A look at the director's Facebook page shows enough of them to get a sense of the commotion and discussions Arsenie has caused. Well done.
A different form of entertainment, albeit a longer one, is this year's Noaptea albă a filmului românesc/ The Long Night of Romanian Film. Happening in Bucharest, Timișoara and Cluj-Napoca tonight, it showcases some of the year's movies, from long (don't miss Andrei Tănase's amusing Tigru/ Tiger, and Cătălina Tesăr and Dana Bunescu's moving, revelatory Pocalul. Despre fii și fiice / The Chalice. Of Sons and Daughters) to short (Alexandra Dicaonu's hilarious crowd-pleaser Toate neamurile/ Whole Family). Check out the programme here.
In Timișoara, cinema Victoria opened last year as the first of the city's old cinemas rehabilitated by the city. Led by an enthusiastic team, they've had one good year, and it is time to celebrate this weekend, with the event above, François Ozon amusing The Crime is Mine on Saturday, and classical archive fare on Sunday. Check out the programme here. Happy birthday and to many many more!  
_ _ _
By Ioana Moldovan, film columnist: ioana.moldovan@romania-insider.com
Picture info & credit: Arsenie. An Amazing Afterlife poster, designed by Saddo & Glitch, on Arsenie. Viata de Apoi Facebook Page (produced by microFILM)
 
Normal