Romania inaugurates European Training Center for F-16 fighter aircraft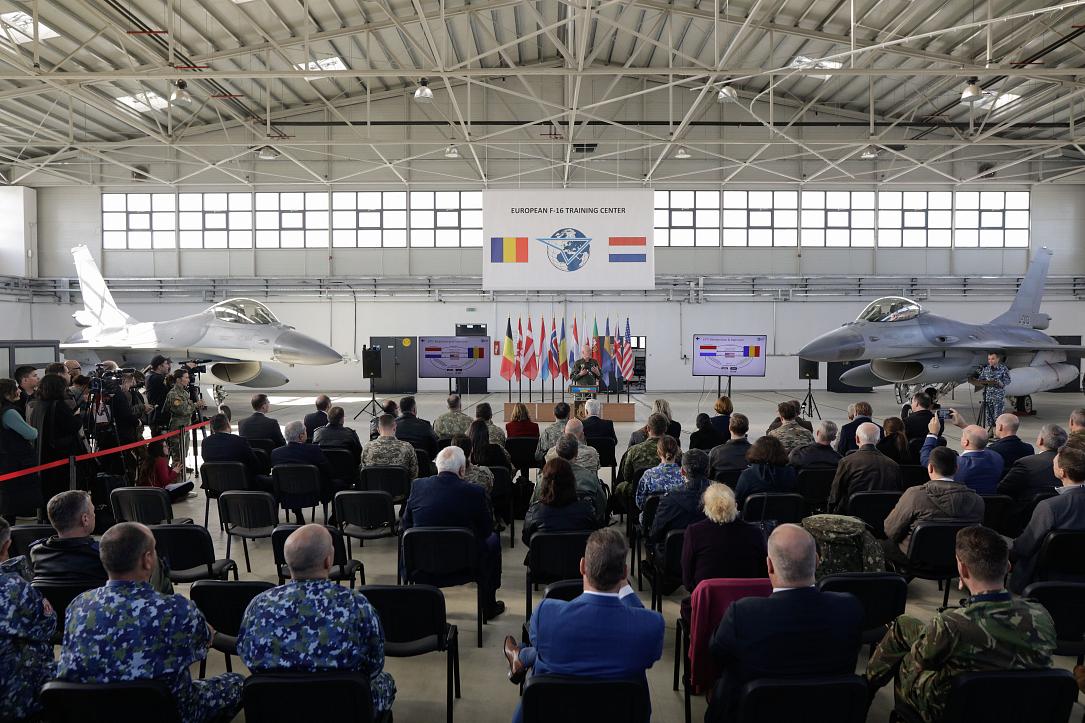 Romanian defense minister Angel Tîlvăr, together with his Dutch counterpart Kaisa Ollongren, inaugurated the European Training Center for F-16 fighter aircraft at the Fetești Air Base in Romania on Monday, November 13. 
Future F-16 pilots from NATO member states will be trained at the base. Additionally, Ukrainian pilots flying aircraft donated by European states will also undergo training here. The training of Ukrainian pilots at the center is expected to last approximately six months. 
Last week, the first five Dutch F-16 aircraft to be used for the training of Ukrainian pilots landed in Romania at Fetești. An additional 13 are expected to arrive soon.
Romania is also set to receive 32 more F-16 aircraft from Norway in the near future, requiring trained pilots for their operation. 
"We are exploring the most effective ways of integration for the training of Ukrainian pilots," said defense minister Angel Tîlvăr during the inauguration ceremony, according to defenseromania.ro. "The European F-16 Training Center strengthens our international partnerships to counter threats in the region. [...] Our goal is not only to train a significant number of new F-16 pilots but also to obtain new qualifications for those who already operate the F-16," he added.
The Romanian official also mentioned that the training for acquiring new qualifications at the F-16 Center will be conducted at a rapid pace given the global context. 
"It is a step forward for what we have seen recently with Russia's aggression. We are not only bringing F-16 training but also various types of military support," said Kathleen Kavalec, the U.S. Ambassador to Romania, cited by TVR.
The European F-16 Training Center (EFTC) is the result of collaboration between the Romanian Air Force, the Dutch Ministry of Defense, and Lockheed Martin, with the support of Denmark. The Fetești center will serve as an international hub for training F-16 aircraft pilots, facilitating increased interoperability among allies, according to the Ministry of National Defense (MApN).
According to the collaboration agreement, the Romanian Ministry of Defense provides the 86th Air Base, training facilities, and host nation support. The Royal Netherlands Air Force provides F-16 aircraft, and Lockheed Martin ensures instructors and maintenance.
Seven trainees are enrolled for training, all of whom are Romanians and former pilots of MiG-21 LanceR aircraft. The instructors responsible for their training are former F-16 pilots. 
"The F-16 continues to play a crucial role in 21st Century Security missions for the United States, Europe, NATO and allies around the world," said OJ Sanchez, vice president and general manager, Integrated Fighter Group, Lockheed Martin. "Lockheed Martin is proud to partner with the Netherlands and Romania on this European F-16 Training Center, which will enhance mission readiness through a comprehensive F-16 training solution for Romanian pilots. The center will focus on ensuring effectiveness and safety of Romanians flying and operating F-16 fighter jets and could eventually expand to include training for other nations," he added.
(Photo source: Inquam Photos | George Călin)
Normal