Possible Jackson Pollock painting signed by Romanian dictator Nicolae Ceauşescu found in Bulgaria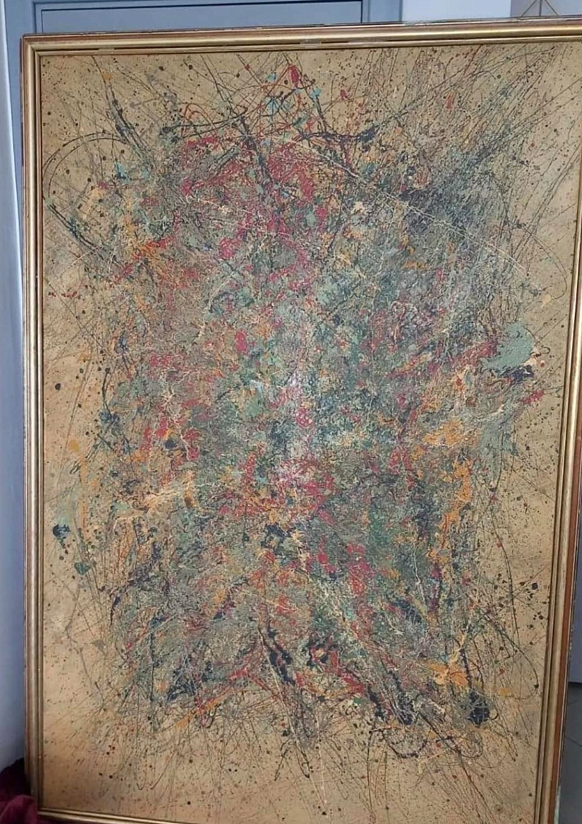 Authorities in Bulgaria recently found what may be a previously unknown painting by American abstract expressionist Jackson Pollock. The painting may have been owned by Romanian dictator Nicolae Ceauşescu, whose signature is on the back.
The painting, which was signed by the artist but not recorded in art catalogs, is dedicated to Hollywood star Lauren Bacall, a friend of the painter, on the occasion of her 25th birthday, on September 16, 1949, according to the prosecutor's office. Another interesting element is the signature of former Romanian dictator Nicolae Ceauşescu on the back of the painting, which suggests that it was part of his art collection, Bulgarian authorities cited by News.ro say.
Romanian minister of culture Lucian Romaşcanu reacted on Facebook, saying that he discussed the recently discovered painting with his Bulgarian counterpart. "Two groups of Bulgarian experts have supposedly confirmed the authenticity of the painting and there is evidence that it belonged to Nicolae Ceauşescu," the minister said.
Pollock was a leading exponent of Abstract Expressionism, which makes use of free-associative gestures in paint. He achieved fame during his lifetime for his "drip" technique. He is also one of the first American painters to be recognized during his lifetime and after as a peer of 20th-century European masters of modern art.
According to experts cited by the prosecutor's office, the painting "corresponds in its style, technique and artistic specificity to the aesthetic characteristics of Jackson Pollock's work from the period 1945-1950." An analysis of the chemical composition of the colors reveals similarities with other canvases, said Sofia deputy prosecutor Desislava Petrova, who nevertheless urged caution.
"Hundreds of painters from this period, as well as forgers, used this color scheme," said Vesela Radoeva of the Bulgarian National Gallery of Fine Arts. "We gave our opinion, but without making any comments on authenticity, because in Bulgaria, where there is no public collection of the painter, specialists cannot definitively say it is [authentic]," she emphasized.
If it is indeed a work by Pollock, it could be worth up to USD 100 mln, depending on the artist's current market value, authorities said, claiming ownership of the painting at this stage.
Back in 2006, the Hollywood entertainment magnate David Geffen allegedly sold a classic drip painting by Jackson Pollock for about USD 140 mln.
(Photo source: Lucian Romascanu on Facebook)
Normal