Comment: How Romania fared at the world's largest tourism fair this year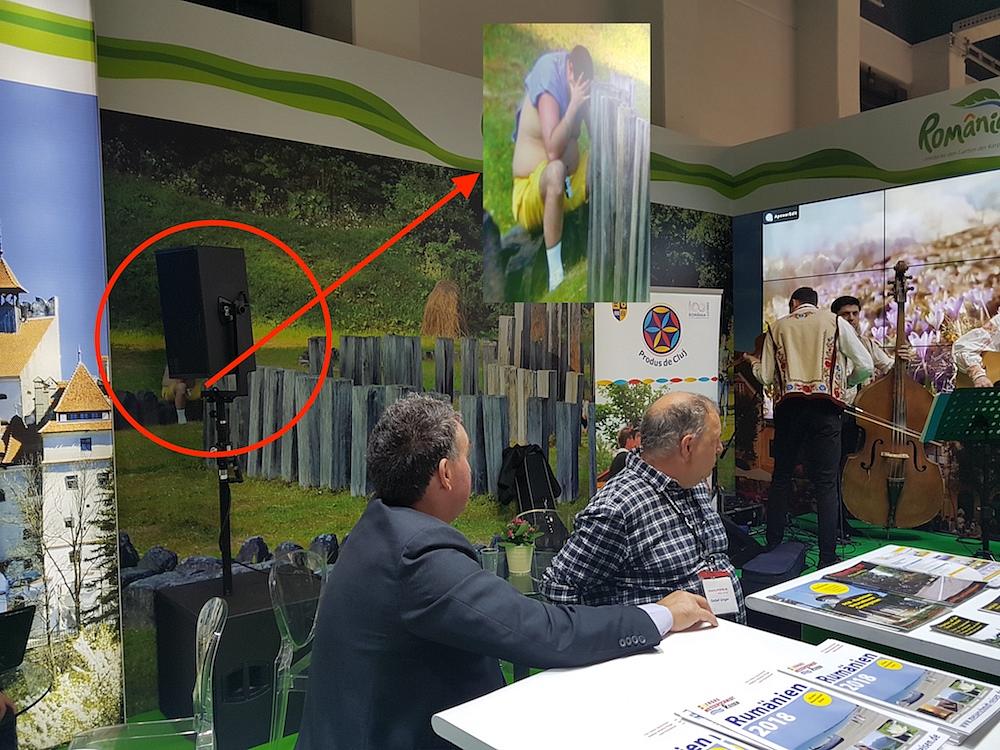 A simple stand, too small for the planned cultural activities, poorly taken photographs of Romanian famous places, a misspelled German word, and footage with Romanian text, were all part of Romania's promotion at the ITB in Berlin last week. 
Romania-Insider.com went to the Internationale Tourismus-Börse (ITB) in Berlin last week, the world's largest tourism fair, to see how Romania promoted itself and how it stood out compared to other countries in the region. The report and photo gallery can be found below. 
Romania has been struggling for years to put together a tourism strategy that would have more foreigners visit – and return. The country still seems to search its winning approach at the largest tourism fair in the world. An event where two-thirds of trade visitors said they were directly authorized to make buying decisions for travel products.
The fair lasted for five days, from March 7 to 11 2018, and gathered over 10,000 companies and organizations from 186 countries and regions.
"ITB Berlin is not only a place for marketing destinations but also an early indicator of how tourism bookings will develop for the summer travel season," said Norbert Fiebig, president of the German Travel Association.
The Berlin fair was even more important for Romania as German tour operators recently dropped Romania from their offers…
Same old & some bad pics 
This year, Romania chose to promote itself with a group of folk dancers and folk music, a traditional egg painter and a young chess player which were present at the stand during parts of the fair. The folk moment did gather people on Saturday, the atmosphere was nice and welcoming, but it also showed the lack of planning: the stand space was too small and the Romanian companies which were sharing the stand with the country's tourism ministry had to move to make room for the dancers.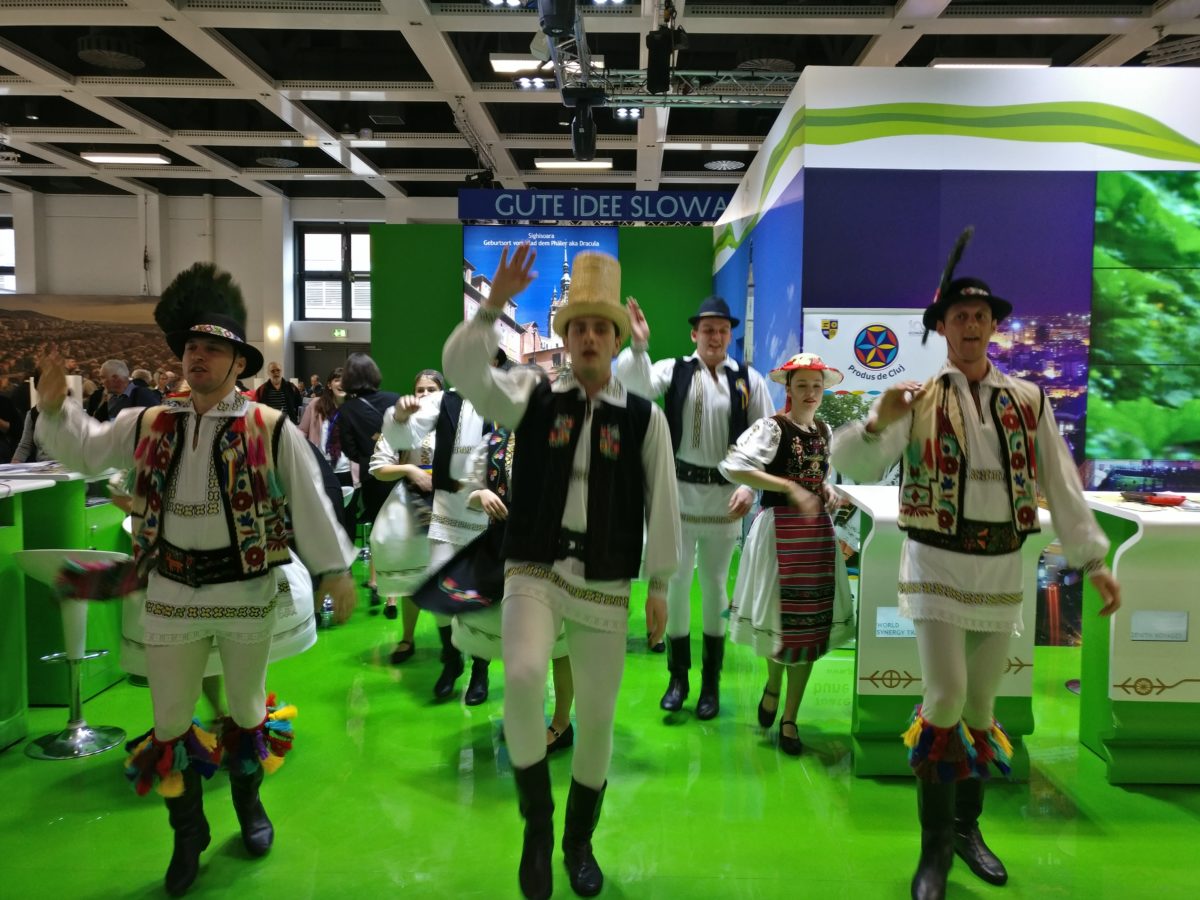 Private exhibitors had to move to make room for the dancers
The same lack of planning and a rather missing Romanian tourism authority were among the comments made by representatives of private companies that joined the Romanian stand at the ITB. This has become increasingly visible since Romania closed down its tourism offices in several countries, including the one it had in Berlin. For the ITB fair, it was hard to align stand issues and logistical details, as well as the communication strategy with state representatives, according to a stand owner representing a local tourism agency. Even so, private businesses managed to arrange nicer stands than the area equipped and provided by the state. For example, the stand of Romanian music festival Untold was very frequently visited and a good example of a successful private initiative.
By comparison, the Czech Republic, which had a stand nearby Romania's, had twice as much space, was better organized and chose to use stunning visuals on big screens, as well as a smart way to integrate images into seating areas – such as the one of a Prague coffee shop.
Other countries too chose quality visuals for their stands and combined them with the smart use of technology. Hungary, for example, had a 3D room experience: a picture shot in 360 degrees allowing visitors to explore a tourism destination in capital Budapest. The country, which is a Romania neighbor, also included a large stand featuring a traditional Hungarian dessert, the Kurtoskallaks, which were made on the spot. Interestingly, this dessert is also very popular at various open-air fairs in many parts of Romania. Yet, Romania did not go with anything in the food department, although foreign visitors often praise Romanian food.
In the new technologies department, the Czech Republic even brought car brand Skoda which offered a virtual reality tourism experience, quite popular among visitors.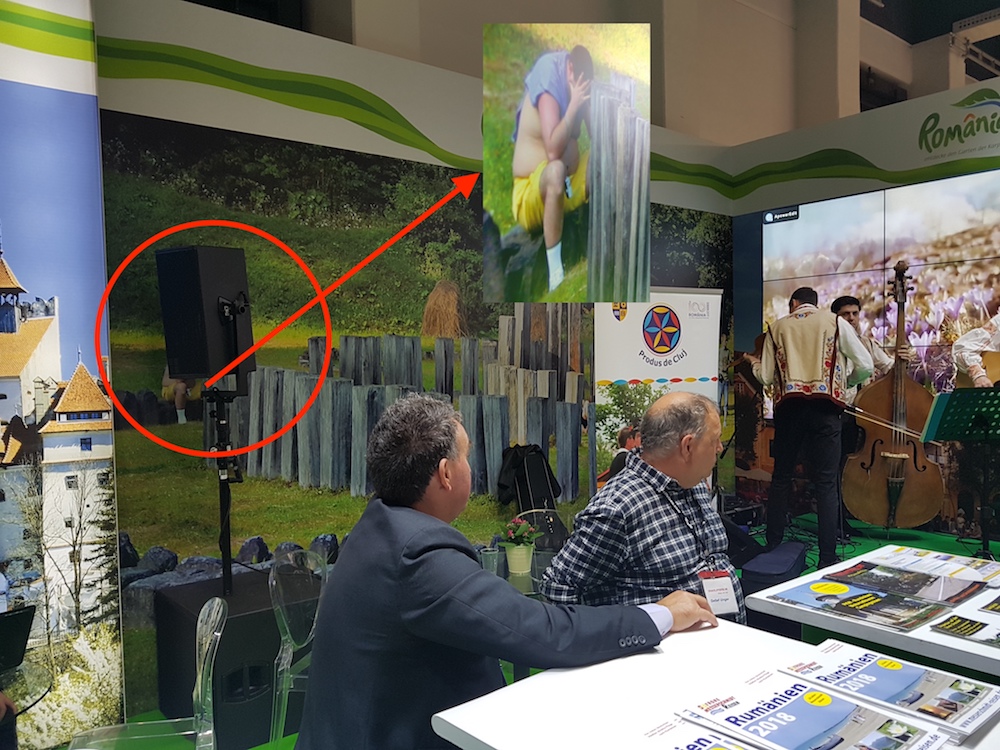 An unwanted element in the picture, which the organizers tried to cover with a loud speaker.
Romania's performance, however, was rather on the weak side. The photographs chosen as backgrounds for the stand did not look professional enough for an event at this level. One of the pictures even included an unwanted element in the background: the picture of a half-naked man feeling sick, a side element which the organizers tried to cover with a loudspeaker.
For a second time at the ITB, Romania misspells a German word….
The organizers also chose to showcase the medieval town of Sighisoara, but they misspelled Vlad the Impaler´s translation into German. The banner wrote "Sighisoara. Geburtsort von Vlad dem Phäler aka Dracula".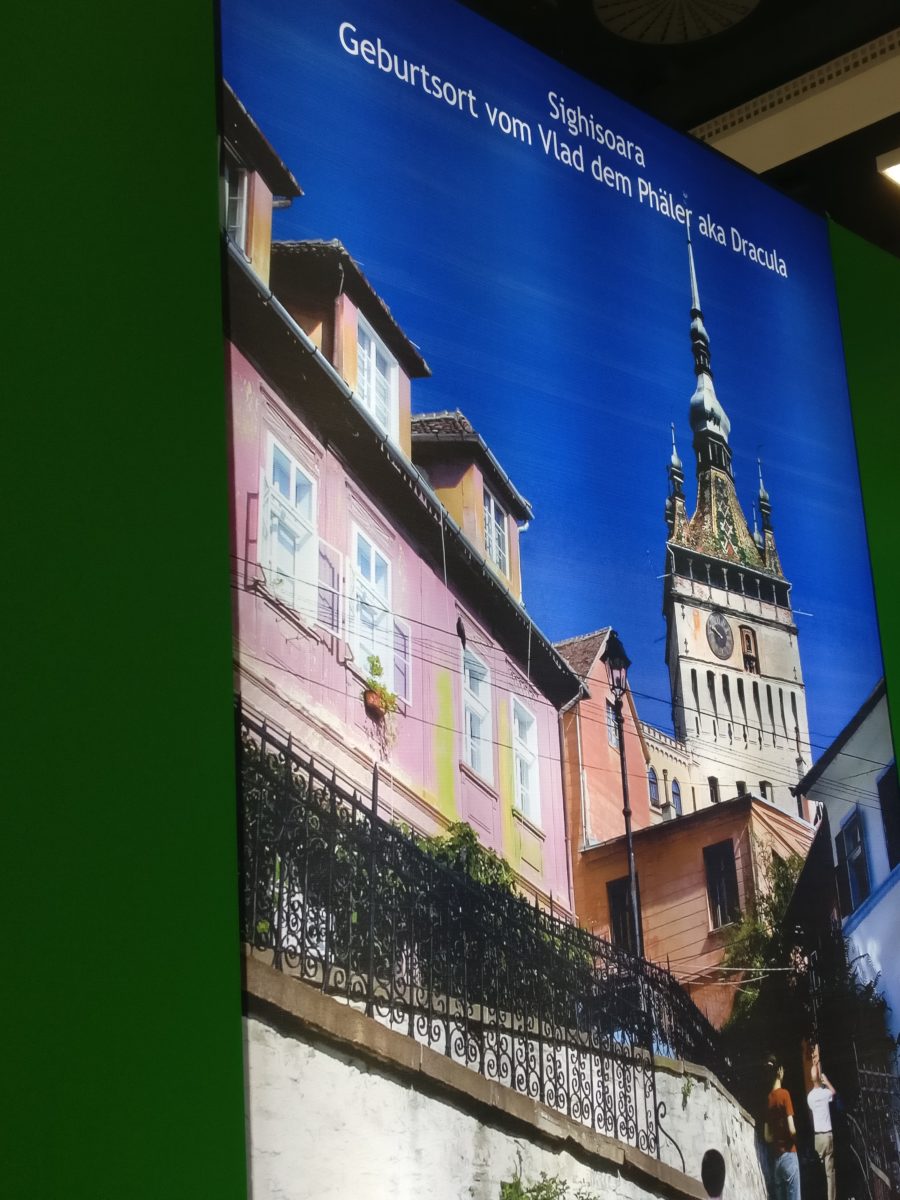 The German word for Impaler was misspelled on this banner.
Impaler translates to Pfähler in German, while Phäler does not exist in German and does not make sense. The word Pfähler (Impaler) is in general not a very common word in German either, so the linguistic connection between the text Sighisoara, Vlad the Impaler and Dracula could only be made if this was translated into words with correct spelling and hence correct meaning.
The abbreviation aka (in English "also known as") is not used in the German language of everyday life. Some international business people that are native Germans might know it, but not a common traveller, hence the whole main background text does not make sense to a German tourist.
It's not the first time the Romanian tourism agency misspells a word on a banner at the ITB. In 2014, instead of writing Rumaenien on a map, the organizers wrote Rumaenin, or Romanian woman in German.
This year, while everyone else had signage in English or in German, Romania presented at its stands some promotional videos with Romanian text, suggesting they were reshuffled or re-used from another event. Somehow, this is how Romania's overall presence at the ITB Berlin felt this year: just a bit reshuffled. In the country which has lots of beauties and uniqueness for travellers to uncover, its tourism authorities are still trying to catch up with the world.
editor@romania-insider.com
(photos by Volker Moser)
Romania at ITB Berlin 2018
Normal