Archbishop of Canterbury visits Romanian royal family, Bucharest refugee center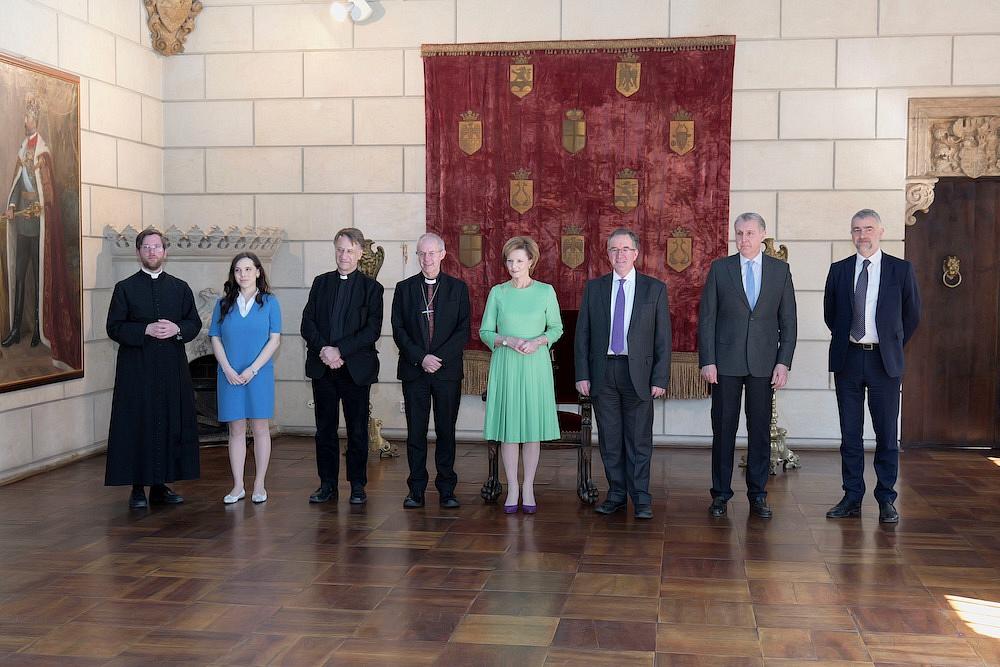 The Archbishop of Canterbury, Dr. Justin Welby, was received at the Elisabeta Palace on March 13 by Her Majesty Margareta, the Custodian of the Crown of Romania, and His Royal Highness the Prince Consort Radu, before visiting the center for Ukrainian refugees in Bucharest.
In attendance at the reception were the extraordinary and plenipotentiary ambassador of the United Kingdom to Bucharest, His Excellency Mr. Andrew Noble LVO, Reverend Canon Dr. Jeremy Morris, private secretary James Megoran, the parish priest of the Anglican Church in Bucharest, Father Nevsky Everett, and Ms. Andrada Petrache from the UK Embassy in Bucharest. Her Majesty and Prince Radu offered lunch to the distinguished guests.
At the end of the visit, the Archbishop of Canterbury planted a Persian Ironwood tree (Parrotia persica) in the garden of Elisabeta Palace.
The Archbishop also visited the center for Ukrainian refugees at Romexpo, in Bucharest, on the same day.
"The first reaction after visiting a place like this is that your heart breaks. Each person there had a home, a family, and expectations from life, and suddenly they find themselves in the position of having none of these. To see that they are being helped and supported is wonderful. The generosity of Romanians is remarkable and a very strong example for the whole world," said Welby, cited by Digi24.
"What impresses me here - and I have been to refugee centers all over the world, in many places - is how refugees are treated. The Romanian state provides them with a lot of support. UNCHR, IOM, and UNICEF are doing their best to ensure that it's not just a functional activity, but that each person is appreciated as a human being. I think this is a beautiful sign of what human beings can do in this terrible context of suffering," he added.
The spiritual leader of the Anglican Church also called for peace during his visit. "There must be peace, but there cannot be peace without justice for the great war crimes, and there cannot be a peace that gives success to aggression," he said, noting that he visited Kyiv last December.
When asked what he would tell Ukrainians to help them overcome the trauma of war, the Archbishop said that he "would start not by telling, but by listening to them. I would start by sharing their suffering."
Among those who accompanied the Archbishop of Canterbury on his visit to the refugee center at Romexpo were the UK ambassador to Bucharest, Andrew Noble, and the head of the Emergency Department, Raed Arafat.
Justin Welby is the 105th Archbishop of Canterbury. He presided over major religious ceremonies in England over the last decade, such as the commemoration of the Duke of Edinburgh in March 2022 and the State Funeral of Queen Elizabeth II in September 2022.
The Archbishop of Canterbury is the one who will lead the Coronation ceremony of King Charles III at Westminster Abbey on May 6, 2023.
(Photo source: Familia Regala a Romaniei on Facebook)
Normal