Business Views
Yadine Laviolette, Airbus: There is significant potential for short-term CO2 reductions through fleet replacement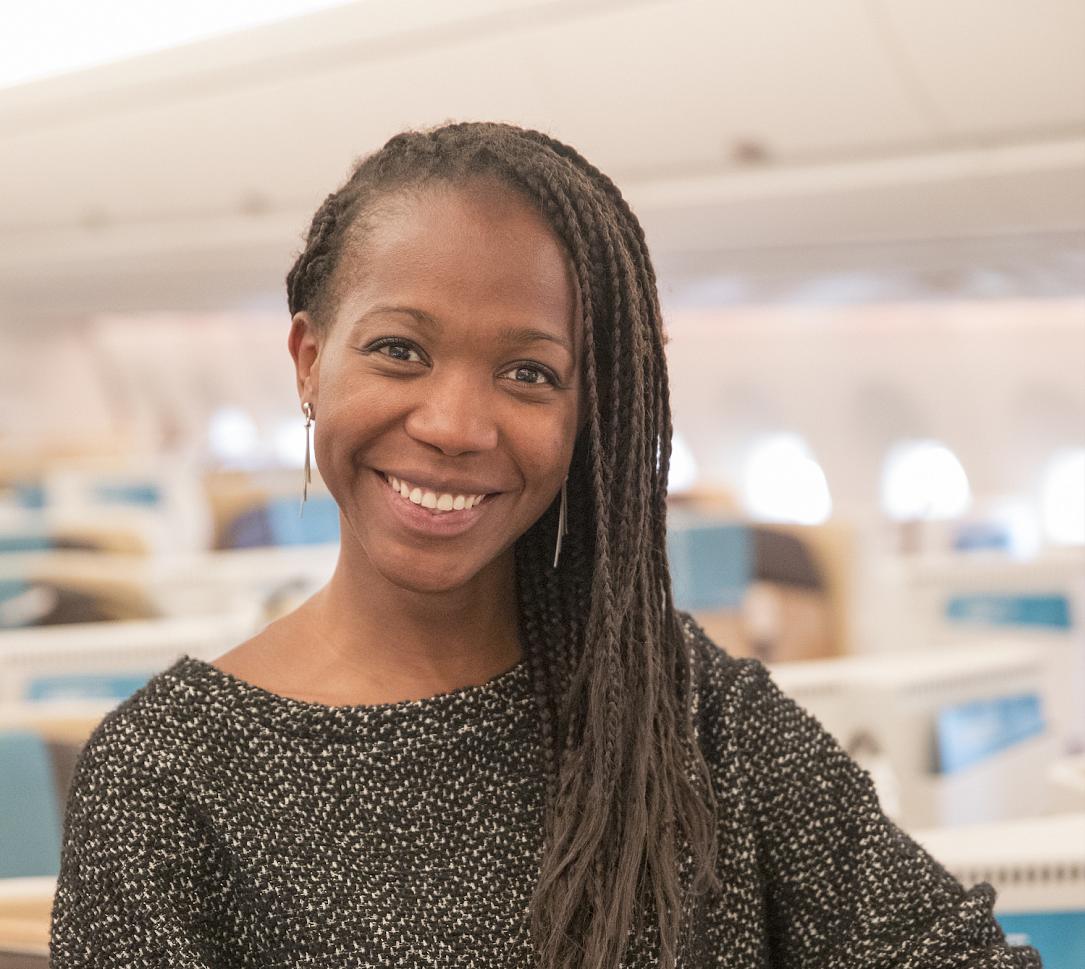 Sustainability is high on every company's agenda these days as pressure from governments, regulators, investors, clients and society as a whole is pushing the business environment to adopt responsible business practices and minimize their negative impact on the environment. We have asked our partners from the Sustainability Meets Profitability event to share their views on sustainability and elaborate on their initiatives in this area.
In this interview, Yadine Laviolette, Environment & Sustainability Marketing Manager of AIRBUS, one of the world's leading aerospace companies, talks about sustainability in the aviation industry.
"The main challenge of the aviation industry regarding the environment is the decarbonisation of aircraft in operations," says Yadine Laviolette. "We are leading the decarbonisation journey in aerospace by pioneering disruptive technologies including hydrogen-powered commercial aircraft, and by continuously improving the fuel-efficiency of our products."
Airbus is currently investing on average more than EUR 2 bln per year on R&D to foster aircraft efficiency.
"Some solutions are already available: our new generation of aircraft provide around 25% fuel burn & CO2 reduction compared to previous generation of aircraft. There is a significant potential for short-term CO2 reductions through fleet replacement," explains the company's representative.
Read the full interview below:
How would you define sustainability in your industry/business sector?
Yadine Laviolette: Airbus' approach to sustainability is built around respecting the planet, valuing people and enabling prosperity. This approach will guide us as we stay the course and continue to pioneer sustainable aerospace for a safe and united world. It is embedded in our activities – from design to supply chain, manufacturing, aircraft operations, and end-of-life, from the front-line to the back-office.
Respecting the planet: the main challenge of the aviation industry regarding the environment is the decarbonisation of aircraft in operations. Airbus is supporting the sector's ambition to reach "Net Zero carbon emissions by 2050" - a sectoral (ICAO, IATA, ATAG) ambition. We are leading the decarbonisation journey in aerospace by pioneering disruptive technologies including hydrogen-powered commercial aircraft, and by continuously improving the fuel-efficiency of our products. We never stop trying to make them better. We also collaborate with trusted partners to create a supportive ecosystem for innovation.
Valuing people: Our business is built on a foundation of safety, quality, integrity, compliance and security. Our products and services strengthen societal resilience. We respect human rights, prioritise safety, and protect communities. We foster inclusion and diversity: it drives creativity, innovation and problem solving.
Enabling prosperity: We contribute to a global industry that supports the livelihoods of millions of people. We support global stability and peacekeeping. We work collaboratively with others to maximise our impact.
What are your company's short, medium, and long-term sustainability goals and how do you plan to meet those goals?
Yadine Laviolette: Airbus has committed to robust near-term emissions-reduction targets, backed by climate science, that have been validated by the Science Based Targets initiative (SBTi).
We committed to reducing our own industrial GHG emissions, known as "Scope 1 and 2", by up to 63% by 2030 vs 2015. This is in line with a 1.5°C pathway and will be achieved through a number of measures, including: the increase use of sustainable aviation fuel in our Beluga internal logistics and in our flight testing.
We will increase our use of Sustainable Aviation Fuels in these operations, so that they supply at least 30% of flights by 2030, with an interim target of 10% by end 2023.
We also committed to reducing our Scope 3 by 46% GHG emissions intensity generated by our in-service commercial aircraft by 2035 vs 2015.
On top of these SBTi commitments, we aim to make our commercial aircraft fleet capable of flying with 100% SAF by 2030 which will exceed today's allowed maximum blend of 50%.
We are also working to become the first major manufacturer to offer a hydrogen-powered commercial aircraft by 2035.
Airbus supports the aviation industry's net-zero carbon emissions by 2050 goals set by ATAG, IATA and ICAO.
Our roadmap is based on Fleet replacement, Smart ATM solutions and Optimised Operations, the use of Sustainable Aviation fuels, New Technologies, and Market-Based Measures (Carbon offsetting & Capture).
Please give us an example of an industry-specific sustainability initiative or project that you are working on and that you are particularly proud of.
Yadine Laviolette: Airbus is committed to contributing to meet the Paris Agreement targets and leading the decarbonisation of the aviation sector in full collaboration with all stakeholders.
There is no single solution to decarbonise the aviation industry. We will need a multifaceted approach based on Technology, Operations & Infrastructure, SAF and Carbon offsetting & Capture. At Airbus, we are and have always been a company driven by innovation, known for pioneering new technologies that have redefined the aerospace industry.
There are so many projects that we are proud of, we are investing on average more than €2Bn/yr on R&D to foster aircraft efficiency.
Some solutions are already available: our new generation of aircraft provide around 25% fuel burn & CO2 reduction compared to previous generation of aircraft. Thus there is a significant potential for short-term CO2 reductions through fleet replacement.
Airbus is taking an active role in SESAR, a Joint Undertaking whose role is to modernise the ATM in Europe, and leading some research projects like Albatross (over 1000 flights with optimised ATM conducted with airlines) which is now being scaled into the Heron project.
We are exploring a large portfolio of R&D projects to prepare the next generation of aircraft.
We're working closely with engine manufacturers to integrate the next generation of engines. Concrete projects include Open Fan and Ultra High Bypass Ratio.
Airbus has dedicated research programmes to improve the efficiency of the wings. Concrete projects include Wing of Tomorrow and eXtra Performance Wing.
The hybridisation of the aircraft propulsion systems will be one of the enablers/technologies to reduce the fuel consumption of our products, optimise the onboard overall energy efficiency and increase the thermal engine efficiency. Concrete projects include EcoPulse and partnership with Renault.
We also have the ambition to develop the world's first hydrogen powered aircraft by 2035. Airbus is currently exploring and maturing two propulsion technologies as part of its ZEROe technology roadmap. One based on Hydrogen Combustion through modified gas turbines and the other one with Hydrogen fuel cells which are a device that converts energy stored in molecules into electrical energy.
Airbus is focused on developing and testing these technologies to understand if it is feasible and viable, in order to make the right technology decision (hydrogen combustion or fuel cell) for the first ZEROe aircraft in 2035.
Do the new regulations help speed up or slow down your sustainability agenda? Are the new sustainability regulations in your industry in line with your goals?
Yadine Laviolette: Airbus supports the EU Green deal objectives of carbon neutrality in 2050. The Destination 2050 initiative provides a clear roadmap for aviation to achieve these objectives.
Airbus will be a strategic actor in the implementation of this roadmap and we welcome those initiatives and policies which encourage efficiency and innovation, including ambitious targets to scale sustainable aviation fuels.
Airbus also supports both CORSIA and the EU Emission Trading System - ETS - as they are complementary market based measures and both are supporting the decarbonisation of the aviation sector, especially on short term.
Aviation is highly regulated, both for how we manufacture our products, materials and processes, and the products themselves (including noise and emissions).
In order to meet these constantly evolving demands we continually look at ways to innovate our processes and products.
For example, all our new generation of aircraft have significant margins vs the latest environmental standards limits.
Striking the right balance between environmental regulations on one hand and the necessary investments on the other will be crucial in achieving net zero carbon emissions in 2050.
Do you feel the need for more government support in reaching your sustainability goals and what kind of support would you need?
Yadine Laviolette: Aviation is a global industry that therefore also requires a global standards and regulations framework. This principle worked very well for the regulation of international flight safety by ICAO - a global system with the same guidelines for all involved. The implementation of this global "framework" then takes place at the local level, adapted to the different local conditions.
A clear and stable policy at global and local level as well as incentivization / regulations that promote long-term investments are key.
The success of the European aviation industry's ambitious decarbonisation path will significantly depend on the technological developments both at national and EU levels and on the necessary infrastructure and provision of decarbonised energy enabling this transition.
Scaling up industrial projects for the production of new energies (i.e., SAF and liquid hydrogen) and of related technologies and products (i.e. H2 liquefiers and refuelers) will be essential to ensure their availability in time and at competitive prices.
What external forces are playing the biggest role in pushing your sustainability agenda – clients, suppliers, financing institutions, investors, regulators?
Yadine Laviolette: Airbus is actively working towards the decarbonisation of aviation and is fully aligned with other industry actors with a strong conviction that this future requires parallel and focused efforts on all mitigation options.
We are convinced no one company can take on the task of decarbonising the aerospace industry alone. An entire ecosystem will need to be put into place – one that will involve key players from a variety of different sectors.
This is why we are putting collaboration at the heart of our climate strategy. Today, we work closely with a global network of partners – including airlines, investors, engine manufacturers, airports, technology partners, and energy suppliers.
Do your sustainability initiatives influence your suppliers and industry partners to follow the same path?
Yadine Laviolette: Because we outsource a significant part of our activities, our global supply chain is a fundamental part of our ecosystem. We believe the human rights of anyone who works for or with Airbus must be respected—regardless of their location anywhere in the world. This is why we promote integrity and transparency through our supply chain due diligence process.
Airbus has a Sustainable Supply Chain Roadmap, which takes care of the sustainability dimensions of human rights, environment, safety and business ethics.
We have developed a code of conduct for our suppliers to ensure that they understand our sustainability objectives and that they can adopt them. We constantly work with them and have third party assessors to evaluate the ongoing improvements.
Can you give an example of a sustainability project outside your company (something that others do) that you find particularly inspiring?
Yadine Laviolette: Sustainable Aviation Fuel has been identified as one of the key elements in helping achieve emissions reduction goals. Governmental support is essential to using sustainable aviation fuels to achieve the industry's climate goals.
The main challenge remains the emergence of a market to generalise the use of SAF. This is both a demand and supply challenge and regulation plays a key role to enable the emergence of this new industry.
The US SAF Grand Challenge, announced on September 9, 2021, is an inspiring example of national initiative aiming at boosting SAF development.
The SAF Grand Challenge aims to scale up SAF production to at least 3 billion gallons (11 billion litres) per year by 2030 and meet a goal of supplying sufficient SAF to meet 100% of U.S. aviation fuel demand by 2050. The Inflation Reduction Act (IRA) also seeks to provide incentives to boost domestic production of SAF and bridge the cost gap between SAF and petroleum jet fuel.
Yadine Laviolette - Environment & Sustainability Marketing Manager
Yadine is an AIRBUS expert in Environment & Sustainability. Having graduated as a mechanical engineer, Yadine has worked for 17 years at AIRBUS starting in the Design Office across multiple aircraft programs. In 2017, she joined the AIRBUS Commercial division in the Marketing team as Customer Experience Manager before being assigned to our increasingly important Environment & Sustainability efforts.
________________________
*This interview was edited by Romania Insider for AIRBUS.
Normal