Romanian PM elected president of the ruling party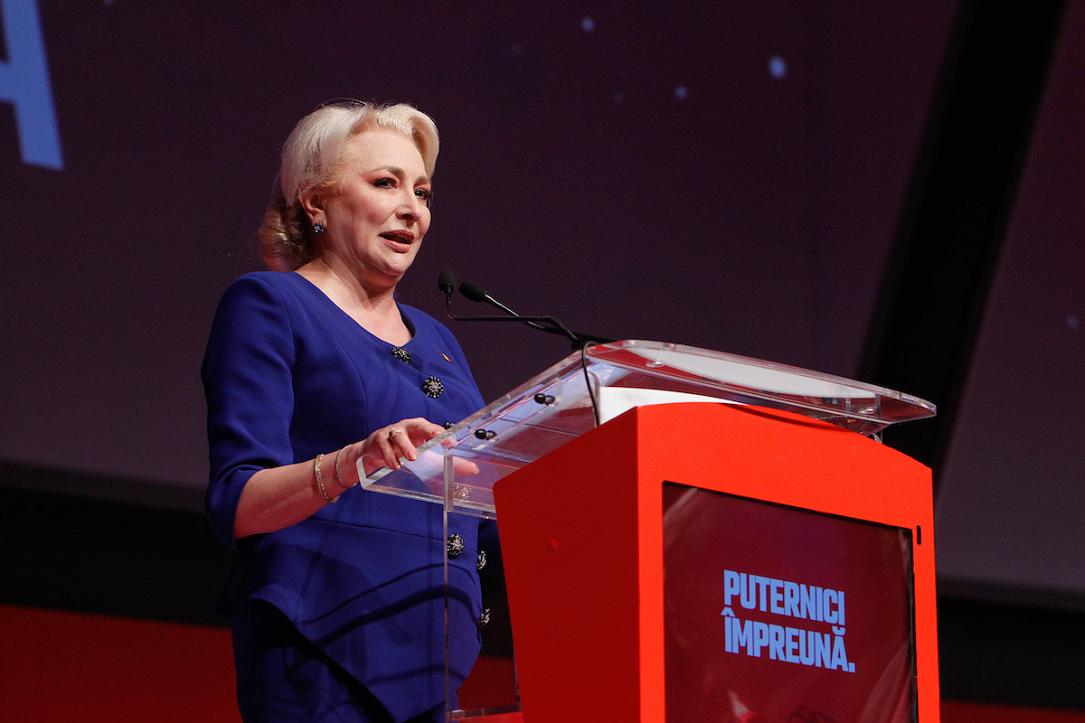 Romania's prime minister Viorica Dancila was elected president of the Social Democratic Party (PSD) at the party's congress on Sunday, June 29.
Dancila got 2,828 votes from the almost 4,000 PSD delegates who participated at the congress. Education minister Ecaterina Andronescu, who ran against her, only got 50 votes. Finance minister Eugen Teodorovici was elected executive president of PSD, the second most important position in the party's hierarchy, and former defense minister Mihai Fifor was elected secretary general.
Viorica Dancila, Romania's first woman prime minister, thus became the first woman president of the Social Democratic Party (PSD). Her predecessors include former president Ion Iliescu, former prime minister Adrian Nastase, former foreign affairs minister Mircea Geoana, former prime minister Victor Ponta, and Liviu Dragnea.
Dancila served as interim president of PSD after former leader Liviu Dragnea was sent to jail on May 27, one day after the party lost the elections for the European Parliament. She wasted no time and within a month got most of the party to support her while also distancing herself from Dragnea's legacy.
In January 2018, when Dragnea brought her from Brussels, where she served as a member of the European Parliament, few people had heard of Viorica Dancila. Local and international media described her as "Dragnea's puppet", a person with no other merits than being loyal to the party leader. And, in the first year of her mandate, she did little to change that image, following the directions set by Dragnea.
However, since early this year, Dancila stopped responding to Dragnea's commands. As the former PSD leader was pushing the Government to adopt some controversial emergency ordinances to change the criminal code and justice laws, that would have helped him solve his legal problems, the PM reportedly opposed these ordinances. Pressure from the European Commission and the fact that Romania was holding the rotating presidency of the EU Council determined her to stop following her leader's orders.
Her biggest advantage, which she used to confront Dragnea and, after he was jailed, to win the party's presidency, is that her resignation as prime minister would almost surely lead to her party losing power. Dancila was the third prime minister PSD appointed in little over a year after winning the parliamentary elections in December 2016 and it is highly unlikely that president Klaus Iohannis would accept another prime minister from PSD if Dancila resigned, especially after PSD also lost the elections for the European Parliament. Dancila's message to her party was clear: if you don't elect me a president, I will resign.
Her mission is not simple as PSD has only a few months to find a candidate for the presidential elections at the end of this year and to repair its tarnished image before next year's elections rounds: local and parliamentary. However, the Dancila Government still enjoys a majority in the Romanian Parliament, which is unlikely to change this year.
editor@romania-insider.com
(Photo source: Inquam Photos/Adriana Neagoe)
Normal