Romanian film review – The mad race: Two Lottery Tickets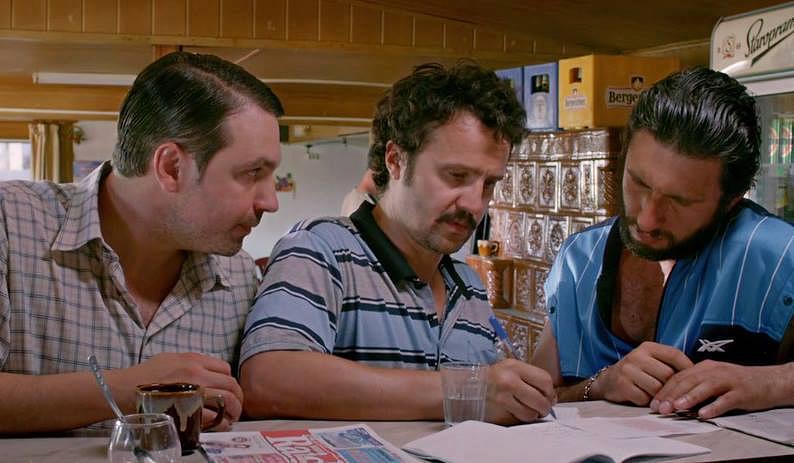 Paul Negoescu's Povestea unui pierde-vară/The Story of a Summer Lover is currently running in cinemas and if you have enjoyed that one, here is your chance for a Negoescu double feature.
His previous comedy, Două lozuri/Two Lottery Tickets, is just as amusing, but much more energetic, a manic tour-de-force, a fun, loud comedy that was the audience darling at festivals in 2016.
Based loosely on a popular Ion Luca Caragiale novella, the film follows a trio of not-particularly-successful friends (read: nice losers with money problems) who buy a lottery ticket after a night soaked in alcohol and self-pity. The ticket is a winner but they lose it when the fanny pack containing it gets stolen. What follows is a mad race to find the thieves and retrieve the ticket.
There are tons of road movies out there, and they are often about recovering some precious object, so there is nothing original about the idea of film, or about the series of absurd events on the road, but what is infectious here is the sheer energy of the leading three actors. Alexandru Papadopol, Dorian Boguță and Dragoș Bucur often work together, and are also the founders of an acting school in Bucharest (some of their students have supporting roles here). They have amazing chemistry together and it is a pleasure to watch them bounce off each other, both verbally and physically. This is also a great asset of the film: the comedy is good in any form, the dialogue is funny, and the slapstick is even funnier. Moreover, it is a kind comedy, and one can only root for the lovable, clueless trio.
It also boasts some laugh-out-loud scenes, like the one in a building where they bang on the door of each apartment to find the thieves. Who is behind the door, and what happens, is hilarious. The colour-blind police officer is also a nice gag. So is the cheeky metafictional comment on the "usual" Romanian films being too bleak and depressing.
This is precisely what this joyous exception of a film is not.
Two Lottery Tickets is available on DVD at Cărturești or Diverta stores.
Column by Ioana Moldovan, [email protected]
(Photo source: Facebook / Doua Lozuri)
Normal