Romania's resident population records first slight growth after 20 years of decline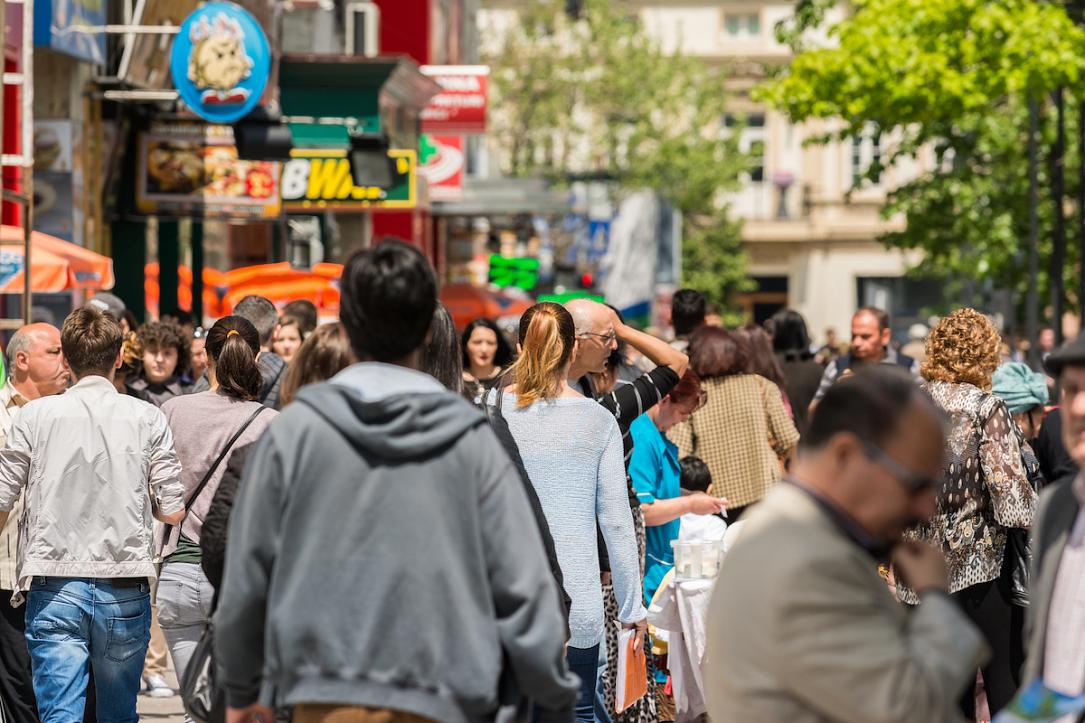 Romania's resident population, defined as the total number of people residing in Romania for a period of at least 12 months, increased by 9,107 persons between January 1, 2022, and January 1, 2023. The evolution is directly linked to the number of immigrants living in Romania, which increased by 100,000 compared with the previous year.
Little over 19.05 million people were living in Romania (for more than a year) at the beginning of this year, according to data released by the National Statistics Institute (INS) on Wednesday, August 30.
It is for the first time since 2002, when INS started to estimate the resident population, when this indicator records a slight year-on-year growth.
"For the first time, the immigration phenomenon is the main cause of the country's population growth in 2022. Thus, the balance of international migration in 2022 was positive, with the number of immigrants exceeding the number of emigrants by a little over 85,000 people," the INS explained in a press release.
How has Romania turned into a net immigrant country overnight?
In 2022, over 286,000 people were registered as long-term temporary immigrants in Romania, about 100,000 more compared with the previous year. Meanwhile, the number of long-term temporary emigrants was 201,000, similar to the previous year, according to INS data.
As a result, the balance between immigrants and emigrants became positive in 2022, for the first time since such statistics became available.
The INS doesn't provide details about the country of origin or nationality of temporary immigrants, but there are several factors that could have contributed to this growth.
First of all, there's the war in Ukraine, which forced millions of Ukrainians to leave their country. A relatively low number of them decided to stay in Romania, hoping they would return home after the war is over.
The war in Ukraine and geopolitical risks in the region may have also determined more people from the Republic of Moldova to move to Romania. Traditionally, Moldova has been the top source country for immigrants in Romania.
Third, but not least, Romania has increased the number of work permits granted to non-EU workers to cover its workforce deficit in some sectors of the economy such as construction, hospitality or agriculture. Many Asian workers have thus become long-term immigrants in the country.
Long-term negative trend, hard to reverse
Despite the slight increase recorded in 2022, Romania's resident population is projected to continue its long-term decline.
UN projections indicate that Romania's population will continue to drop long-term, to 17.5 mln people in 2050 and 13.1 mln people in 2100, despite a temporary increase in 2022 and 2023 (possibly due to the war in Ukraine).
According to INS data, between 2002 and 2022, Romania's resident population dropped by 2.63 million people or 12%, to 19.04 million people. The biggest yearly drops were recorded in 2008 (-495,000 people), 2022 (-159,000 people), and 2021 (-152,600 people).
There have been two major causes for this continuous decline: emigration and negative natural growth. The two can be easily correlated because as millions of working-age Romanians went abroad to find work and finally decided to settle there the number of births in the country declined.
In 2022, only 171,000 babies were born in Romania, the lowest level in over three decades, while 272,000 people died.
Demographic aging continues
The demographic aging process has deepened in 2022 as the share of the elderly population (aged 65 and over) went up by 0.3 percentage points (from 19.4% in 2022 to 19.7% on January 1, 2023). Meanwhile, the share of the 0-14 year old population in the total population stagnated at 16.2%.
The demographic aging index increased from 120 (on January 1, 2022) to 122 elderly people per 100 young people (on January 1, 2023).
The demographic dependency ratio increased from 55.5 (on January 1, 2022) to 56.1 young and elderly people per 100 adults (on January 1, 2023).
editor@romania-insider.com
(Photo source: Dreamstime.com)
Normal