rinf.tech Wins Romania's IT Industry Excellence Awards 2023 with Software Outsourcing Project of the Year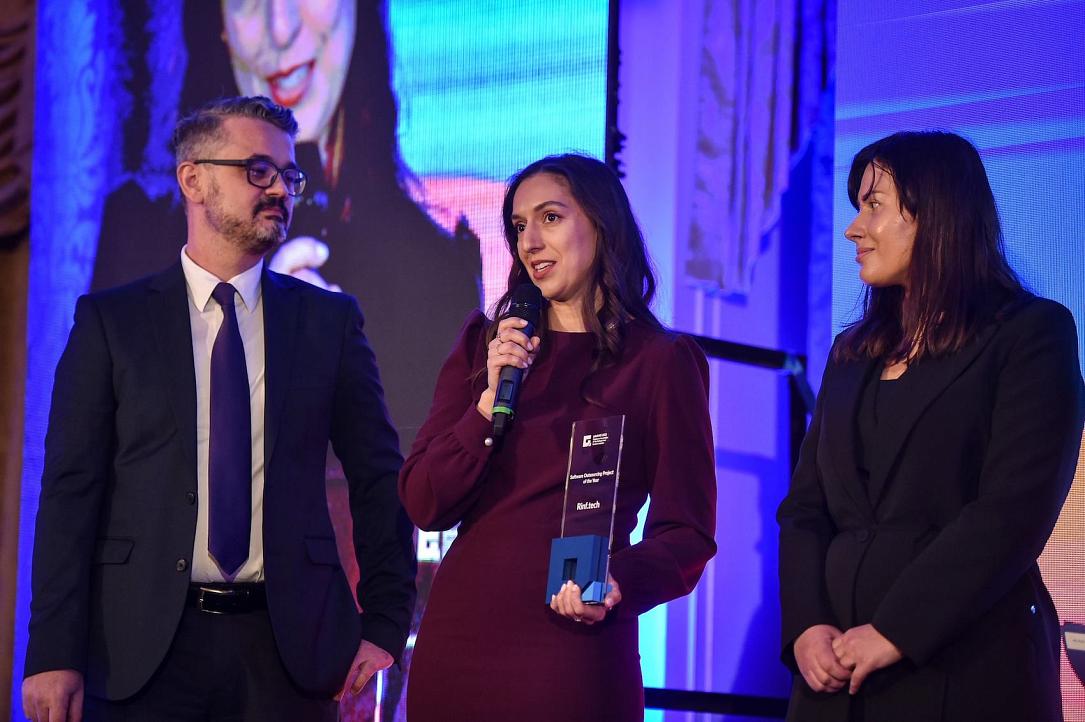 rinf.tech, a technology company specialized in tech consultancy and custom software development, announces winning IT Industry Excellence Awards 2023 by ANIS (Romanian Employers Association of the Software & Services Industry) in the category "Software Outsourcing Project of the Year."
rinf.tech was rewarded for a custom Digitization of Transportation project delivered to a key supplier across the rail industry in the UK that integrates intelligent, next-level technologies into trains and stations. The platform created includes a CCTV Management System for the concurrent communication of hundreds of trains in Cloud with near-real time availability for special events footages used by Police and Railway in the UK.
Commenting on the Award, Bianca Barbu, rinf.tech's Technical Director – Business Applications said:
"There's nothing more rewarding and encouraging than seeing your software solution in action. For the past 7 years, we at rinf.tech have been working on building this CCTV platform to allow safer travel conditions on trains. We automated and configured the infrastructure, created the solution architecture, built an ML component, tested it and implemented the integration with operators. The solution is currently running on UK trains. Despite the challenges faced, our Team has demonstrated exceptional skills, dedication, and a commitment to excellence. Their hard work and perseverance have paid off, and this recognition is a testament to their professionalism and expertise in software development. We're happy their efforts didn't go unnoticed by the ANIS jury!"
"The Romanian technology industry is a force driven by innovation, talent and dedication, as we have seen in the 25 years since ANIS represents the interests of tech companies," said Corina Vasile, Executive Director of ANIS. "We are glad that year after year we have dozens of champions of the IT industry, with dozens of impactful, innovative initiatives, who want to make their voices heard through this competition."
This industry award marks another important milestone in rinf.tech's mission of becoming a leading East-European technology partner for established enterprises and growing organizations in need of digital transformation of their products and services.
rinf.tech congratulates all Awards nominees and winners and wishes them success and prosperity in the future.
About rinf.tech
rinf.tech is a technology company that draws on the Engineering Excellence principle, knowledge-based capabilities, and robust R&D to future-proof emerging tech.
Founded in 2006, we're a 600+ employee organization with HQ in Bucharest (Romania) and offices and Delivery Centers spread across two continents – Europe and North America.
We leverage our multi-year experience and the latest technologies to provide a combination of optimal Product & Technology Strategy, Automation & Digitization, and business differentiators for blue-chip companies and SMBs from multiple domains.
At rinf.tech, we provide technology consulting services and custom engineering solutions for Automotive Software, Business Applications and Products, and R&D Embedded.
From Idea to R&D to MVPs to mature Production systems – we use our Engineering DNA to find the optimal trade-off between budget-timeline-technology-methodology to deliver highly scalable Enterprise Products and Custom Software.
Visit their website at www.rinf.tech
About ANIS
ANIS is the only Romanian Employers' Association of the IT&C industry across all sectors.
With a strong community of technology companies, it aims to create a close cooperation between companies, government, public authority and academia in order to develop the potential of the Romanian high-tech industry and the quality of the educational system in STEM fields.
Together with its partners, ANIS ensures access for all its members to information, expert advice, training, business opportunities, and networking.
Their guiding principles are Transparency, Integrity and Equal Access to resources and education.
*This is a Press Release.
Normal