Partner Content
(P) Ruxandra Mercea - the founder of Spark School, the EdTech that is changing the face of high-school education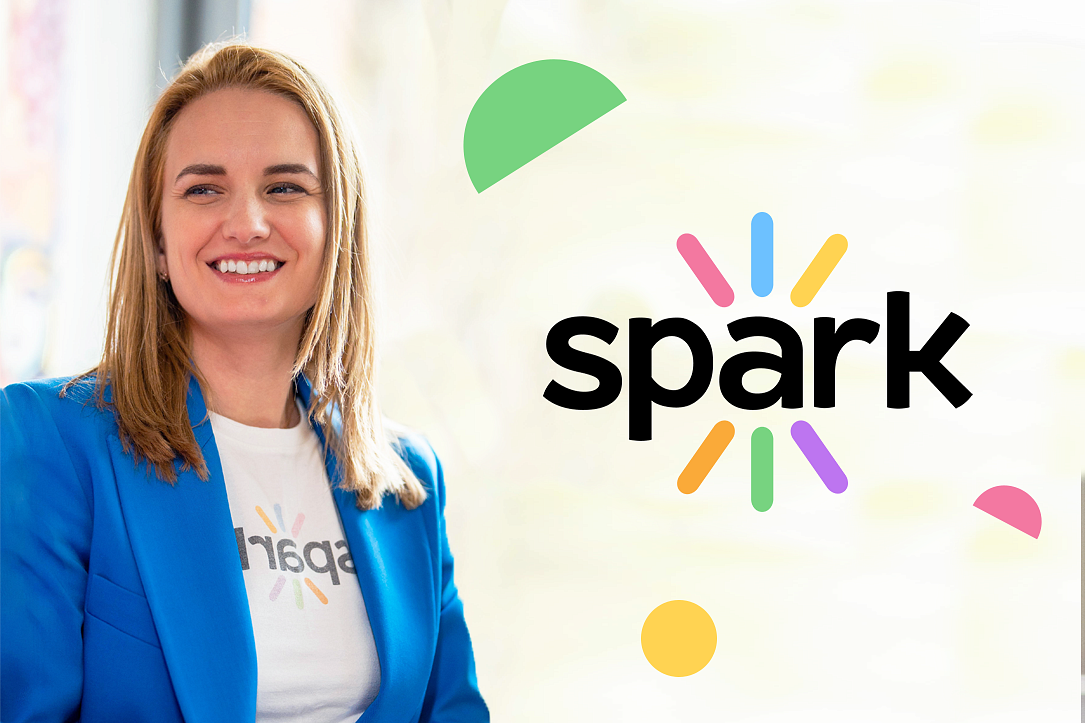 Ruxandra Mercea, a leader in the Romanian Educational sector with over 15 years of experience, took over the role of Head of School at Spark in March 2023.
She is also the CEO of Transylvania College of Cluj-Napoca, a well-known Cambridge International high school with 700 students and 125 staff members, representing 35 nations from 6 continents.
Ruxandra wanted to revolutionise high school education, and she started this process with Transylvania College, but her ambition was bigger than that. She wanted to revolutionise high school education worldwide - that is how Spark was born. She went internationally and built a future-ready high school for future-ready teenagers. Spark intends to change the meaning of education globally, thus revolutionising traditional schooling methods no matter where the students and their families come from.
"I have spent most of my career investing in transforming education and always had a special passion for innovation. We truly believe that this is the time for Spark globally. We are excited that we already have a meaningful impact on the lives of students and families that joined us, and we will continue to pursue our dream to change the way teenagers learn in High School." - Ruxandra Mercea (in opening picture).
We wanted to take this opportunity to get to know her better and find out what she has planned for the future of Spark.
Who are you, Ruxandra Mercea, and where does your passion for Education come from?
I am Ruxandra Mercea, a dreamer and a doer. I am the CEO of Transylvania College, the oldest and largest independent school in Romania, the founder of School of Trust, and the Head of School at Spark Hybrid School.
As any dreamer, I have a dream: the dream of education. However, my drive and passion came out of nothing but frustration. The frustration that I went through during my high school years helped me find the driving force in my career: the dream of equitable education for each child. I followed a path less walked and decided to create a programme where I first had to reimagine my high school experience and create a more future-ready learning environment for children nowadays.
Then, it was the moment when I became a mom that my focus shifted toward ensuring every child can easily access an education that nurtures feelings of self-trust, love, compassion, and, last but not least, safety. And I kept acting despite all the fear that I had, with love and resilience. My journey has fueled my commitment to improving the lives of teenagers. It has motivated me to explore new and innovative ways of delivering future-ready education to all students, no matter where they are.
Where does your experience in Education come from?
My journey in education started a long time ago, with the takeover of the CEO role in Transylvania College in 2014 when I ventured into becoming a role model for future leaders of all identities. Recognizing the state of diversity in educational services, I worked hard on building up a diverse, equitable, and inclusive culture at Transylvania School, then decided that it is my duty as an educator to do even more for children all over the world.
I founded the School of Trust, a programme that aims to transfer the educational vision of Transylvania College into every Public School in Romania. After that, I went even further and founded an international Hybrid High School to lend a helping hand to all those teenagers that do not fit into the traditional educational system. That is how Spark School became a reality.
One thing that helps me pursue my dream is that I am part of the "G30 for Education" group, an exclusive community of 30 global education leaders who come together each year to discuss critical issues facing schools worldwide. That is an enormous source of inspiration, especially since I strive for a future-ready learning environment.
What does it mean to be a G30 representative and how does that help Spark School?
As the Head of School at Spark, my primary responsibility is to nurture the learning environment by collaborating with the entire community of students, parents, and colleagues, including teachers and learning journey advisors. Being one of the Heads of Schools that participate in the G30 group gives me a great opportunity to connect even further, with other school leaders that lead the change in innovation in education worldwide. Being part of this group helps me envision how Spark Hybrid High School can contribute to global education and ensure we are a fit for future school.
During our annual meetings, the Heads of Schools share valuable ideas, discuss crucial challenges, and explore practical solutions to some of the most urgent issues (and not only) facing education today and in the future. It is incredibly helpful for me, as the uncertainty of the future is the most important for Spark School.
At this year's meeting, the focus was on digital transformation, and we discussed topics such as the use of Artificial Intelligence and ChatGPT. We talked about this topic that involves the entire community of school leaders, but students as well, recognizing the importance of adapting to the needs of teenagers in our schools nowadays. Being part of this group is a great source of inspiration as it allows me to stay aware of the latest educational trends and needs. Once I get in contact with the news, I come back to our school and do everything possible to implement the solutions here.
How did Spark arise?
Spark was inspired by a need in the sector to address the changing education landscape. Young people need so much more than the traditional high school models that have dominated our practice since the 1870s. Students require a model that provides flexibility and support above all else. Spark was the solution to one major issue. Along with the pandemic, I realised the crucial need for flexibility that students needed. The world faced a new reality when the quarantine put us all in the home office: we have not created a programme that offers students the freedom to develop and create on their terms, wherever they are. It is as a consequence of this necessity that Spark was founded and has grown. The idea was developed due to that market need. Schools across the UK and around the world are struggling to adapt to the needs of young people, who require so much more than the knowledge needed to pass examinations.
What makes Spark unique?
We are proud of our educational model, which is based on a four-strand approach that assigns equal value to each strand rather than emphasising one over the others. They are all important, whether we talk about Academics or Global Education. Moreover, our students can learn at their own pace and choose subjects with no set schedule or Zoom-style classes. This personalised approach is made possible through our learning platform, specifically designed to meet the unique learning needs of teenagers. We combine online and offline educational models. However, since we are aiming internationally, we are considering the great need for connection. Thus, our students can meet in the buildings of our partner schools worldwide and co-working hubs, which will further broaden their exposure to different learning environments.
What are the struggles that teenagers nowadays face regarding education?
Teenagers live in a flexible world, yet they have few flexible education alternatives. Ever since the beginning of the history of education, education systems have aimed to deliver "one size fits all" curricula and provide a standardised educational experience for all students. These days, however, this model faces two major challenges that might change the paradigm. Firstly, most of the jobs in 2030 have not even been created yet, meaning that traditional education needs to prepare students for a constantly changing future. Secondly, children nowadays, the future adults, are expected to switch careers several times in their lifetime (between 4-5), meaning that education must be tailored to meet each individual's unique needs rather than a one-size-fits-all approach.
How does Spark School help teenagers overcome those challenges?
I firmly believe that educators and parents are prepared to nurture meaningful relationships with teenagers when they focus on their well-being. My core duty is guiding adolescents through the high school years — the most critical years of their development. I wish to empower them to become mentally healthy adults capable of positively contributing to the societies they live in, wherever they may go. As Head of School at Spark, my motivation is to work with teenagers, as I aim to help them discover their passions, explore career options, and strengthen their potential to control their futures fully.
At Spark, we have implemented a flipped learning model that enables students to learn at their own pace, on their own terms, and select subjects that interest them. We are proud of our students, who have seized the opportunity to pursue their passions, whether launching their businesses, pursuing professional sports, or diving deep into specific topics or fields.
Our educational model ensures that our students do not have to make the difficult choices that teenagers in traditional schools often face — " Should I follow my passions or just focus on school?". At Spark, they can do both, as we already did everything to be ready to provide them with a solid foundation for lifelong learning and personal growth — on their own terms.
You developed a future-ready school. How do you envision the future at Spark? What are the long-term objectives?
To have a global school with 40.000 students and the same global school to be a membership organisation for another 4.000 schools, which means another million of teenagers in the platform and our community.
What motivates me is the potential solutions that would come through the collaboration between teenagers, whether full-time or part-time or just taking a course. Can you imagine 40.000 students or millions worldwide coming together to support each other's dreams, passions, services, and projects? Can you imagine 40.000 students solving problems through volunteering, raising funds, creating their non-profit organisation, and solving the problems we have today, globally? That is the dream of education.
What are the biggest challenges that you face as an ed-tech startup?
I entered this world two years ago and still find it fascinating because it's based on trust. We trust the investors, the team, and the dream. I've learned that the more ambitious the goals, the more trust is needed, not the other way around.
There are two sides to financial sustainability. One comes from building relationships of trust with investors, such as angels and VCs, and the other is income generation and increasing relationships of trust with our clients. In our case, the more families we serve, the more sustainable our income generation will be.
With the help of Seedblink, the co-investment platform for European tech startups, we aim to raise €700,000 to develop our innovative educational model. We have just opened up the first investing round, and we are excited to see how many people want to contribute to changing education worldwide!
That is a courageous goal! How will this help in terms of objectives?
Spark's objective with this fundraising campaign is to secure funding to support the ongoing product development, which is equipped to integrate AI capabilities through machine learning and intelligent automation. Spark's immediate priorities include embarking on an expansion into new markets, attracting new users, and expanding the sales and marketing teams. With the funds raised, we will focus on accelerating the development of these initiatives to achieve the desired growth.
Is there a way for people to contribute and be part of this change?
Actually yes! This round is open to investors and anyone who wants to contribute to changing education. I encourage anyone interested to learn more to click on the following link or contact us at Spark:
In conclusion, is there anything you would like to say to the people who contribute to your dream of changing education?
Being a Head of School, an investor in education, a teacher, and a parent is a blessing because we not only get to become better adults through our relationships with teenagers but also become better partners, friends, and colleagues. We do this while seeing a direct impact on someone else's life. The change we bring in education is a blessing because we change someone else's life for the better. Tell me another job where you go every day, and you see such a potentially big purpose. There are some, but the dream of education represents the bridge to the future. And when you contribute to it, you help build the bridge that will lead to the world's future.
(p) - This article is an advertorial.
Normal