Oradea, first city in Romania to test drone transport of biological samples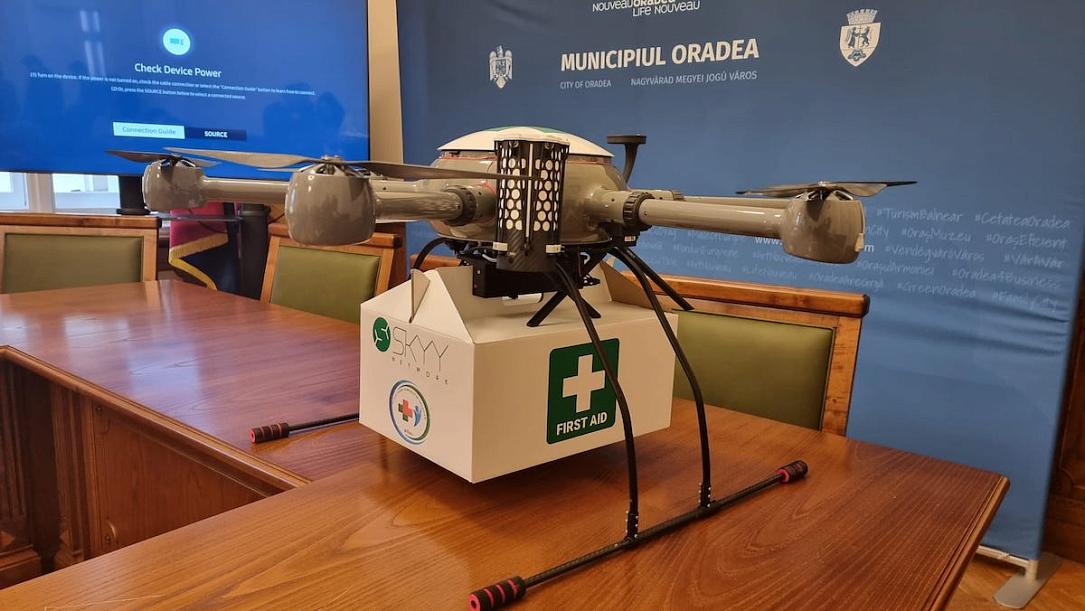 Oradea will be the first city in Romania to have biological samples transported between hospitals by drone. The first such transport, which will be a test, is scheduled for Friday, January 20, on the route from the Municipal Hospital to the TBC Hospital, the Maternity Hospital, and the County Hospital.
The drone can carry up to 3 kg and has a speed of 40 km/h. The duration of such a transport is 6 minutes. Laboratory samples, medication, and blood can be transported via drone, according to Gheorghe Carp, manager of the County Hospital in Oradea.
The new initiative is part of a pilot project run by the County Emergency Hospital of Bihor, in partnership with the city of Oradea, the Australian company Skyy Network, and the Civil Aeronautics Authority of Romania.
Oradea city manager Mihai Jurca and County Hospital manager dr. Gheorghe Carp presented the pilot project "Medical Drones," a first in Romania, during a press conference. The event was also attended by pilot Rory Houston, co-founder, and CEO of the Australian company Skyy Network, the logistics partner that will implement this pilot project in Oradea. Rory Houston is a former F18 and military drone pilot, with experience in the Afghanistan war.
"The first robotic laboratory in Romania, which we have in Oradea, has already proven its viability in terms of economic and medical efficiency. The costs for analyses have decreased by 30% as a result, and the time for the release of results has been shortened by 68%. If we succeed in quickly transporting biological samples, blood samples, and medications, we will eliminate that supply cycle for the laboratory from different locations, we will no longer need transportation means, and we will no longer mobilize personnel. Costs will be greatly reduced, and there will be no more delays and complaints. I believe that after one year of implementing this laboratory supply system, many municipalities will realize the necessity of this innovative solution," dr. Carp explained, according to Bihon.ro.
(Photo source: Facebook/Primaria Oradea)
Normal