News from Companies
The new call for projects for the NAC Grants (Neo Art CONNECT) - 2nd Edition, 2024, has been launched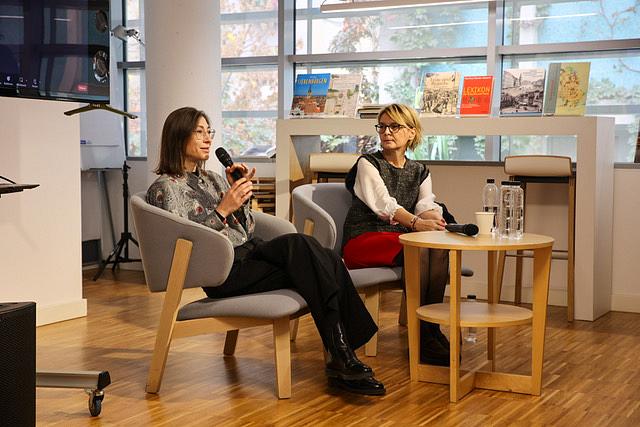 Galateca Gallery and the Neo Art Connect Cultural Association launched the Call for Projects for the NAC Grants, Neo Art Connect - 2nd Edition, 2024, and the mentorship program for young artists, within the framework of the second edition of Neo Art Connect (NAC), in partnership with BRD Groupe Société Générale.
The theme for this edition is "Changing Environments",and one of the significant updates is the development of international partnerships to provide young artists with additional opportunities for collaboration and learning. The president of the Jury for the NAC Grants 2024, Christl Baur, Director of the Ars Electronica Festival in Austria, together with jury members Horea Avram, art historian and curator, Mihai Zgondoiu, artist and curator, Anca Boeriu, artist and professor, and Andreea Sandu, cultural manager and founder of NAC, will award five grants with a total value of EUR 5,000.
At the event the details of the new program dedicated to young artists was presented to the public and it can be accessed online at www.neoartconnect.ro. This edition the individual grant valued has increased to 1000 euros and the age limit for the applicants to 35 years old. The application period is from November 8 to December 30, 2023, and the announcement of the winners is scheduled for January 30, 2024.
Another new element is the participation of Cristiana Tăutu, Executive Director of Fundația9, in the operational board of NAC 2024, alongside representatives of other important partners, universities, and prestigious cultural institutions.
The event was moderated by Anca Boeriu and Andreea Sandu, coordinators and curators of NAC, and featured the following speakers: Laura Albani, Elena Aronoaie-Adorian, Horea Avram, Emanuela Ghyka, Roxana Lăpădat, Petru Lucaci, Ana Negoiță, Lelia Rus, Cristiana Tăutu, Joachim Umlauf, and Mihai Zgondoiu.
"At BRD, we are deeply motivated to support young artists in their creative journey proposed by the Neo Art Connect platform. This initiative represents a haven of creativity and exchange of ideas, and for us, it is more than a partnership—it is an opportunity to support the aspirations and visions of young artists. We are impressed by their passion and curiosity, guiding them in exploring the changing world. This second edition of the project, under the theme 'Changing Environments,' represents a vital platform where art and science intertwine to provide answers to current challenges. Through this collaboration, we are not only investing in art and science but also in the creative future of these young talents. They are the ones who can change our perspective on the world. We are eager to see how their imagination and knowledge will shape a more inspired and sustainable future for all of us. We encourage you to explore this wonderful platform and join this remarkable initiative. Together, we can bring innovative ideas and creative solutions to life," said Flavia Popa, Secretary General of BRD Groupe Société Générale.
"'Changing Environments' is the chosen theme for NAC2024, the second edition, and it creates a space for artistic debate from the perspective of creators who integrate, use, or collaborate with various other fields, sciences, and new technologies. It addresses the impact we feel at an individual and socio-economic-cultural level due to the major changes in contemporary society, caused on the one hand by technological developments, new artificial intelligences present in most aspects of life, and on the other hand by climate and environmental changes, along with those created by armed conflicts in areas near our country," stated Andreea Sandu and Anca Boeriu.
The first edition of the Neo Art Connect Annual (NAC), organized by Galateca Gallery and the Neo Art Romania Cultural Association, curated by Anca Boeriu and Andreea Sandu, concluded by surpassing an important milestone of over 10,000 visitors from all over the country. Neo Art Connect, held from May 18 to July 31, 2023, generated a series of remarkable cultural products at the intersection of art and science, in a marathon with over 25 exhibitions, connecting 10 cities in the country, over 40 spaces and partner organizations, over 100 artists, interdisciplinary creators, and curators from different generations and varied artistic practices.
The five winning projects of the grants offered in the pilot edition of Neo Art CONNECT, in collaboration with BRD Groupe Société Générale, held in the fall of 2022 and the spring of 2023, were: EDGES created by RIH Working Collective (Nițu-Săraru Andrei, Șerban Camelia, Stanciu Crina Alexandra), Gazing (in)through created by Entity (Miruna Croitoru, Nicoleta Ivan, Cosmin Stancu), Striking Network of Uncertain Pixels by Mihai Toth, reGânditorul by Andrei Lazăr, and Project P by Daria Langa, brought together in the exhibition "Reconnect" curated at Galateca by Anca Boeriu and Andreea Sandu.
The schedule for the NAC Grants, 2nd Edition, is as follows:
Launch of the Call for Projects, Wednesday, November 8, 2023, at 11:00 AM, physically and online at the Goethe Institut Bucharest.
Application period - November 8 - December 30, 2023, at 12:00 AM.
Announcement of the winners - January 30, 2024.
Mentorship program and project implementation - February-March 2024.
April 22 - May 19, 2024 - exhibition of scholarship winners at Galateca, a preview for NAC 2024.
Opening of the second edition of the Annual - May 15, 2024.
Media Partners: Liked by Radio Guerilla, Radio Romania Cultural, Modernism, Arta Magazine, Propagarta, C˚Arte Agency, Curatorial.ro, Aici a Stat, Biz, Romania Pozitivă, Partners: AQUA Carpatica, Sâmburești.
*This is a Press release.
Normal