Lesser Spotted Eagle called Arlie starts long journey from Africa to Romania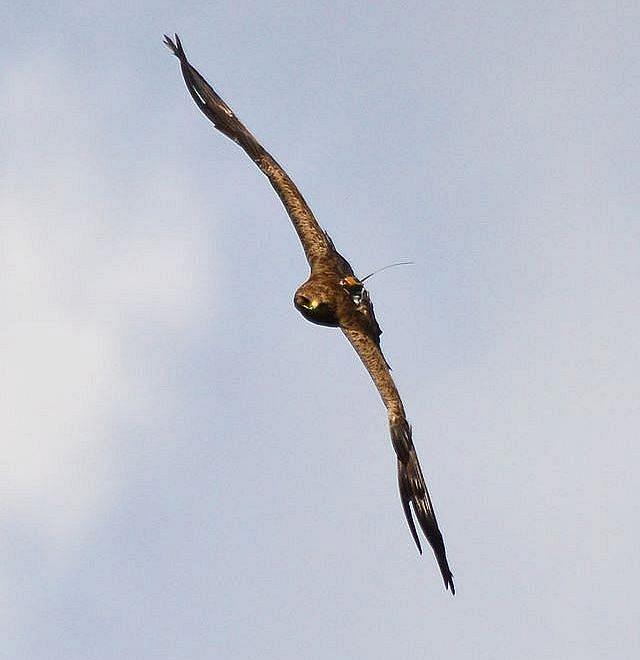 Arlie, a Lesser Spotted Eagle (Aquila pomarina) the Romanian ornithologists have been tracking by satellite, has left its winter home in Africa and is now heading to its nest in Romania.
Arlie began the spring migration on February 11, between 08:00 and 10:00, after spending winter in Namibia. According to the Ornithological Society in Romania, the bird started its long journey back to Romania with a delay of three days this year. In the previous years, Arlie had already left the nest in Africa on February 8.
Arlie will have to travel 12,500 km and pass over three continents and 17 countries to get to its nest in Romania. The eagle will fly over Angola, Zambia, Tanzania, Rwanda, Burundi, Uganda, South Sudan, Ethiopia, Sudan, Egypt, Israel, Syria, Turkey, and Bulgaria.
In the first three days, Arlie has flown about 500 kilometers northeast. Those who want to track the eagle's journey can do it here.
Arlie was captured in 2013 by a team made of specialists from the Romanian Ornithological Society, the Sibiu Regional Agency for Environmental Protection, and Milvus Group. The bird was equipped with a satellite transmitter weighing 45 grams, and then released.
From 2013 to 2016, Arlie, which is a female Lesser Spotted Eagle, had its nest near Berivoi village in Brasov county. Disturbed by forestry work last year, the bird changed its nest.
In 2016, Arlie arrived in Romania on April 2.
Bearded vulture flies over Romania for the first time in 83 years
Rare sighting in Romania: Four flamingos spotted in Tulcea
Irina Popescu, irina.popescu@romania-insider.com
(Photo source: Sor.ro)
Normal