Nature in Făgăraș Mountains: The woodpeckers in Romania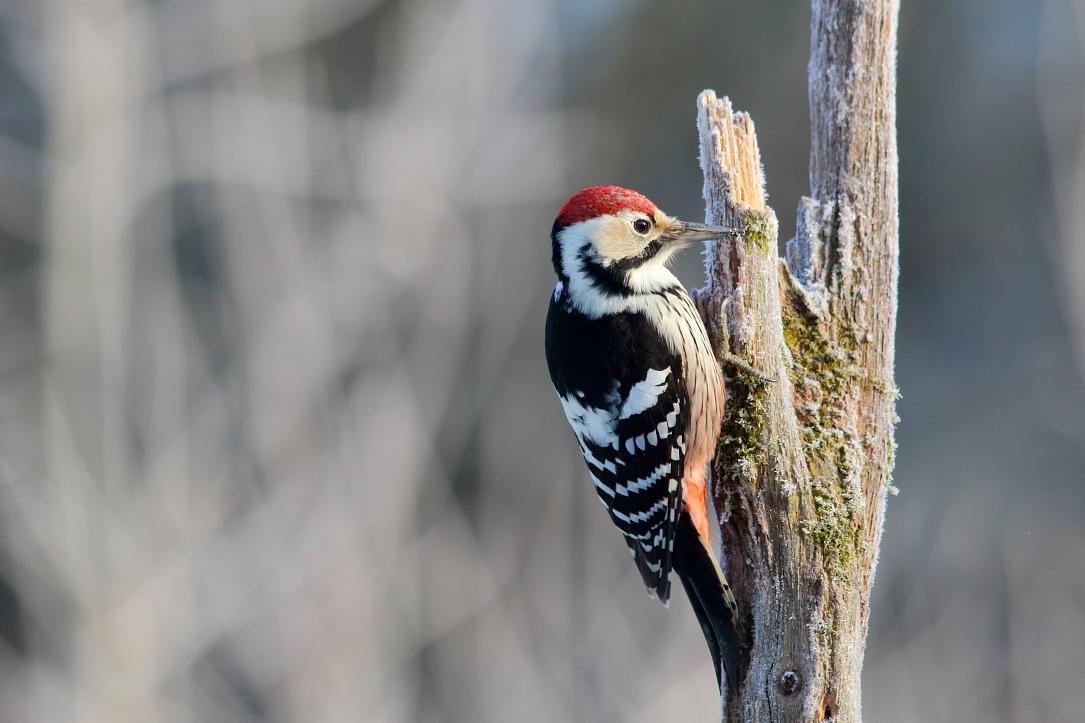 Romania-Insider.com is publishing a series of articles about wildlife in Romania, zooming in on the wild animal and plant species in the Fagaras Mountains area. 

This editorial series

 is sponsored by the Foundation Conservation Carpathia.
The woodpeckers are common birds that can be found almost everywhere in the world, including in Romania, with the exceptions being areas such as Australia, New Zealand, Madagascar, and extreme polar regions. And while most people know them as the birds knocking the trees in search for food, these birds are much more than that.
Woodpeckers are small to medium-sized birds that are mostly found in forests and woodland habitats. This happens because the woodpeckers spend most of their lives in trees, searching for insects – their favorite food - in the trunks and branches of trees.
There are many species of woodpeckers, which range from tiny piculets measuring no more than 7 cm in length and weighing 7 g to large woodpeckers that can be more than 50 cm in length. Their color is also varied, in most cases being based on black or brown, with possible mixes of red, olive and white, and many have a crest or tufted feathers on the crown.
Woodpeckers, piculets, and wrynecks have four toes, with the first and the fourth facing backward and the second and third facing forward. This helps them walk up the tree trunks. However, there are also exceptions, and those are the Black-backed woodpecker and the American and Eurasian three-toed woodpeckers, which have only three toes on each foot.
As many would expect, these birds have strong beaks for their most common activity - drilling and drumming on trees, and long sticky tongues for extracting the insects. Also, to prevent brain damage from the rapid and repeated drumming on trees, woodpeckers have several physical features that keep their brains safe, such as a small and smooth brain and little cerebrospinal fluid surrounding it to prevent it from moving back and forth inside the skull during pecking. Also, their skull consists of strong but compressible sponge-like bone, which is mostly concentrated in the forehead and the back of the skull.
Woodpeckers nest in cavities, usually in the trunks and branches of trees. However, there have been cases of woodpeckers excavating nest holes in residential and commercial structures or wooden utility poles. And while the woodpeckers and piculets excavate their own nests, the wryneck prefers to "recycle," using the wholes made by other woodpeckers.
Ten of the 11 woodpecker species living in Europe can be found in Romania. More specifically, Romania is home to nine true woodpecker species and one that is included in the woodpecker family but is a species of wryneck (picture below). This one is also the only migratory woodpecker in Romania, the other nine living in Romania year-round. The explanation for why these nine woodpecker species don't migrate is that they basically live off insects that are in the trees' trunks, which they also find in winter, and so there's no necessity for them to leave the area.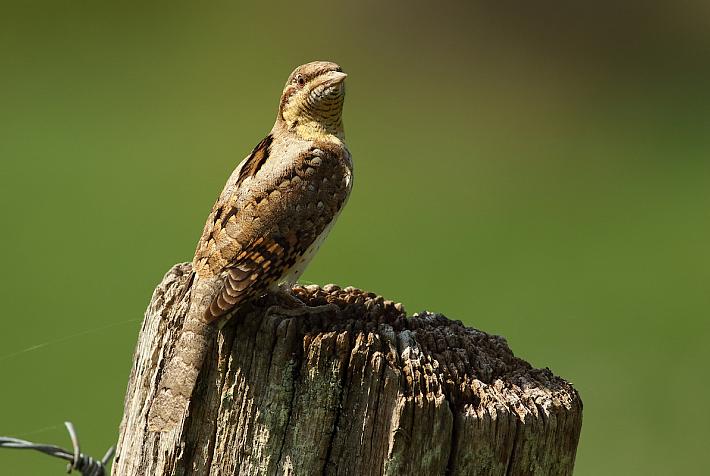 The ten woodpecker species living in Romania are the Grey-headed woodpecker, the European green woodpecker, the White-backed woodpecker (opening picture), the Syrian woodpecker, the Middle spotted woodpecker, Lesser spotted woodpecker, the Great spotted woodpecker, the Black woodpecker, the Eurasian three-toed woodpecker, and the Eurasian wryneck. And although they do have some common features and behaviors, they have their specific habitats.
The Syrian woodpecker is mainly living in the villages, around the houses, in trees along the creeks that go through the villages. And it really likes this open landscape and the villages. But there are woodpeckers that are very general, which can live almost everywhere, such as the Great spotted woodpecker, which lives in parks, in forests, basically everywhere where there are trees.
And then there are also the ones that are more specialized, such as the Eurasian three-toed woodpeckers, which go up to the subalpine spruce forest, they're very much linked to this type of forest. Another specialized species is the White-backed woodpecker, which needs a lot of dead wood, in areas such as the beech forests. However, they are not necessarily linked to beech forests but to very natural forests.
And then there is the big Black woodpecker (picture below) - the biggest one of all, with a very different call, which makes it quite easy to identify it. These birds also need big old trees where they can make their nests in. So the areas where there is intact forestry but no more old trees are not good places for the Black woodpecker.  But in most parts of the Carpathians where the Black woodpecker lives, they are still abundant.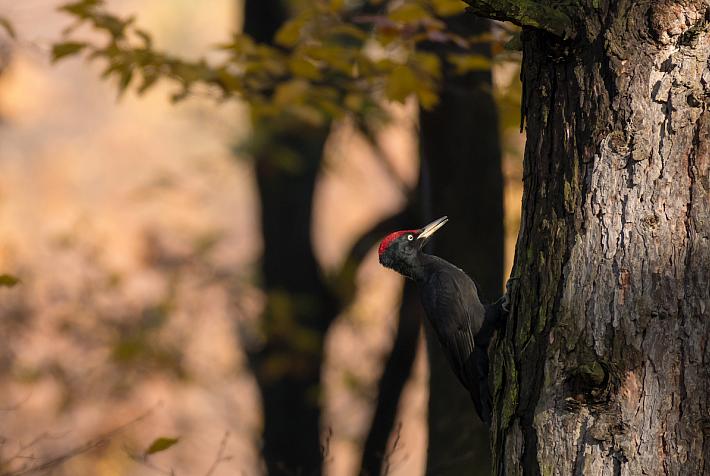 One good thing for woodpeckers is that there are no natural predators that focus specifically on them. Of course, wild cats could try to catch one once in a while, but becoming a pray for predators is not a real threat for these birds.
However, there is a real problem for them, and that is habitat loss (caused by deforestation or forest management), especially for those who are specialized such as the White-backed woodpecker or the Eurasian three-toed woodpecker and the Black woodpecker. For example, in Central Europe, the White-backed woodpecker is under very heavy pressure simply because the forestry always cleans out all the dead wood and these birds need dead beech trees of about 50-60 cm diameter. If a specific area changes from beech forest to spruce forest or all the dead trees are taken out, then the White-backed woodpeckers have a real problem.
Another interesting thing is that the drumming sound they make when pecking on a tree is not only a sound they're making when eating but also a way of non-vocal communication. They use this way of communication especially in springtime, when they mark their territories. But they also do it when they want to attract females, and every species makes a different sound. In Romania, for example, those taking a walk through the oak pasture in Transylvania (where the old oaks are) in April can hear the woodpeckers knocking on trees.
However, they're also communicating by voice, and again every species has a different call. For example, the Black woodpecker has two different calls – there is one when he's sitting on a tree and another one when he's flying.  And so do the other woodpeckers. An interesting thing to do is to look up the woodpeckers' calls on the Internet and then try to identify them when you hear them outside, especially in spring.
Another important thing is that, in addition to being a main characteristic of woodpeckers, this pecking on the trees' trunks and branches to look for insects is actually a quite useful service, as the woodpeckers also eat the insect pests, keeping the trees healthy.
Sources:
Wikipedia – Woodpecker
Timponline.ro – "Curiozitati de Ziua Pasarilor. In Parcul Muntii Rodnei traiesc zece specii de ciocanitoare
Christoph Promberger, Foundation Conservation Carpathia
Britannica.com - Woodpecker
(Opening photo: Shutterstock.com)
This article is part of the "Nature in the Făgăraș Mountains" editorial series, currently sponsored by Foundation Conservation Carpathia.
Normal