14 green startups to develop solutions within AmCham Sustainability Competition in Romania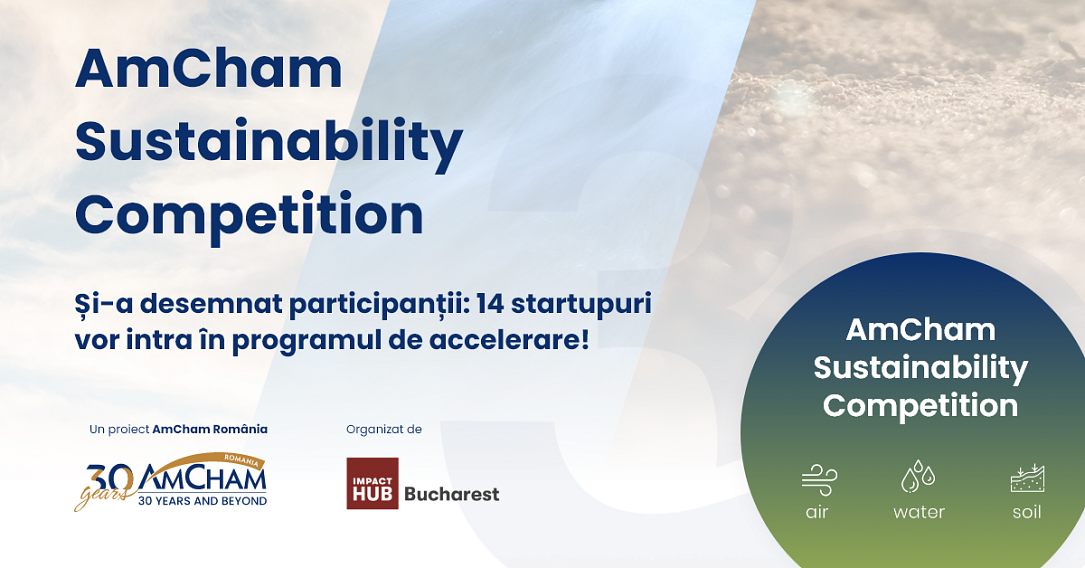 The AmCham Sustainability Competition, a program that brings together members of the American Chamber of Commerce in Romania and startups aiming to find solutions to specific challenges in the circularity and sustainability domain, has identified its participants: 14 green startups will enter a solution development program.
The AmCham Sustainability Competition is organized by the American Chamber of Commerce in Romania and Impact Hub Bucharest.
During June-July, 63 green startups submitted solutions for the AmCham Sustainability Competition in response to three pressing challenges affecting water, air, and soil. At the end of the three-month acceleration period, the companies that proposed the challenges can choose to continue working with the winning startups from the AmCham Sustainability Competition to further develop and implement their solutions.
"The concern for a sustainable future is part of the common values of AmCham members, and we are delighted that through the AmCham Sustainability Competition, we can encourage and help startups transform innovative ideas into practical solutions," emphasized Alina Orban, a member of the Board of Directors of AmCham Romania.
Among the startups, Acumen Manifesto, CarbonCel, Carbon Smart, DigIT, and Rodagria Produce Coop. Agricola will tackle the impact of adopting regenerative farming practices; Adaptola, Carbon Entropy, ECONOS, 3E Enterprise, 0C, SIGAD will look into measuring and reducing the carbon footprint of SMEs; while Archnite Technologies, Kolecto, and PolyMore will seek to develop solutions for waste recycling.
"We noted increased interest in two of the challenges addressed by the AmCham Sustainability Competition, converging into a topic on everyone's lips: impact measurement. Whether we are talking about measuring the impact on biodiversity in regenerative agriculture (here we think of agrifood, a sector that has gained momentum recently in Romania and is one of the topics on which we have focused our activity in recent years at Impact Hub Bucharest) or measuring the environmental impact for SMEs, a subject of utmost importance, given the European regulations that will come into effect from 2024 and which attract many green innovators," said Vlad Craioveanu, CEO, and Co-founder of Impact Hub Bucharest.
In the next three months, trainers will organize workshops covering topics such as product development, marketing strategy, negotiation, pitching, and sales, providing the chosen startups with the opportunity to develop their proposed solutions. They will validate these solutions alongside the organizations that proposed the challenges, ultimately contributing to the development of sustainable solutions for the environment.
The 14 participating startups will have the opportunity to present their solution during the AmCham Thanksgiving Day Event, which concludes the series of events dedicated to the 30th anniversary of the American Chamber of Commerce in Romania. During this event, marking the end of the AmCham Sustainability Competition program, a single winning solution will be announced for each of the three challenges in the program.
radu@romania-insider.com
(Photo source: AmCham)
Normal