Romanian film review – A family feast: The Anniversary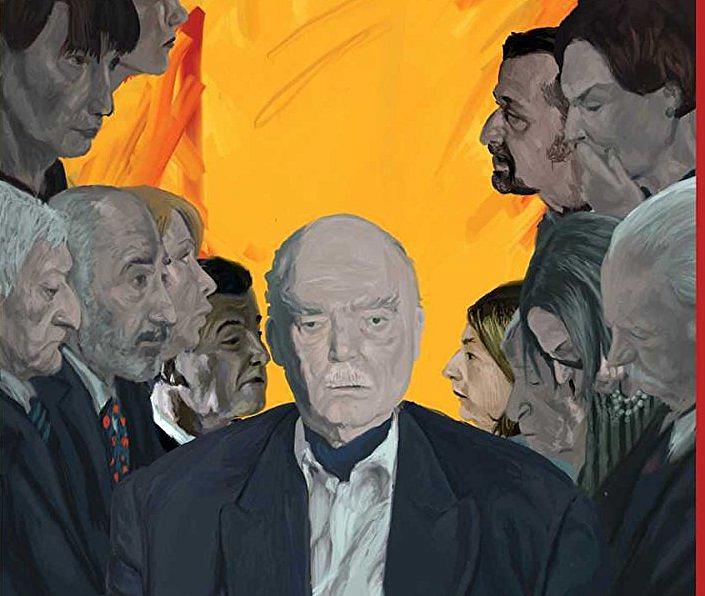 If  the latest Romanian film about a family reunion which goes hilariously wrong seems very familiar, you are right. Anyone who has seen Cristi Puiu's last year's masterful Sieranevada will wonder why any distributor would launch a film less than a year later with a very similar set-up (down to absolutely identical details), especially since Puiu's film has been wildly successful, both with critics and audiences.
I caught Dan Chișu's The Anniversary/Aniversarea at TIFF this year when it premiered and this seemed to be the first thought on everybody's mind. I comes too soon after Puiu's film so that might be the overall irritation, or it is simply that any film from now on dealing with a similar theme will be compared to Sieranevada (which is tough by the way, because stories of family reunions blowing up are a classic, and stories of people screaming at each other over stuffed cabbage rolls in crammed kitchens are a Romanian classic), and it must feel unfair for The Anniversary, not just because due to its release date (presumably not the best marketing decision) the comparison is simply unavoidable. It is also unfair because The Anniversary, while not reaching the level of Puiu's perfection, is a film which deserves a fair chance and has plenty of good moments going for it.
The Anniversary premiered recently and will be screened in theatres across the country, so you can judge for yourselves. It is about the 94th anniversary of family head Radu Maligan, a man who used to be highly influential in past times (i.e. before the fall of Communism in 1989) and who is now a frail, sick old figure. As he cannot speak anymore, he is an observer of the whole fuss around him, and what a fuss it is. Part of the family thinks he should finally confess (I won't spoil it and say to what, but it's not that hard to guess), in a way not only to relieve himself, but also his family, who profited from his power, and reflect on it more critically in the present. Others think he should not be forced if he doesn't want to. What happens next is quite funny, because they are not sure which church he belongs to, so a Catholic and an Orthodox priest are summed, and their dialogue while waiting for the 'intervention' is the film's most entertaining part. The family are starting to argue around this main subject, also exposing themselves, their failures, regrets, and potential attempts at personal redemption. Basically everyone has secrets and frustrations which blow up, and when the eager teenager starts filming the family dinner for which friends and former colleagues of Maligan also show up, it makes for a (admittedly only from the outside) hilariously neurotic shoot.
The films has a slightly lethargic pace, and a sanitised look, starting with the immaculately arranged flat. This fits however the idea of a bourgeois facade crumbling, and the overall solid acting keeps the audience engaged. It also goes goes to its credit that is treats its topics with utmost seriousness, not always with subtlety and with occasionally puzzling choices in regard to their perfect similarity to Puiu's film (the drug-abusing teenager is not the best idea), but with an earnest take on family, responsibility, political and generational changes.
You can check out cities, cinemas and running times at cinemagia.ro.
By Ioana Moldovan, columnist, [email protected]
Normal