Discover Romania: The pyramids of Sona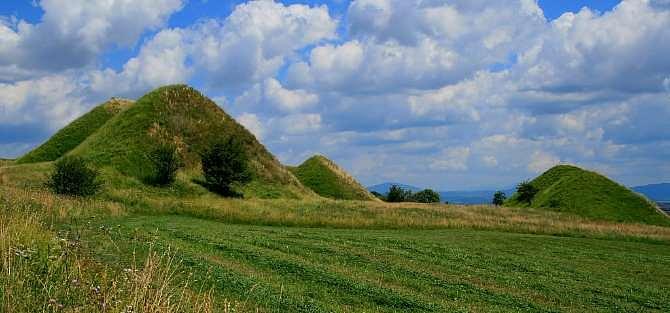 Eight huge piles of mud aligned in two rows create a unique and interesting view in Sona village, Brasov County. They are called the pyramids of Sona.
The Sona village was founded over 700 years ago by German colonists sasi. It's a small village full of mystery and legends, of which not many people know. It is situated on the right side of the Olt river, near the city of Fagaras, Transylvania region.
The pyramids are huge piles of mud, up to 30-meter high, that seem to come out of nowhere. They are arranged in two rows, lined up based on their size.
Locals call them guruieti and believe they were raised by giants. The legend says that many years ago, this land was ruled by a princess named Sona. One day her kingdom was attacked by some giants who came over the Fagaras mountains. The giants have gone through the water of Olt river, and when they arrived in this place they shook the mud from their feet and created these mounds. Another legend says that they date back from Dacian times and that treasures were buried inside them.
Some historians believe that they are graves of Celtic barbarians.
Villagers say that strange things are also happening in this area.  For example, meat won't rot even if it's left in the area for days while water will stay fresh and even become curative.
However, nobody really managed to unravel the pyramids' mystery.
Sona is located at some 250 km from Bucharest, and 74 km from Brasov. Although less promoted by local authorities, this place is worth visiting.
Irina Popescu, irina.popescu@romania-insider.com
(photo source: locuriinteresantedinromania.wordpress.com)
Normal