Discover Romania: The fairytale - like Ochiul Beiului Lake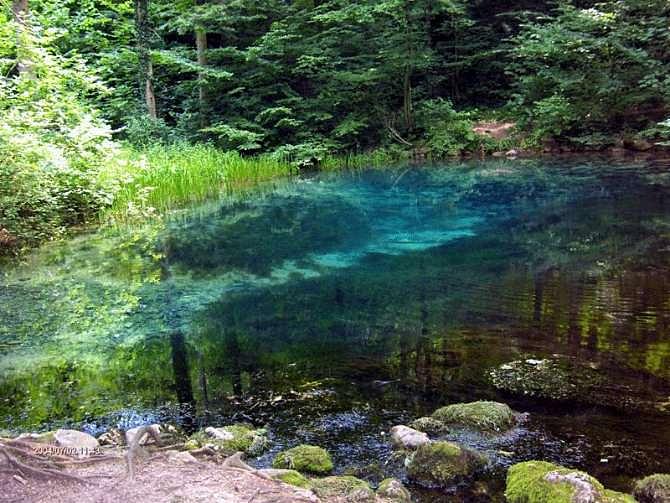 Imagine a lake with water so clear, you can see the fish swimming. Or one that looks like it's take from a fairy tale. Such a lake exists in Romania, and is called Ochiul Beiului (translated as the Bey's Eye).
It is one of Romania's most beautiful lakes, surrounded by a green forest, in a wild area of Caras-Severin county, in South - Western Romania. The lake is located in the Cheile Nerei -Beusnita Natural Park, and is one of the main tourist attraction of the area.
The most interesting thing about the 3.6-meter deep lake is that its water doesn't freeze even at extremely low temperatures during winter, because of the spring that permanently feeds the lake with water. The lake's water has a special blue-green color- so clear that you can see the fish swimming.
This lake that looks like it's been taken out of a fairytale also inspired several legends. One of them is a love story that ended tragically. The legend says that the son of a famous bey (name for Turkish leader)  in the area fell in love with a shepherd's daughter. The bey didn't agree with their love, so he decided to kill the young girl. Full of sadness and sorrow, the bey's son shed so many tears that he filled this lake that today bears his name and has the color of his eyes. Overwhelmed by pain and fury, the young boy also decided to take his life.
It is also said that the bey's son has turned into the Ochiul Beiului lake, and the young girl turned into Beusnita river.
Another legend says that on the night of Sanziene – the midsummer celebration in Romania, fairies gather around the lake, dancing and bathing. They also bewitch men with their charm.
The only way you can access this lake is by foot, through the forest.
The Cheile Nerei – Beusnita National Park is located in the south of Aninei Mountains, Caras-Severin county. While there, you may also want to see some of its other touristic attractions, such as Beusnita, Bigar and Susara waterfalls, and Dracului Lake (the Devil's Lake).
Irina Popescu, irina.popescu@romania-insider.com
(photo source: cheilenereibeusnita.ro)
Normal