News from Companies
Collegio, the first Academy of Modern Communication, has been launched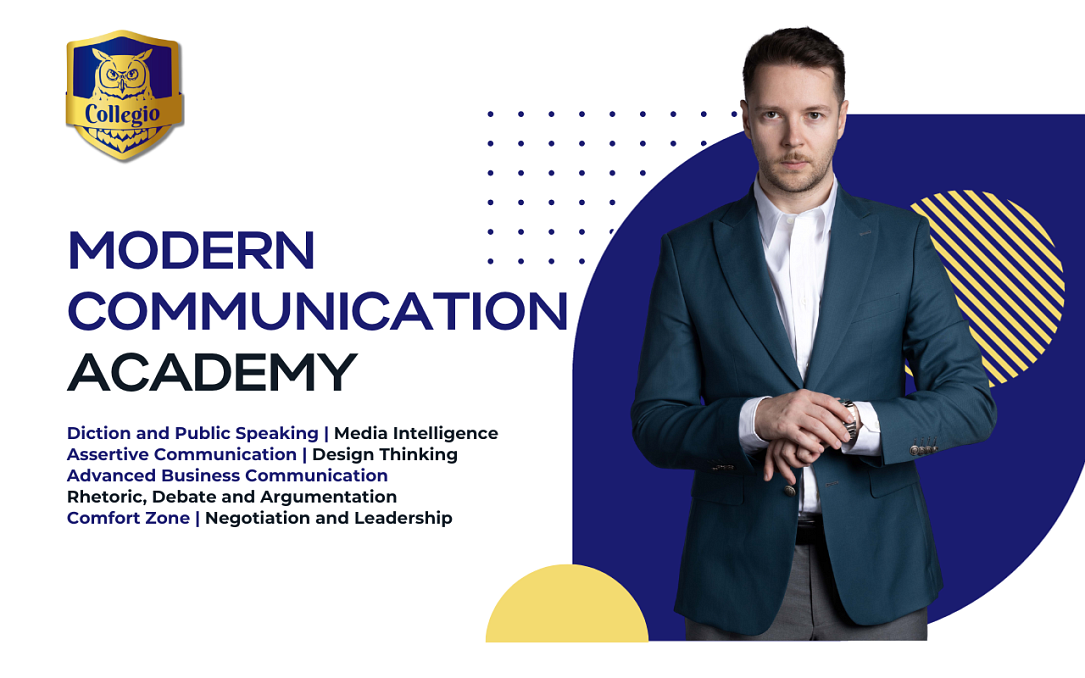 A camera pointed at you, an audience of 30,000 people, a coffee stain on your trousers right before a presentation, or a sudden change just before the big meeting. How would you handle these situations?
8 out of 10 people fear public speaking, making glossophobia one of the most commonly reported phobias worldwide, surpassing arachnophobia or the fear of flying.
Communication is one of the most critical skills for managers, entrepreneurs, and professionals. However, few know that over 50% of communication is represented by how we appear and what we express through aspects like looks and gestures. The words we use are only a tiny part of communication and are strongly influenced by the way we speak, including speech rhythm, breathing, intonations, and voice volume.
In the era of digital communication 4.0, with constant connectivity, communication must be adapted to the new reality. Online and offline behaviour can determine success or failure in interaction and shape one's reputation.
Collegio, the First Academy of Modern Communication
In this context, Collegio introduced a development program for modern communication skills structured as a journey of holistic growth. Participants can develop every facet of communication with proven results. The Collegio program offers an integrated curriculum consisting of intensive, complementary, and interdependent courses that enhance all the skills needed for exceptional public speaking in any context.
Collegio goes beyond traditional presentation skills and public speaking courses, designed to combine theory (30%) with practice (70%) to equip participants with the tools for success in business and careers through a 9-subjects intensive program: Diction and Public Speaking, Media Intelligence, Advanced Business Communication, Rhetoric, Debate and Argumentation, Design Thinking, Comfort Zone, Assertive Communication, Negotiation, and Leadership.
Studies show that 90% of the anxiety people feel before giving a presentation comes from a lack of preparation. Collegio changes the framework for delivering a speech: from diction to interacting with the media, captivating graphic presentations, persuasive, assertive, innovative communication, and critical thinking, to stepping out of the (dis)comfort zone. Collegio equips students with the skills and knowledge that lead to more harmonious and lasting interpersonal relationships and success in business and personal life.
"Romania is at the bottom of the European LongLife-learning ranking, meaning Romanians stop learning after completing a form of education. Collegio aims to change this and build a bridge between formal university education, non-formal and informal teaching methods learned through years of experience in business by the program's mentors. We started with the premise that, in addition to 'hard skills', the modern communicator, entrepreneur, manager, and professional need a diverse set of skills that extend beyond traditional 'soft skills', cultivating the ability to collaborate, influence, and contribute with relevant ideas and solutions in different environments. Collegio's mentors' students work in major corporations and important state institutions or are successful entrepreneurs. The topics addressed in the Academy of Modern Communication are relevant and updated according to the reality we live in, and the mentors we collaborate with make such a top program possible, unique in the course market in Romania." – Mihai Crăciun (in opening picture), Founder and Manager of Collegio.
Who are the mentors?
Collegio's mentors are professionals from the media, business, and academic fields with solid national and international careers covering many domains. Mihai Crăciun, a radio and television personality and a trainer with 10 years of experience in Public Speaking and diction, founded Collegio after the English diction program - PeterPiper.ro. Mihai Crăciun has gathered around him professionals with extensive experience, such as Carmen Ivanov, Founder of Dictie.ro, Ion Alexandru, Editor-in-Chief of Eurosport.ro, Sorin Anagnoste, Associate Professor at the Faculty of Business Administration, teaching in foreign languages, former manager at Big 4, Cătălina Chinie, Associate Professor at the Faculty of Business Administration, teaching in foreign languages, Project Manager in one of the largest consulting companies in Romania, Andreea Răceanu, Associate Professor at the Faculty of Communication and Public Relations, SNSPA, and Bianca Savu, Associate Professor at the Faculty of Philosophy, University of Bucharest, and a teacher at the European School.
The Collegio program is delivered by 7 mentors and their guests from various industries. It takes place from February 3 to May 19, 2024, over 7 weekends with 12 interactive hours and breaks in a hybrid format, both online and in-person, at Hotel Cișmigiu. Registrations are open until January 31, 2024, via email at hello@collegio.ro or on the website - www.collegio.ro.
With extensive experience in TV and radio, Mihai Crăciun is a communication specialist and one of the most highly regarded diction teachers in Romania. In his 10 years of work in the media industry, Mihai has collaborated with radio stations (Guerrilla, Gold FM, Tanănana, Kiss FM, Rock FM, Magic FM) and television channels (PRO TV, Prima Sport, Orange Sport). He has successfully trained over 10,000 professionals from various fields, quickly recognizing their deficient diction and improving their ability to speak with freedom. His expertise is nationally recognized, collaborating with several state and private companies. Mihai is also a sports analyst and commentator and hosts the "Luni Seara" podcast on the "Crăciun tot anul" YouTube channel. With a degree in Marketing, Mihai Crăciun has completed two Master's programs: Communication and PR at SNSPA and Philosophy and Critical Thinking at the University of Bucharest.
*This is a Press Release.
Normal