From Bali to Timișoara: How the pandemic pushed Ni Putu Ayu to build a unique, rich-in-flavor Indonesian restaurant in Romania​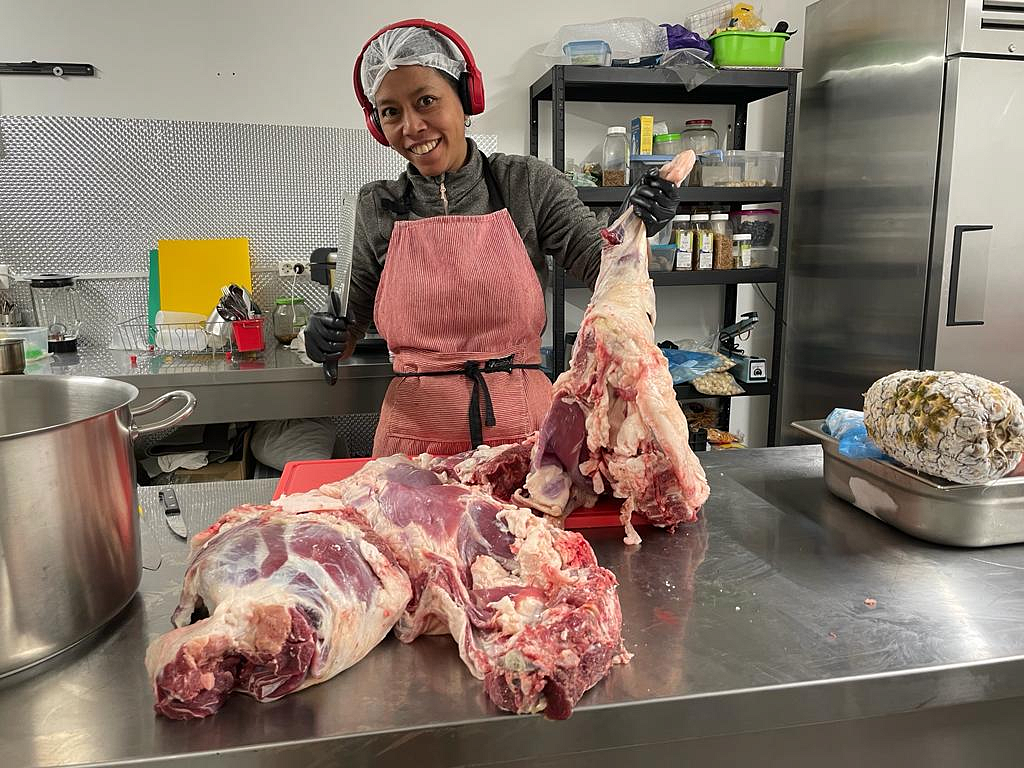 After the Covid-19 pandemic brought Ni Putu Ayu Febriyanti and her husband back to Romania, she opened an Indonesian restaurant, where she cooks using ingredients from her home country and recipes learnt from her family.
Seven years ago, Ni Putu Ayu Febriyanti married her Romanian husband, Dragoş Dubina. Originally from Bali but raised in the region of Lombok, Indonesia, she had worked in the hospitality sector long before coming to Romania while her husband took a diving instructor job in the so-called "Bali's sister island."
Located in Southeast Asia, the archipelagic nation is home to over 18,000 islands where 275 million culturally-diverse people from 1,340 ethnic groups reside. A touristic heaven, the country boasts unique animals, tropical rainforests, exotic beaches, astonishing temples with rich history, and more. 
Things, however, changed when the Covid-19 pandemic battered the world's economy, leaving Ni Putu and her husband with no choice but to retreat to Romania in May of last year after the industry there suffered a heavy fall.
"We used to have a business on Gili Trawangan island in Indonesia, but because of the pandemic, our business went bankrupt," she explains. 
She opened Taste of Bali, an Indonesian restaurant on 26 Gheorghe Lazăr St. in Timișoara. In her words, it's "special because I cook with special ingredients from my home country and with generations-old recipes that I know from my mom."
With not that many Indonesian-specialized restaurants in the Romanian HoReCa market, Ni Putu saw a significant opportunity to introduce her culinary culture.  
"On average, the Asian food here is Chinese-based, mostly using soya, oyster sauce, but rarely really like in Indonesia, which uses shrimp paste, turmeric, kencur (aromatic ginger), galangal, and all those Southeast Asian condiments. That's rare," she says. 
"So, I think the opportunity is there, even though not many people here know about our food. I think it's interesting because it tastes milder than, for example, India, which people here think is a bit too harsh for their taste. Being an Indonesian, this is also all I know best," she continues. 
In his turn, Dragoş arrived in the archipelago nation back in 2009 for a holiday and returned a year later through a cultural scholarship offered by the Indonesian government at Mataram University. He began taking a language course there, and while the initial scholarship program lasted for a year, he was able to extend it for another year. 
Life, however, has been quite a tumultuous ride for the pair. Being a country that lies on the Pacific "Ring of Fire," Indonesia is prone to natural disasters. It is a place where earthquakes, volcano eruptions, tsunamis, landslides, and floods occur frequently. One of them was a 7.8-magnitude earthquake that leveled their bungalow resort a few months after it was opened.
Upon his return to Romania, he was fully supportive of his wife's business, although the road to Taste of Bali hasn't been an easy one, either. Struggling to pay the monthly rent for the place, they were once conned by their partner not too long after starting but backed off from reporting to the authorities after learning about its inefficiency - a "tragicomedy," in Dragoş's own words. 
"In Indonesia, it's much easier, smooth, and lucrative. In Romania, the regulations, which for the most part benefit neither the consumers nor the restaurants, push towards fast food instead of homemade-like food, and sneaky marketing instead of quality content," he says. 
"When we started in Indonesia, we focused mainly on finding staff capable of providing good service. In Romania, we had to focus mainly on complying with regulations. We feel frustrated we haven't yet had the opportunity to use much of our knowledge and connection with Indonesia, being stuck with petty administrative things. We wasted time and money with paperwork and authorizations, which have nothing to do with the quality of services or with the market requirements," he explains. 
Inside the Taste of Bali's kitchen, finding unique condiments for unique cuisine requires endless effort, too. The pandemic, inflation, the Hong Kong crisis, and the Black Sea situation have punched their business from left and right. In addition, it would take them months to bring kitchen staff from Indonesia, the country from where the food hails. At the same time, the self-sufficient Romanian bureaucracy would cost them a couple of months of uncertainty. 
"The nice part, which encourages us to pursue it, is that there seems to be a growing market in Timișoara for specialty restaurants and good food. The feedback from our customers keeps our morale up," he says. 
In the future, Ni Ayu and Dragoş hope to turn Taste of Bali into a cultural hub, not just a mere restaurant, where the small but growing Indonesian community living in Timișoara and those who have been or are interested in traveling to Indonesia are able to dine in a venue with an Indonesian-like mood. 
"The first step is to make it financially self-sustainable, which involves bringing a few cookers from Indonesia. In 4-5 months, we should be able to achieve this," he hopes.
(Photo: Taste of Bali)
Normal