News from Companies
Techsylvania 2023: Uniting Visionaries, Innovators, and Industry Leaders in the Heart of Transylvania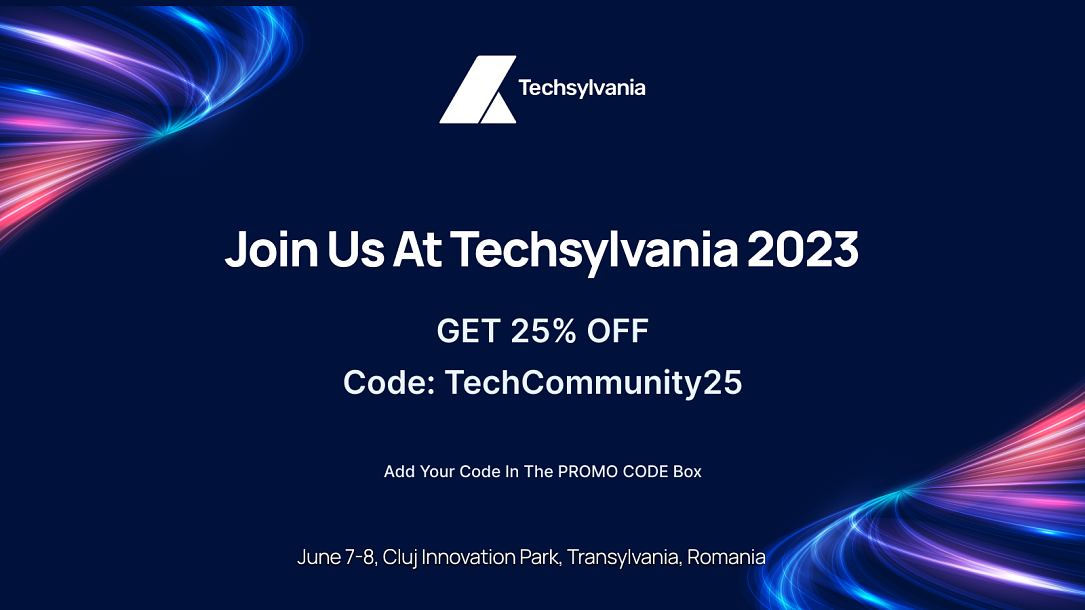 Techsylvania, the premier technology conference, is set to return for its highly anticipated 2023 edition. From 7 to 8th of June, the event will bring together the brightest minds in the tech industry for a captivating and transformative experience. This year's conference will feature a wide range of topics, B2B matchmaking opportunities, and an exciting Start-up Alley, making it a must-attend event for professionals, entrepreneurs, and investors alike.
Topics That Shape the Future
Techsylvania 2023 will showcase an impressive lineup of speakers, each addressing crucial topics that shape the future of technology and business. Attendees will have the unique opportunity to gain insights from industry leaders, entrepreneurs, and visionaries who have made a significant impact in their respective fields. Here are just a few of the highly anticipated sessions:
Mark Porter (MongoDB) - Bits to Bytes: Forging a Successful Career in Tech
Al Doan (Missouri Star Quilt Company) - How I Built a $100M Quilting Business and Bought a Town
Scott Chacon (GitButler) - The Future of Programming in an AI-Powered World
Slava Rubin (Indiegogo & Humbition) - Getting Past 93 VC Rejections
Prince Constantijn van Oranje (Techleap.nl) - Deep Tech, Sustainability, and Diversity: Insights from the Netherlands Ecosystem
Vinny Pujji (Left Lane Capital) - Scaling and Fundraising for Marketplace, Consumer, and SMB Software Companies in a Downturn
Qasar Younis (Applied Intuition) - From Y Combinator to Unicorn: Lessons in Building a High-Growth Startup
Tijana Kovacevic (Happening) - Keeping Your Startup Heart While Scaling Up
Donald Sumbry (Upbound) - Unleashing the Power of AI: How Engineering Managers Can 10X Their Performance with ChatGPT
B2B Matchmaking Opportunities and Networking
Techsylvania 2023 offers unparalleled opportunities for B2B matchmaking and networking. Attendees will have the chance to meet and connect with like-minded professionals, startups, and potential investors. Whether you are looking to pitch your own ideas, explore collaboration possibilities, or find your next business venture, the dedicated networking area is designed to facilitate meaningful connections. Participants will also benefit from free access to the B2B matchmaking area for two days, fostering an environment of innovation and collaboration. Remember, at Techsylvania, talking is just as important as listening.
Start-up Alley: Showcasing the Future of Innovation
Techsylvania's Start-up Alley is a vibrant hub where groundbreaking ideas and disruptive startups take center stage. This dedicated space provides early-stage companies with a platform to showcase their innovative products and services to a highly engaged audience. Entrepreneurs will have the opportunity to connect with potential investors, partners, and mentors, fostering growth and attracting valuable resources to fuel their journey.
Join Techsylvania 2023
Techsylvania 2023 promises to be an exceptional event, uniting visionaries, innovators, and industry leaders from around the globe. Don't miss out on the chance to immerse yourself in cutting-edge discussions, forge valuable connections, and witness the future unfold.
Take advantage of our limited-time offer and purchase conference tickets at a special price through the Techsylvania website before June 4th using the promotional code TECHCOMMUNITY25. This exclusive code unlocks a 25% discount on Premium and Builder tickets, allowing you to experience the conference in style and gain access to all the exclusive perks and benefits. Don't miss out on this opportunity to save big and join us at the premier tech event of the year!
At this edition, the organizing team has an incredible lineup of partners supporting their cause. Among them are two heavyweights of the tech world: UniCredit Bank and Google.
`We are delighted to be partners of Techsylvania, an event where we can find inspiration and ideas for the innovations of tomorrow. At UniCredit, our objective is to be a truly digital bank, fueled by data and new technological solutions in every endeavor we undertake. We promote the digitalization of our services and innovation, with the ambition to become a top player in the digital banking sector in Romania. We have made significant progress in this regard, offering our customers numerous innovative digital products and services, and these values will continue to be the key drivers of our growth in the future.` - Anca Ungureanu, Director of Identity and Communication at UniCredit Bank.
`On behalf of Google, a big thank you to Techsylvania for driving innovation and creating so much inspiration by bringing together amazing speakers and professionals. Moreover, thanks to all the partners and participants for supporting this type of initiative that contributes to brining more awareness about the future of technology and how everyone can benefit from it.`- Dan Oros, Head Of Marketing @ Google in Romania | Strategy & Ops in CEE
Additionally, Techsylvania has an impressive list of supporters of innovation and technology that includes: Happening, MassMutual, Betfair Romania Development, METRO.digital, NTT Data, Turkish Airlines, Telenav, Blu Capital Partners, Druid AI, Salt&Pepper, Endeavor, Laurentiu, Laurentiu & Asociatii, Cluj-Napoca City Hall and Cluj County Council.
Romania Insider is a media partner of this event.
Techsylvania is the largest technology growth platform in Romania and a leading technology and business event in Eastern Europe. Specialists from around the world discuss revolutionary ideas in a space that facilitates valuable interactions between large companies in Romania, entrepreneurs, startups, and investment funds. The event was created in 2014 by Oana Petruș and Vlad Ciurcă. Over the last 10 years, Techsylvania has brought together over 20,000 technology and business enthusiasts in Cluj.
More information and updates can be found here: https://techsylvania.com/ | IG: @techsylvania | Twitter: @techsylvania
*This is a Press Release.
Normal