Romania's local elections: Social-democrats win by wide margin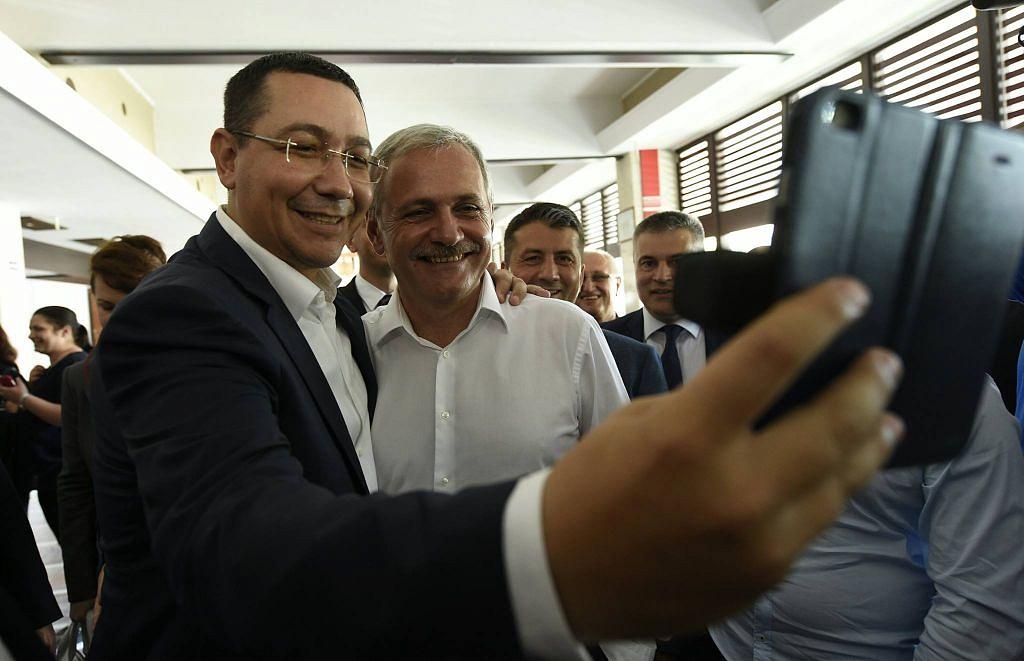 Romania's Social Democratic Party (PSD) emerged the great victor of this year's local elections in Romania, six months after the PSD Government led by Victor Ponta was forced to resign due to protests in Bucharest and other big cities following the Colectiv club tragedy.
Former Prime Minister Victor Ponta (left) was sent to court by Romania's National Anticorruption Directorate (DNA), in Septemebr 2015, on charges of forgery, complicity to tax evasion, and money laundering. PSD leader Liviu Dragnea (right) was sentenced to two years probation, in April this year, for electoral fraud at the 2012 referendum. However, they still have a wide popular support in Romania.
PSD won well over 40% of the votes for city mayors (44%) and local councils (42%), according to the first preliminary results presented by Romania's Central Electoral Bureau (BEC) on Monday morning. Together with their allies, former Prime Minister Calin Popescu Tariceanu's Liberal Democratic Alliance (ALDE) and the National Union for Romania's Progress (UNPR), the social-democrats have taken over 50% of the votes cast in the local elections on Sunday.
Moreover, PSD got a total victory in Romania's capital Bucharest, winning the Bucharest mayor seat and the six district mayor positions, as well as the highest number of votes in the local councils. This is PSD's best result in Bucharest ever, as the capital has always been an anti-PSD fief, although the social-democrats have had some district mayors over time and a former social-democrat, Sorin Oprescu, was elected Bucharest's mayor in 2008.
Gabriela Firea, a former TV presenter, currently PSD's spokeswoman, won the Bucharest mayor seat by a wide margin. She got over 43% of the Bucharester's votes, according to the first preliminary results. Her main opponents was activist Nicusor Dan, who took 29% of the votes and managed to pull his newly established party, Save Bucharest Union (USB), to second place in Bucharest's General Council, with 24% of the votes, ahead of the National Liberal Party (PNL).
PNL, the country's second-biggest party, had a disappointing result in Bucharest. Their candidate, former justice minister Catalin Predoiu, only got 11% of the votes, while PNL got 13% of the votes in the General Council.
Despite the poor results in Bucharest, PNL did better at a national level. The liberals got about a third of the votes for mayors and local councils. Some of their best results were in the bigger cities in western Romania, such as Cluj-Napoca, Timisoara, and Oradea.
Even so, the liberals' performance was disappointing, given that one year ago they were ahead of PSD in the polls, after Klau Iohannis win in the presidential elections, in November 2014. This comes to show that Iohannis and PNL have disappointed their voters, many of whom didn't even go to the polls on Sunday. The turnout in the local elections was 48%, down from 64% in the second round of the presidential elections, in November 2014.
In Bucharest, only a third of the people registered on the voters' lists went to vote, the lowest turnout since 1989.
Former President Traian Basescu's Popular Movement Party (PMP) got a score between 3% and 4%, lower than the Magyar Democratic Union (UDMR), which comes to show that his popularity has reached new lows.
Romanian mathematician and activist takes his party to next level after good result in the Bucharest local elections
editor@romania-insider.com
(Photo source: Liviu Dragnea on Facebook)
Normal