Romanian and Ukrainian prime ministers discuss transit of cereals, minority rights in Bucharest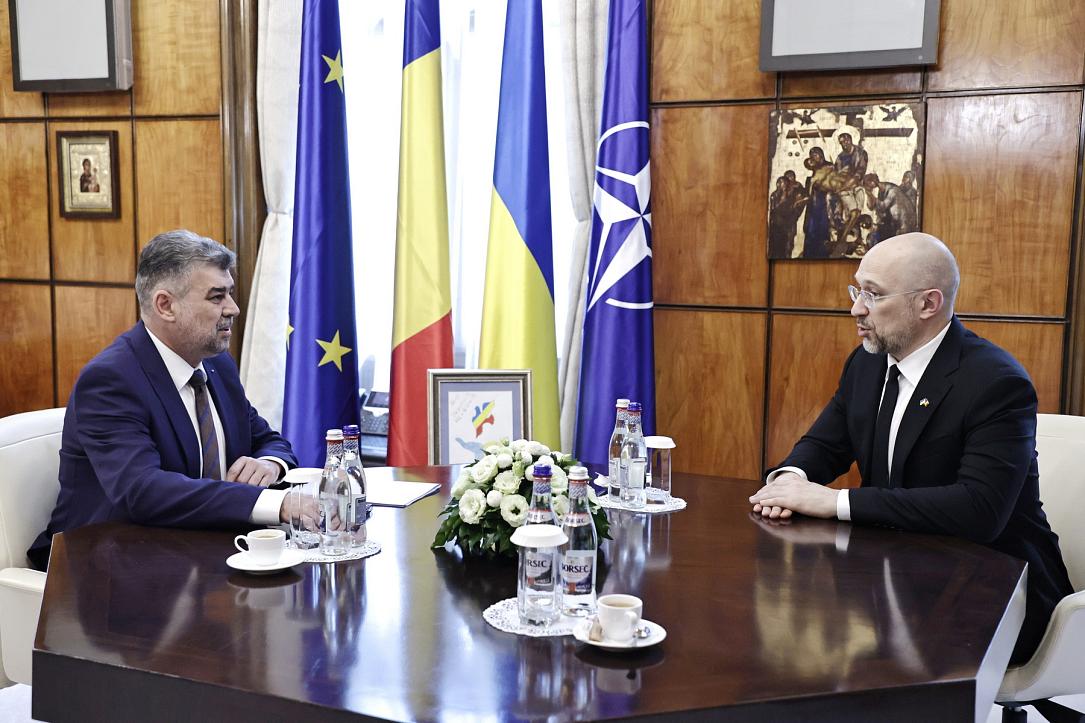 Romanian prime minister Marcel Ciolacu met with Ukrainian counterpart Denys Shmyhal during a visit that the latter made to Bucharest on Friday, August 18. The two officials discussed the assistance provided by Romania to Ukraine and the transit of cereals. 
During the meeting, the two prime ministers signed a political declaration on strengthening bilateral cooperation ensuring the reliable transit of goods from Ukraine. Ciolacu and Shmyhal also initiated two agreements on the mutual recognition of educational documents and the opening of a new border crossing point between the two countries, at Sighetu Marmatiei and Bila Tserkva, respectively. 
"The government and I will continue to provide full and consistent support to Ukraine. We are united against Russia's military aggression and acts of barbarism. This senseless conflict must stop. We offer full support for Ukraine's sovereignty and territorial integrity. We will stand by Ukraine as long as necessary until Ukraine's victory," said the Romanian PM, cited by Digi24.
The Ukrainian PM, in turn, said that his country is maintaining its goals of integrating into the EU and NATO. Shmyhal expressed gratitude to Romania for its support and added that Romania was the country that extended a helping hand to Ukraine from the very first days of the war.
"We expect active participation from Romanian businesspeople in the recovery efforts of Ukraine. We are confident that we will find mutually beneficial projects," he said during joint press statements at the Victoria Palace in Bucharest, cited by Agerpres.
Meanwhile, Marcel Ciolacu also noted that Ukraine's fight is "for the protection of our way of life and our fundamental values ​​related to democracy and freedom." He argued that Ukraine's right to decide its own future must be defended and that a prosperous, democratic, and free Ukraine is in Romania's strategic interest. 
He also assured the Ukrainian prime minister that Romania will continue to facilitate the export of Ukrainian cereals to international markets. "We hope to transit over 60% of the total volume of cereal exports from Ukraine through Romania. [...] We welcomed the decisions from the discussion in Galati. We set an ambitious target, doubling the volume of Ukrainian cereal transit in Romania from two million tons per month to four million tons," Ciolacu said.
Additionally, prime minister Marcel Ciolacu requested equal rights and freedoms for Romanians in Ukraine and for the neighboring country to recognize that the so-called "Moldovan" language does not exist. He reminded Shmyhal that the Republic of Moldova recently adopted a legal act recognizing the official language as Romanian. "Our requests are natural and reasonable," Ciolacu said.
In his turn, the head of the Ukrainian government explained: "We discussed the improvement of transport infrastructure destroyed by Russia, and we will develop border infrastructure, roads, and railways. We will expand and construct new border crossing points. We will simplify border control at these points, and where possible, we will have joint control to facilitate the transit of goods. We will facilitate the transport of Ukrainian products to Romanian ports. We will strengthen cooperation in the Danube region through the use of existing port infrastructure as well as investments in its development. Currently, Romania ranks third in facilitating transit from Ukraine."
"Thank you for supporting president Volodymyr Zelensky's peace formula and for agreeing to train Ukrainian pilots and establish a specialized center on Romanian territory. Additionally, other Ukrainian military personnel are being trained in Romania, and we thank you for this," he added.
(Photo source: Gov.ro)
Normal